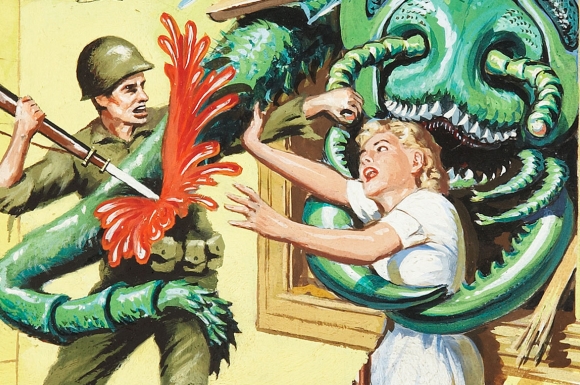 Description
Decades before Forrest Ackerman, the creator of the Famous Monsters of Filmland magazine, coined the genre title "Science Fiction" in 1954, illustrators were creating images of fantastic worlds published within the pages of books and magazines.
From 1863 to 1905, French author Jules Verne employed over 4,000 woodcuts and drawings to illustrate his series of novels, Voyages Extraordinaires. The anthology included such classic titles as Journey to the Center of the Earth (1864), From the Earth to the Moon (1865), Twenty Thousand Leagues Under the Sea (1869), and Around the World in Eighty Days (1873).
Illustrator Warwick Goble provided the images for H.G. Wells' novel The War of the Worlds in its first edition in 1898. However, the terrifying images more commonly associated with the book came from the hand of Brazilian artist Henrique Alvim Corrêa, who illustrated the book's 1906 edition.
Throughout the first half of the 20th century, Science-Fiction (or Fantasy, as it was called then) illustrations were primarily printed in pulp magazines like Amazing Stories, Wonder Stories, Weird Tales, Captain Future, and Fantastic Adventures. The pulp art appeared as cover paintings and interior story art alongside fiction written by many well-regarded authors of the genre, such as Edgar Rice Burroughs, Ray Bradbury, H.P. Lovecraft, H.G. Wells, and Arthur C. Clarke. It was in the opening pages of Amazing Stories, No. 1, April 1926, in which editor Hugo Gernsback first referred to the genre as "Scientifiction."
Once the pulp industry began its steady decline in the 1940s, science fiction illustration became prevalent in the pages of superhero comic books and magazines like Mad, Famous Monsters of Filmland, and Heavy Metal, and the roleplaying game Dungeons & Dragons. In the 1970s, artists like Frank Frazetta, Vincent Di Fate, Boris Vallejo, Moebius, Ralph McQuarrie, and William Stout took up the mantle of the artists before them. Their work was occasionally adapted to the big screen in films like Star Wars (1977), Heavy Metal (1981), and Conan the Barbarian (1982). Illustration is still widely used in the concept art for science-fiction films of today.
Image Gallery