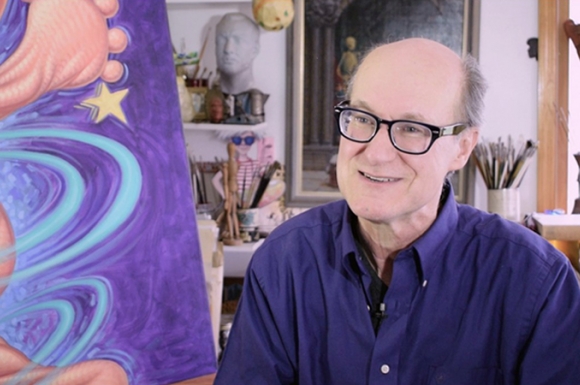 Biography
Born near Pittsburgh, Pennsylvania, illustrator James Warhola was influenced as a child by his artistic family—especially his famous uncle, Pop artist Andy Warhol. From an early age, he watched his uncle create illustrations for shoes, shopping bags, and advertisements, which piqued his interest in the world of art. Like Andy Warhol, Warhola attended Tam O'Shanter's Saturday Art Classes at the Carnegie Museum of Art, and graduated from Carnegie Mellon University. A move to New York City brought him to the Art Student's League. There, he refined his painting skills, and with a focus on comics, science fiction, and fantasy illustration, found work as a freelance illustrator and designer.
Since then, Warhola has created artworks for more than three hundred book jackets, including Stranger in a Strange Land by Robert Heinlein and Neuromancer by William Gibson. In addition, he has been a regular contributor to Mad magazine since 1980, and has been a primary illustrator for the popular Garbage Pail Kids card series.
In 1987, he began to illustrate children's books, including The Pumpkinville Mystery, Eddie: Harold's Younger Brother, The Tinderbox, and The Brave Little Tailor. In 2004, Warhola won the International Reading Association's Award for Best Children's Non-Fiction Picture Book for his book Uncle Andy's: A Faabbbulous Visit with Andy Warhol, a recount of a family trip to New York City to see his uncle and grandmother.
Author's Website