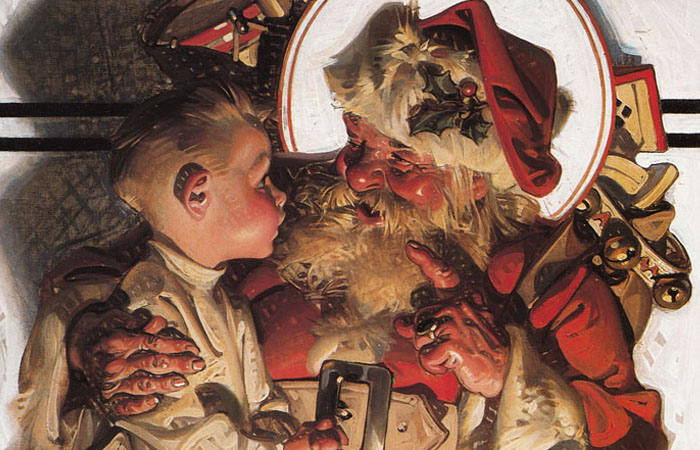 Illustration (detail) above: J.C. Leyendecker
Distinguished illustration careers were being built within this decade. The magazine covers and story illustrations by Howard Chandler Christy, James Montgomery Flagg, Coles Phillips, and J. C. Leyendecker were seen all over America. Over a six year period, the prolific narrative illustrator Frederic Gruger, a former newspaper sketch artist, created more than six hundred drawings for The Saturday Evening Post, with just a charcoal pencil, an eraser, and black watercolor in hand. The reproduction of this kind of tonal drawing was made possible in the 1880s by the development of the "halftone" process, which was perfected by the turn of the century. After 1900 the process was applied to the application of two-color inking and then to four-color reproduction which allowed for the replication of original full-color paintings. Photoengraving fully replaced hand engraving.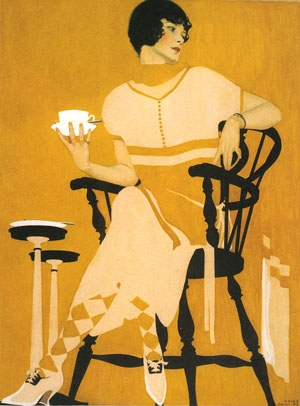 Coles Phillips, magazine illustration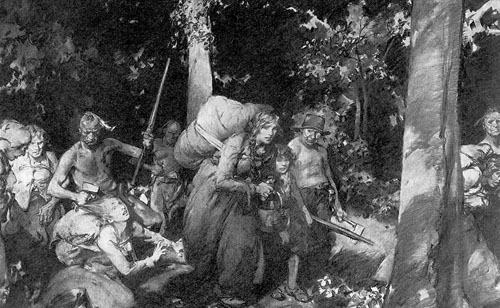 Frederic Gruger, magazine illustration
After 1910 all magazines printed full color covers and book publishers featured editions with impressed foil cover titles and full-color interior illustrations printed on heavy, coated paper. In England and in America these "luxury books," as they were called, were specially produced to be collected or given as gifts. This type of publishing was the realm of great artists in children's and classic literature. Edmund Dulac, Arthur Rackham, Kay Nielsen, N.C. Wyeth, Frank Schoonover, Elizabeth Shippen Green, Jessie Wilcox Smith, and Maxfield Parrish, among many others, produced some of their best work during this decade and the next.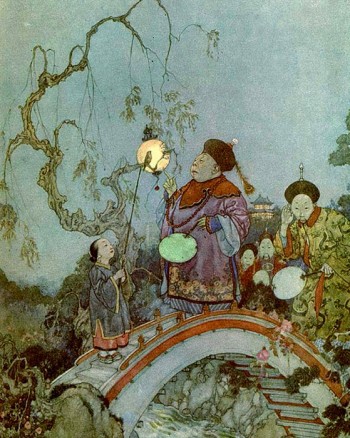 Edmund Dulac, watercolor book illustration, The Nightingale, 1911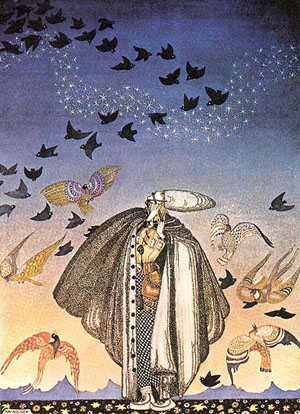 Kay Nielsen, book illustration, East of the Sun, West of the Moon, 1914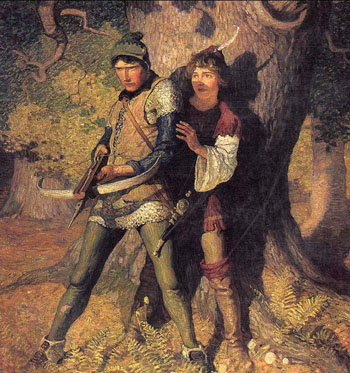 N.C. Wyeth, book illustration, The Black Arrow, 1916
With wider and more efficient distribution networks, illustrated periodicals and illustrated books were enjoyed by millions of people as affordable entertainment. News magazines, family magazines, women's magazines, children's magazines, literary and arts journals, satirical and political journals, humor magazines, and full-color newspaper comics (Winsor McCay) brought the art of illustration into daily life.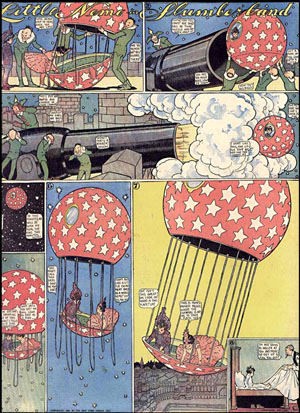 Winsor McCay, newspaper comic page, Little Nemo in Slumberland
The business of advertising grew along with the publishing industry and used illustration to help sell products. Illustration appeared on nearly every page of every magazine. Illustrators were earning good livings illustrating short fiction and magazine covers, but Parrish, Rose O'Neil, J.C. Leyendecker, and N.C. Wyeth were also illustrating advertisements, calendars, and other commercial matter for even higher fees.
The decorative art of Georges Lepape, Charles Martin, and Paul Iribe that was seen in French magazines and in fashion prints presented a highly stylized approach which would influence trends in illustration internationally. Like Art Deco, which would follow in the next decade, their style helped to show the public and publishers that there could be pleasant and attractive alternatives to cartooning and realism.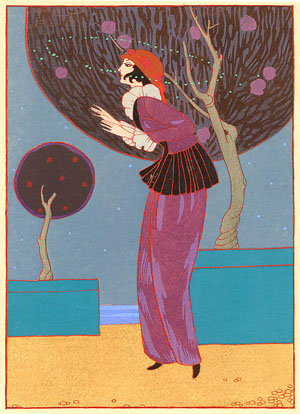 Charles Martin, decorative fashion print, 1913
Toward the end of the decade the First World War affected most illustrators—either directly, through serving in the military, or indirectly, through the types of assignments or voluntary work that they would do, including posters meant to aid in the war effort or encourage enlistment. Harvey Dunn and Wallace Morgan served in active duty as war artists for the American Expeditionary Forces in France, with the rank of Captain. James Montgomery Flagg's recruiting poster, showing Uncle Sam pointing his finger at the viewer, remains one of the most reproduced poster images in history and led to other recruiting posters, several of which were promoted through publicity campaigns.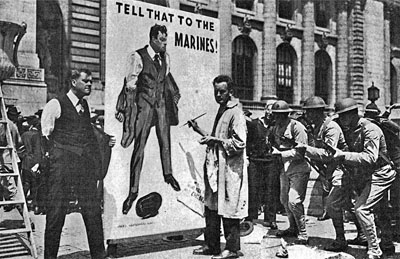 James Montgomery Flagg poses for publicity photos with his poster and model
Harvey Dunn is an important figure in American illustration not only for his masterful paintings and long, prolific career, but for his teaching. The only one of Howard Pyle's students to become a life-long teacher and the founder of his own school for illustration, Dunn modeled his teachings on Pyle's philosophy and ethics regarding the hard work and committment that was necessary to succeed as an illustrator. Among his many students were Dean Cornwell and Mead Schaeffer, two great illustrators of the 1920s-1940s.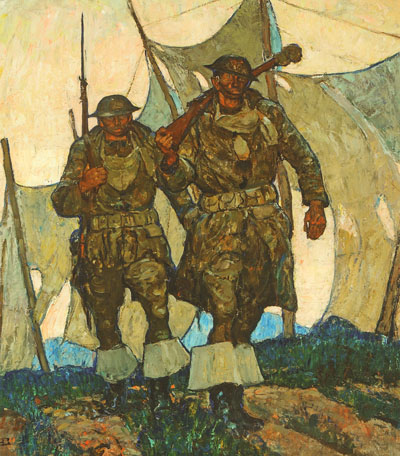 Harvey Dunn, cover illustration, American Legion Monthly magazine, 1930