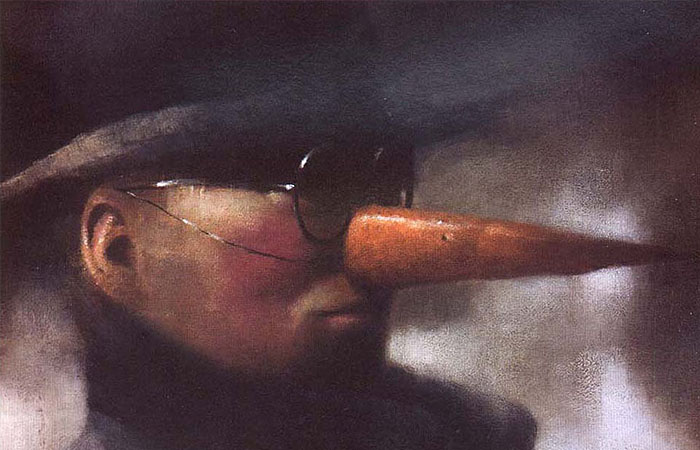 Illustration (detail) above: Brad Holland
The 1990s encompassed both old and new ways of making illustration. Oil and acrylic painting, watercolor, gouache, pastel, and pen and ink techniques were still the primary approaches being used by most illustrators, but there were many artists eager to explore drawing and painting software and learn the use of digital tools. The contrast between the look of traditional vs. digital media can be easily seen in the work of Kinuko Craft (watercolor and oil) and Don Arday (digital). The painterly illustrations of Brad Holland and Peter Fiore showed that classic traditions continue, while inventive ways of using software were appealing to artists like Mick Wiggins.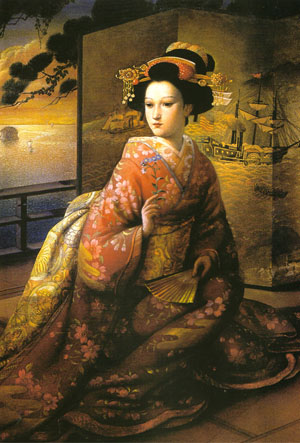 Kinuko Craft, advertising illustration, 1998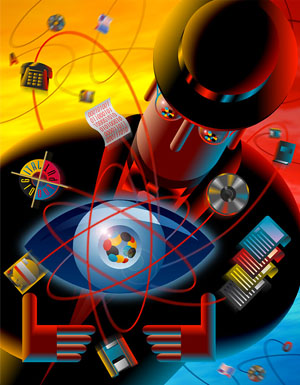 Don Arday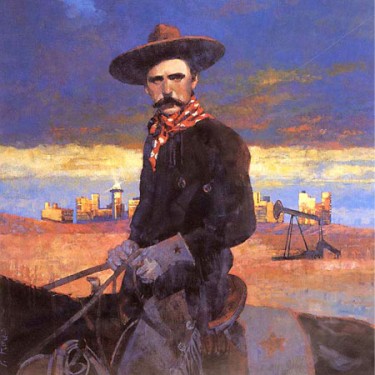 Peter Fiore, institutional illustration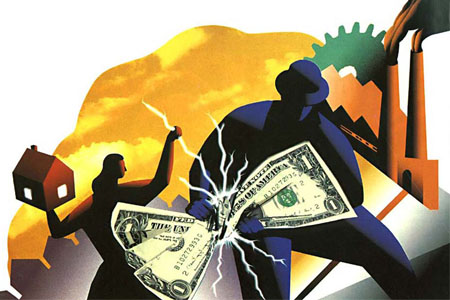 Mick Wiggins, digital illustration
Desktop computer technology caused every graphic designer to have to leap, like it or not, quickly into learning how to do their work digitally. They found that there were benefits of personal control and greater ease of accomplishing certain tasks, but they also discovered that there were new responsibilities. They no longer outsourced typesetting services, but had to become typesetters themselves. They had to learn to scan and retouch photographs and artwork, rather than passing the job on to specialists in reproduction. A digital process replaced old, hand-done production techniquess, and designers had to take full responsibility for whether the files would print properly. This meant becoming skilled at a half-dozen or so software applications, while spending more and more time in production and less and less time doing design concept work and commissioning illustration. With an overburdened schedule, many designers found it was faster and easier not to commission illustration at all and turned to "stock" illustration, which was created in advance on a variety of generic subjects and could be applied to a variety of purposes. A mixed blessing, this meant a new source of income for illustrators (often from the sale of rights to pieces already accomplished), but it also meant that as more and more illustration was bought this way, there would be fewer and fewer commissions for original work. Some feared that this new structure for buying and selling generic illustration would devalue the art form, making it just a decorative commodity.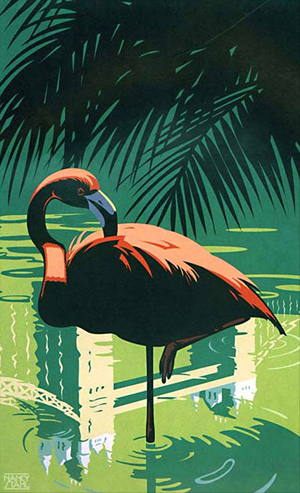 Nancy Stahl, vector illustration
All illustrators had to make a decision about incorporating the new digital tools into their careers. Those who loved the tactile working of traditional art materials and hated computers avoided the issue altogether. Many learned just enough about computers to scan artwork and create digital files for archiving and emailing to clients, but the endless potential and challenge of the new digital tools was compelling to others. Groundbreaking illustrators began to create digital illustrations that showed great variety and accomplishment, but at the expense of logging in hundreds of hours in order to master the new tools. Illustrator Nancy Stahl, for example, used a traditional gouache technique to create flat color shapes, but found that once mastered, vector-drawing programs were able to create the same effects with even more control.
Publications, particularly any which had to do with business or technology, were quick to adopt digitally-created pictures, but other clients were skeptical and saw the new work as being less artful, formulaic, and slavish to the particular software that was used to create it. The layering and controlled transparency capabilities of Adobe Photoshop inspired many artists and designers to create montage illustrations, and artists and designers did find that the digital toolbox placed its own limitations on what was possible. Artists seeking originality pushed deeply into software tool palettes to create new and personalized effects, and some also incorporated traditional media. Dave McKean and Eric Dinyer utilized photography combined with both digital and traditional painting techniques or even sculpture and found objects.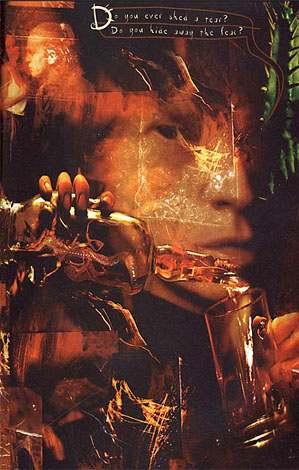 Dave McKean, illustration, The Rolling Stones' Voodoo Lounge Tour booklet, 1994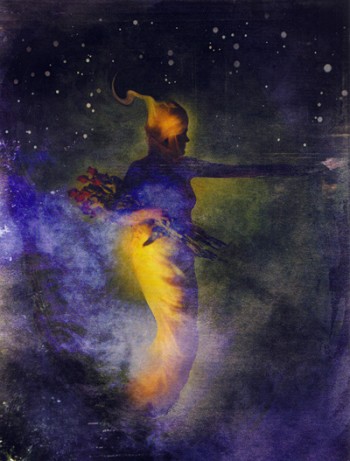 Eric Dinyer, magazine illustration, 1999
Accompanying the technological challenges of the 1990s were also economic ones. A recession in the early 1990s forced design firms and ad agencies to deal with cautious clients less willing to pay for services that they might not absolutely require. Printers, digital service bureaus, and even ordinary companies were all forced to invest in digital equipment and software and a never-ending cycle of upgrades. Designers suffered layoffs as agencies merged, downsized, or folded, and enthusiastic young self-learners replaced those who weren't skilled in "desktop publishing" and electronic production. Illustration fees stagnated, so that throughout the 1990s artists were being paid at 1980s rates. The best and most experienced illustrators continued to be seen in all the major publications—although on fewer illustrated pages—but it was getting harder for someone just entering the field to make an acceptable living. By the end of the 1990s even those who had previously been able to earn very good livings were finding that they had to seek other revenue sources to augment their reduced incomes as freelance illustrators.
And finally, the rapid growth of the internet was another "sea change" of the digital age. Businesses and institutions developed websites and soon realized the benefits of international exposure and e-commerce. They needed artwork and graphics for their sites, opening a new market for freelance illustrators and even providing full-time employment opportunities for those who could create digital art in the workplace. The internet also began to serve individual illustrators as an additional means of marketing and sales. Artists set up personal web pages that showed their portfolios electronically and even began to sell art and reproductions online. Reps and stock agencies created web sites too, as a convenient and fast way of getting art seen and sold to their clients. By the turn of the new century, cultural, creative, and business adjustments had been made, and an era had begun where digital tools and the internet were simply facts of life. Willing artists adapted to new technologies, personalized and creatively interpreted new mediums, and moved forward with the changing times.