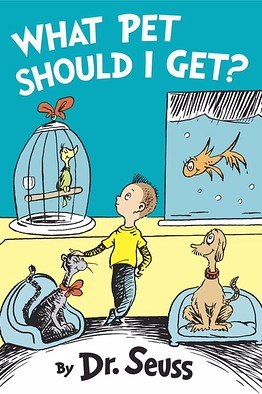 On July 28, 2015, Random House released the newly discovered Dr. Seuss book, What Pet Should I Get?. In 2013, the manuscript was found by Audrey Geisel, Theodor Seuss Geisel's widow, who had packed the materials in a box after his death in 1991. According to Cathy Goldsmith, Seuss's former art director, What Pet I Should Get? was probably written somewhere between 1958 and 1962. The estimated creation date is based on the book's characters, the brother and sister, being the same as the characters in Dr. Seuss's popular 1960 book, One Fish Two Fish Red Fish Blue Fish.
With 200,000 books flying off shelves in the first week, Random House Children's Books reported that the book was the fastest selling picture book in the company's history. The book is not without controversy, though. PETA (People for the Ethical Treatment of Animals) contends that children are being sent the wrong message, to select your family friend in a pet store. At the end of the book, the publisher added a disclaimer for readers to adopt their pet from an animal shelter. PETA was also concerned that children may want some of the exotic animals featured in What Pet I Should Get?.
For the week of August 16, 2015, What Pet I Should Get? was number 1 on The New York Times Best Sellers list for children's picture books. In the future, two more books will be published from the other materials found.