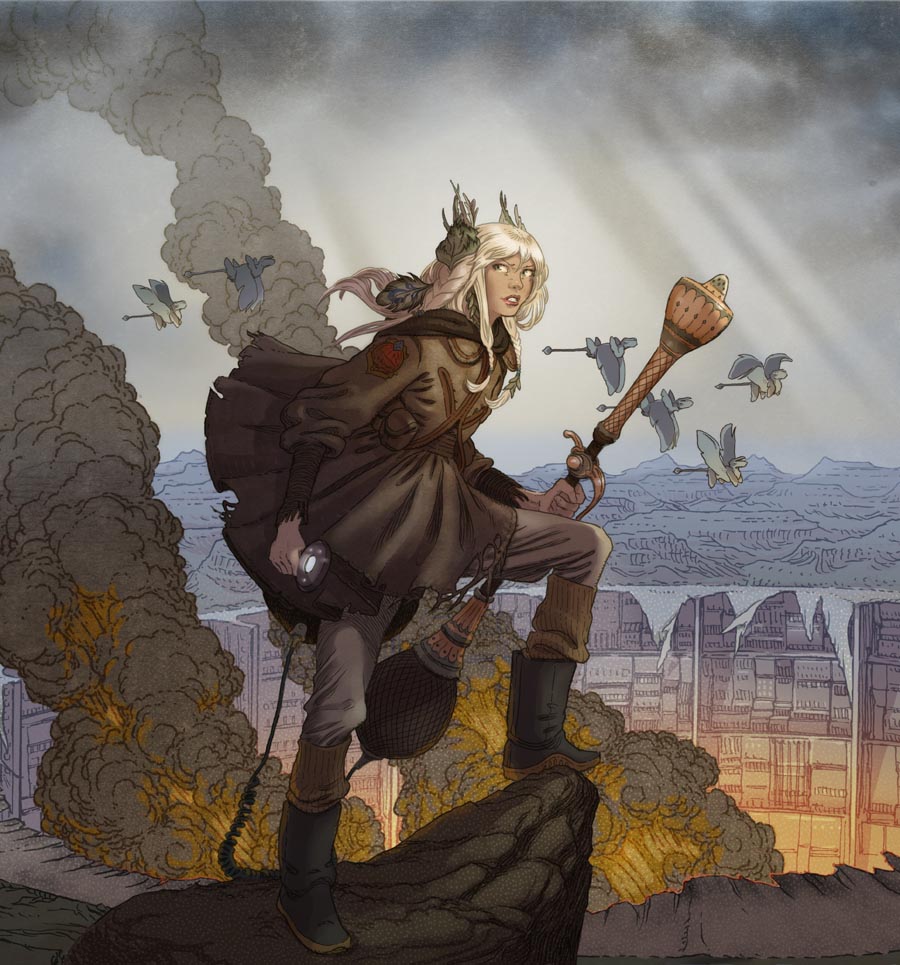 ©Tony DiTerlizzi
Though it was not published until 2010, The WondLa Trilogy was first imagined around 1998 when DiTerlizzi's The Spiderwick Chronicles was in development. The series carries on the tradition of elegantly illustrated children's books. DiTerlizzi notes that the inspiration for WondLa came from "books that I loved as a kid that my mom had read to me, classics like Peter Pan, Alice's Adventures in Wonderland, and The Wonderful Wizard of Oz." The idea for the story evolved as a response to Spiderwick — a story from the past coming forward to present — which led DiTerlizzi to conceive a story from the future coming backward to the present.
The first book in the series, The Search for WondLa, introduces us to the protagonist, a twelve-year-old girl named Eva Nine. She is being raised in an underground Sanctuary solely by her Muthr — a Multi-Utility Task Help Robot. When her Sanctuary is invaded, Eva Nine escapes to the surface of the planet Orbona, a world with which she has no connection. She is accompanied by her handheld Omnipod — a device which was designed to aid her growing up underground, but cannot provide much information on the outside world — along with two newfound companions: the alien Rovender Kitt and a gigantic water bear. In the remaining books in the series, A Hero for WondLa and The Battle for WondLa, her friends travel with her to the humanpopulated city of New Attica where Eva Nine finally learns what it means to be human, and struggles to save the world she holds dear.
Though The WondLa Trilogy contains many of the themes of DiTerlizzi's previous works — a search for identity and a need for companionship in a fantasy world — the series reveals a writer deep in thought. He seems to be pondering his own place in the world and the role he can fill to effect a better future.