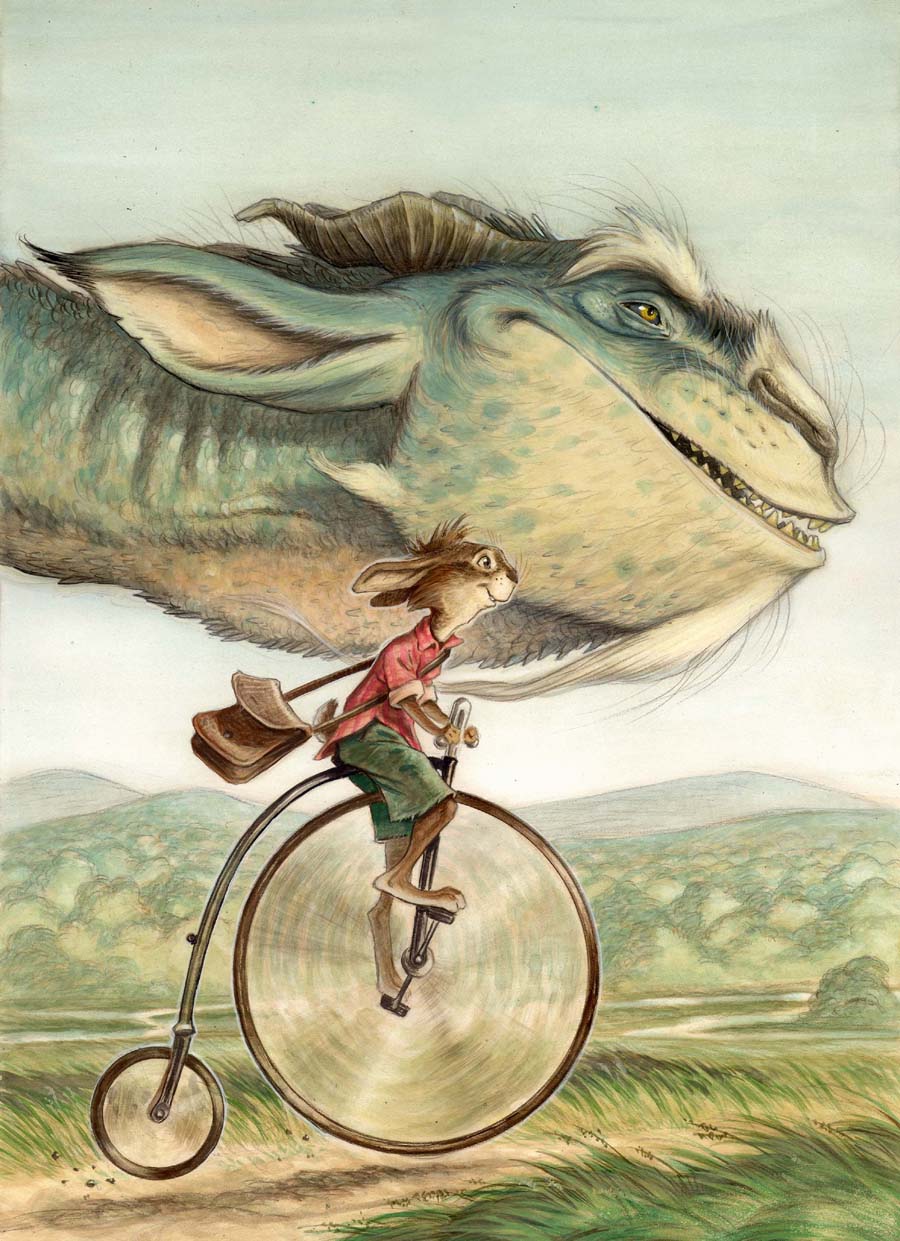 ©Tony DiTerlizzi
Coming down from the high achieved by the phenomenal success of The Spiderwick Chronicles (2003), Tony DiTerlizzi created a silly alphabet book, G is for One Gzonk!, before turning to a book he loved reading as a child. Released in 2008, Kenny & the Dragon is DiTerlizzi's retelling of Kenneth Grahame's 1898 book The Reluctant Dragon. DiTerlizzi recalls reading a copy of Grahame's book which was illustrated by Ernest H. Shepard, who also illustrated Grahame's classic The Wind in the Willows (1908) for the 1931 edition.
Kenny shares many similarities with DiTerlizzi — the misfit who loves fairy tales and natural history and possesses a wild imagination. In the book, Kenny (a bunny) discovers an enormous dragon, Grahame (both characters are named after the author of the original book), on his family's property. In order to learn more about the dragon, Kenny consults a borrowed book titled The King's Royal Bestiary.
After identifying some inaccuracies within the book, Grahame suggests that Kenny will go on to write his own book someday, a nod to DiTerlizzi's own bestiary, Arthur Spiderwick's Field Guide to the Fantastical World Around You. (Saint) George, the local bookseller, is ordered by the king, and encouraged by the townspeople, to slay the dragon, but Kenny devises a plan which will satisfy all sides. Kenny & the Dragon not only became an instant bestseller, but continues to be celebrated in schools across the country in "one-book-one-school" programs.