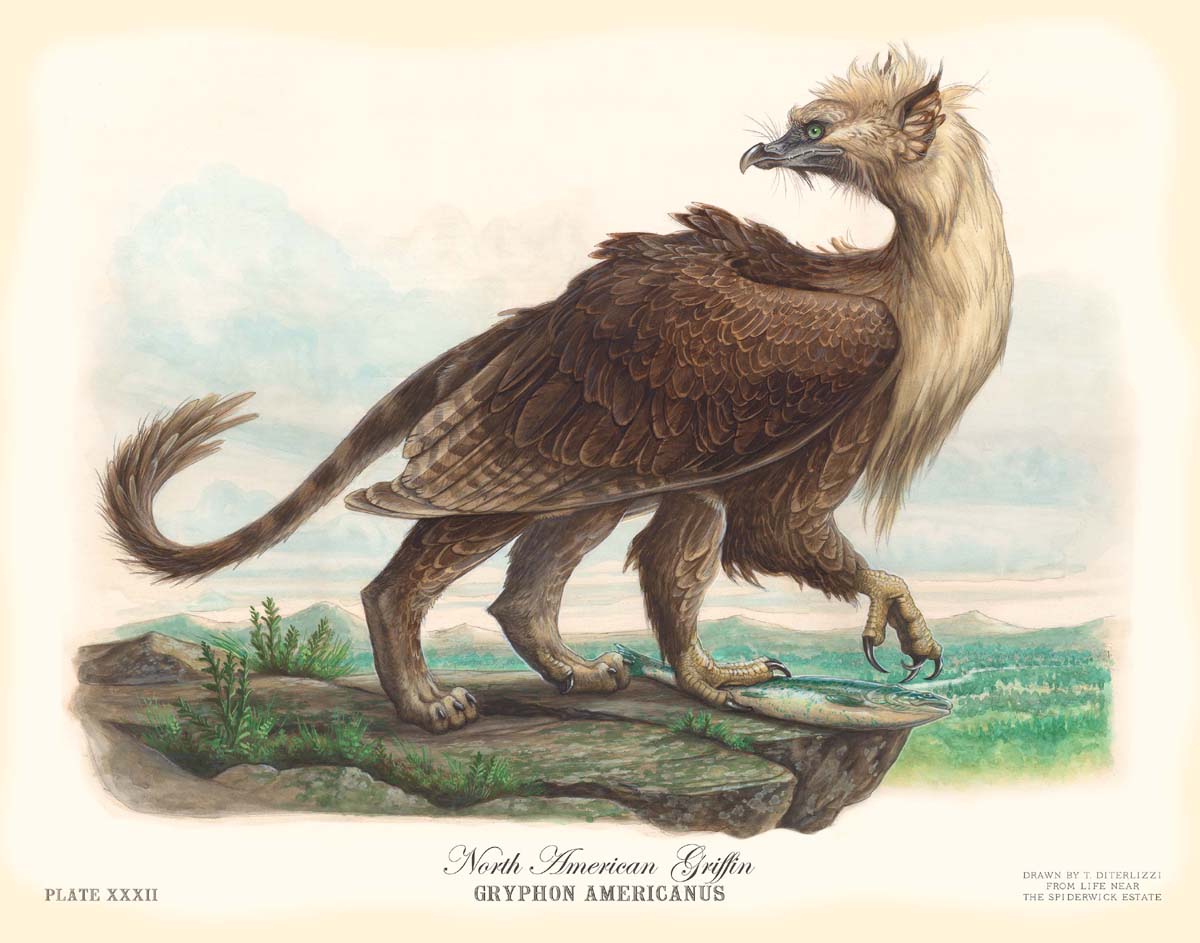 ©Tony DiTerlizzi
When he was twelve years old, DiTerlizzi documented an imaginary world in a folder he titled A New Realm in Nature & Science Fiction Combined, You Are Exploring: GONDWANALAND. He described in great detail the flora and fauna of the unknown continent. Influenced by his collection of Golden Nature Guide books, monsters from Dungeons & Dragons, and Jim Henson's creatures from the film The Dark Crystal (1982), DiTerlizzi created his book of imagined characters in the style of an Audubon Field Guide. As is customary in identifying new species, within this Gondwanaland field guide DiTerlizzi gave the new-found monsters English and Latin names. Listed within the guide are creatures like "Tree Dwellers" (Longis Armis Swingis), a "Snow Creature" (Bigis Badis Mammais), and the evil, giant orange "Ajax Lizards" (Becarefulis Bitis Hardis). The depictions of the creatures mirror his book Arthur Spiderwick's Field Guide to the Fantastical World Around You, illustrated by DiTerlizzi and co-written with Holly Black in 2005.
DiTerlizzi met his co-author for The Spiderwick Chronicles, Holly Black, in the mid-1990s when she interviewed DiTerlizzi about his work on Dungeons & Dragons for the short-lived d8 gaming magazine. The pair found they had much in common — they both adored the fantasy films of Jim Henson, as well as Brian Froud and Alan Lee's Faeries book (1978), and they had been raised by stay-at-home mothers who were artists. They quickly became good friends.
In 2001 DiTerlizzi began working on a book titled Arthur Spiderwick's Field Guide to the Fantastical World Around You. At the time, his wife Angela was assisting Holly Black
in getting her first novel, Tithe: A Modern Faerie Tale, published. DiTerlizzi read Black's manuscript and discovered she possessed a vast knowledge of fairy folklore. He quickly
recruited her to assist him in gathering research for his fantasy-themed field guide.