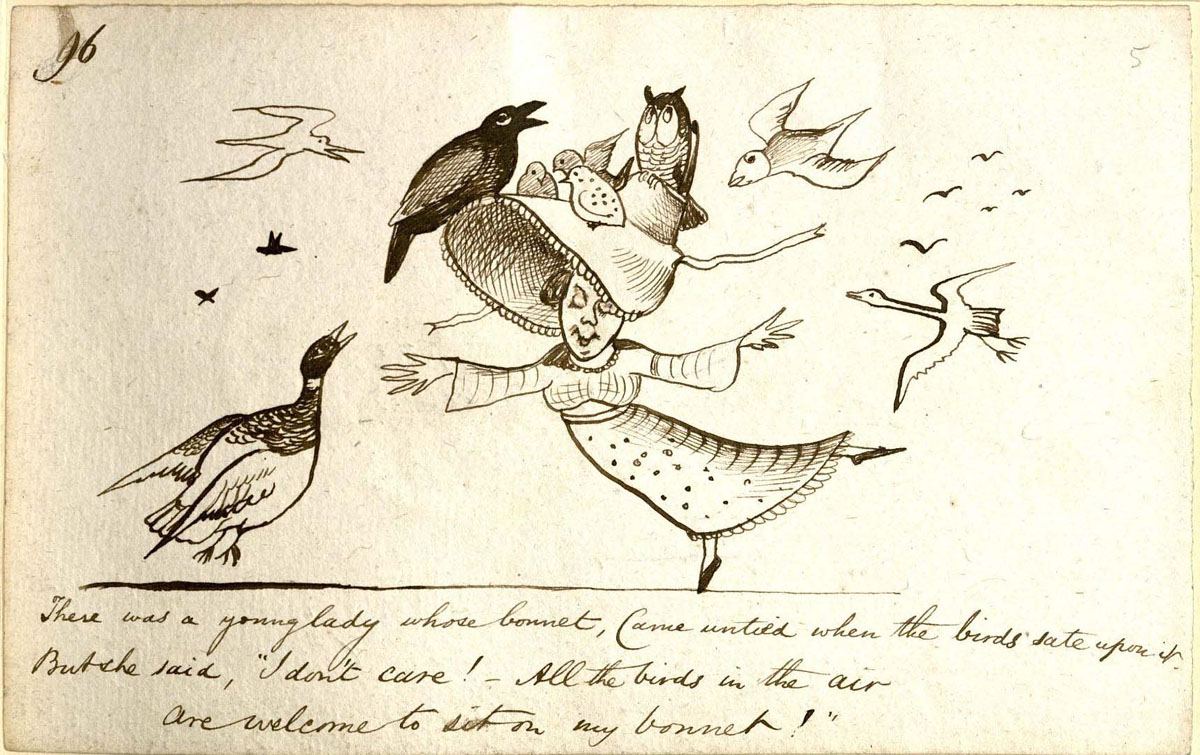 ©Public Domain
In 1832, Lord Edward Stanley, 13th Earl of Derby (and president of the Zoological Society) invited Lear to his home, Knowsley Hall, to sketch the menagerie. Lear jumped at the chance, and at twenty years old, moved to Liverpool. While there, Lear spent five years working with the Earl of Derby's menagerie, and also began the limericks and drawings that would become the root of The Book of Nonsense. Lear became a popular entertainer for the children and grandchildren of the Earl of Derby. He enjoyed drawing silly cartoons for the children and, after being given a copy of Anecdotes and Adventures of Fifteen Gentlemen (by John Marshall, 1821, the second known book of limericks) by one of the guests at Knowsley, Lear added limericks to accompany the drawings. Lear left Knowsley Hall due to ill health in 1837 and moved to Rome. While living abroad, he continued to entertain children with drawings and limericks. It wasn't until 1846 that Lear thought to publish the much beloved limericks, and the resulting Book of Nonsense was a huge success. Lear published the first book anonymously as "Derry down Derry" but did claim authorship of the 1861 edition for which this limerick was drawn. This image of the limerick There was a young lady whose bonnet is one of the original pen and ink drawings for the 1861 edition of The Book of Nonsense.
There was a Young Lady whose bonnet
Came untied when the birds sate upon it;
But she said, "I don't care!
All the birds in the air
Are welcome to sit on my bonnet!"
Edward Lear Drawings for A Book of Nonsense, 1861 (MS Typ 55). Houghton Library, Harvard University.