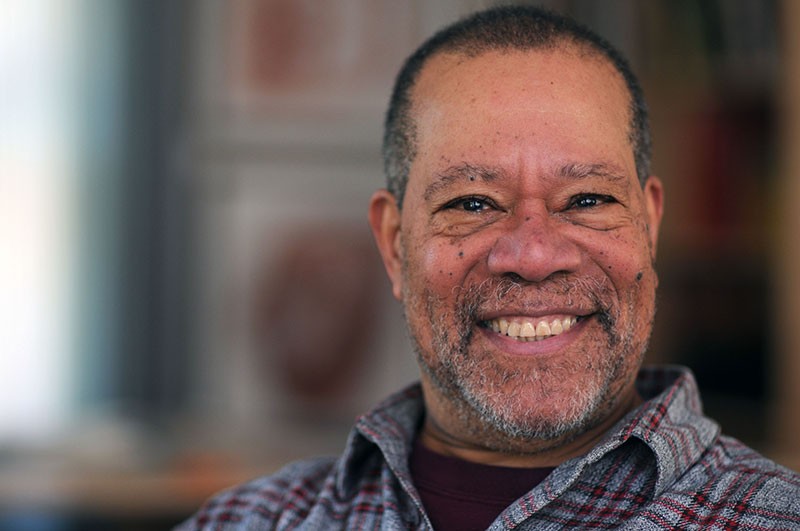 We at the Norman Rockwell Museum were deeply saddened to learn of the passing of Jerry Pinkney (1939-2021), a true master of American illustration and one of the kindest and most genuine individuals that we have every had the pleasure of working with. We have been fortunate to collaborate with this gifted artist on several important projects over the course of two decades and to share Jerry's work in two major national traveling exhibitions, Witness: The Art of Jerry Pinkney and Jerry Pinkney, Imaginings: An Artist's Explorations of Images and Words. A great friend to the Museum and always generous with his time and talents, Jerry worked closely with us to spark creativity in enthusiastic students at regional schools in Massachusetts and Connecticut, and we were proud to launch a curriculum project created in conjunction with these projects. In 2016, Jerry became the Museum's Artist Laureate, advocating for our work and highlighting the power of illustration and storytelling to educate and inspire.
"Jerry was beloved in the world and by all of us at Norman Rockwell Museum. Distinguished NRM Artist Laureate, Jerry created indelible images that will continue to delight and educate us all to America's history and mythology. We are bereft by his loss and take comfort in having so many wonderful memories of working meaningfully together for many years. We send our deepest condolences to his wife, Gloria, and his children, longtime friends of Norman Rockwell Museum," shared Laurie Norton Moffatt, director/CEO.
"It has been the honor of a lifetime to work with Jerry Pinkney on so many significant initiatives, and I have been grateful for his warm and supportive friendship through the years. His generosity, intelligence, and buoyant spirit will forever be remembered," said Stephanie Haboush Plunkett, Deputy Director and Chief Curator.
Most recently, Jerry worked with us as an esteemed and knowledgeable advisor to Imprinted: Perceptions of Race in lllustration, an exhibition that will be on view at the Museum next summer. Jerry will be greatly missed, but his generous spirit, extraordinary artworks, and the powerful messages contained within them leave an indelible legacy. Our sincere condolences to Gloria Jean Pinkney, Jerry's wife of more than six decades, and the entire Pinkney family, for the very sad loss of their beloved husband, father, grandfather, and great grandfather.