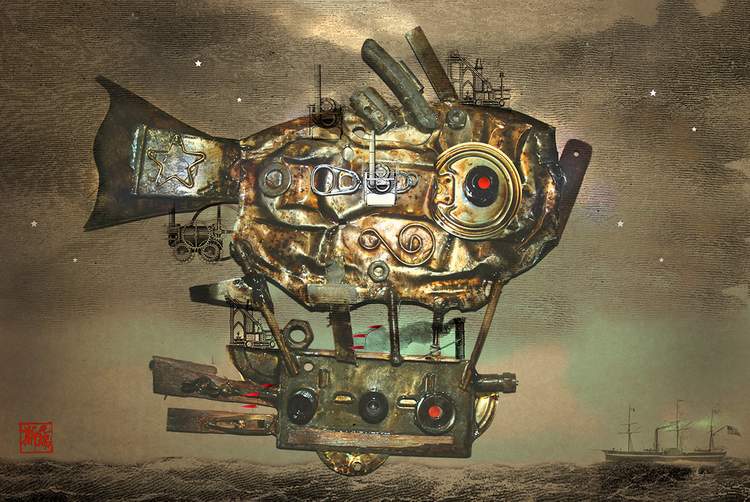 Flying Fish, relief sculpture with digital painting, giclée print, 2017
Chris Spollen's artistic journey began in grade school, where his non-stop drawing of rocket ships and space men was called "day-dreaming" by the nuns who were constantly trying (and failing) to discourage his inclination.
He went on to attend the High School of Art and Design and then Parsons School of Design, both in New York City.
Spollen credits one of his teachers at Parsons in the 1970s, the late Murray Tinkelman—an illustrator and well respected educator—as being a primary inspiration and mentor. When Spollen was attending the High School of Art and Design, Tinkelman came to speak about illustration at the Illustration Department at Parsons, Spollen, and fellow student Joe Ciardello said it felt "like the earth had moved." They both knew that they wanted to study with Tinkelman, and under his tutelage and that of other instructors at Parsons, both Spollen and Ciardello went on to realize their dream of becoming professional illustrators.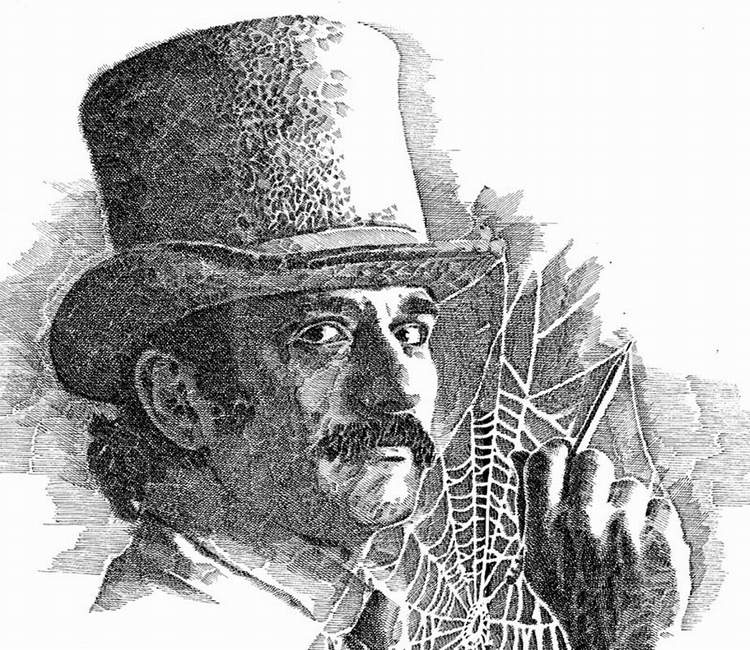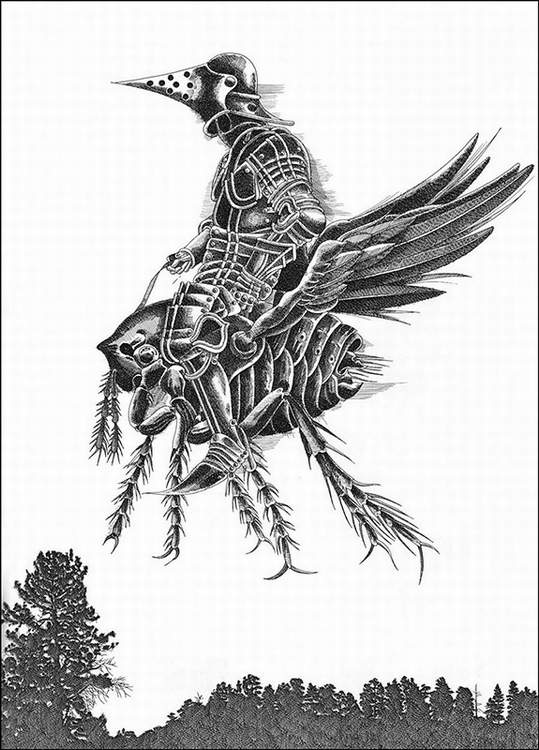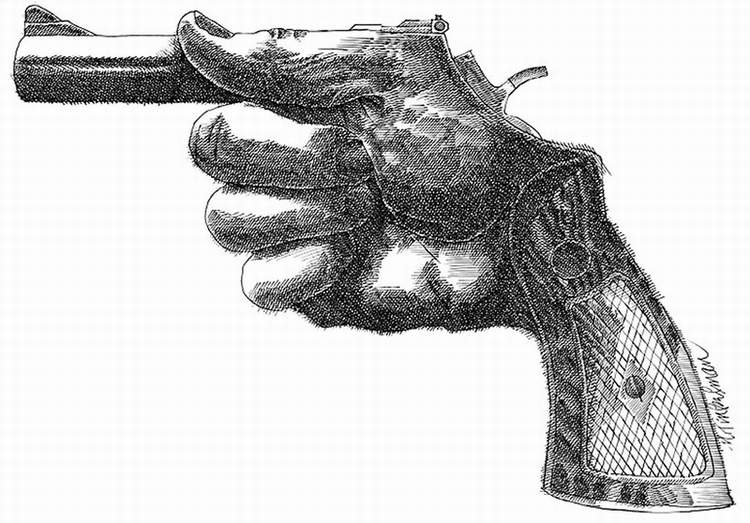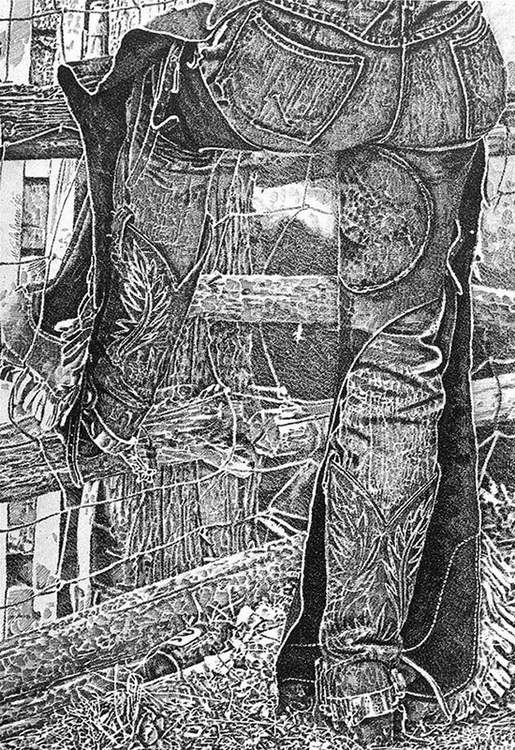 Murray Tinkelman was known for his pen drawings, which in the late 1960s had begun to change from a playful decorative illustration style to a surreal photo-realism where subjects were rendered with fine and methodical cross-hatching using technical pens.
When asked about his other early influences, Spollen explained, "Going way back I can clearly remember viewing the dimensional illustrations of Naiad and Walter Einsel at exhibitions at the Society of Illustrators in New York City. I was in awe. Looking at these free-standing pieces of three-dimensional art, I wondered how they were made and what sort of hand work, tools and materials had gone into creating them."
The Einsels used a wide range of approaches, from fanciful pen and ink drawing to wood sculpture and dimensional collage that utilized found objects along with carved and modeled forms.
The work of Gene Hoffman was another early influence on Spollen. Hoffman cut and formed sheets of metal or wood into characters and shapes drawn from his imagination and constructed relief sculptures using found objects, paper, cardboard, and other materials. Chris quotes Hoffman as having said that he "could make art from just about anything" and that "Everything is art and inspiration, and art can be found almost everywhere."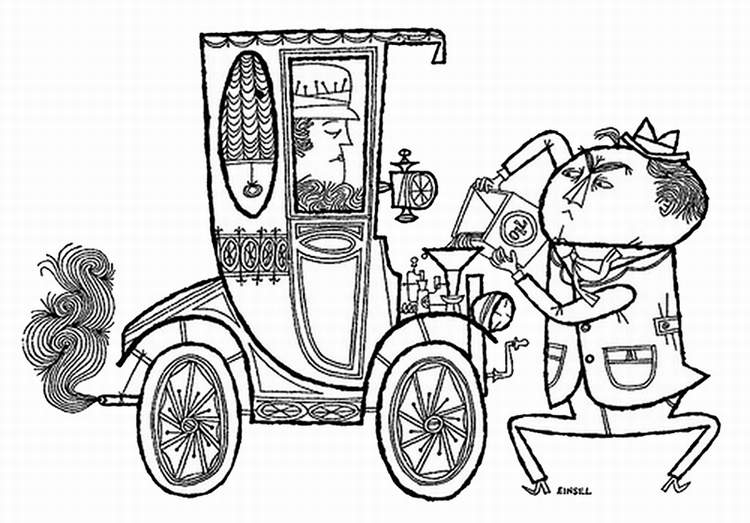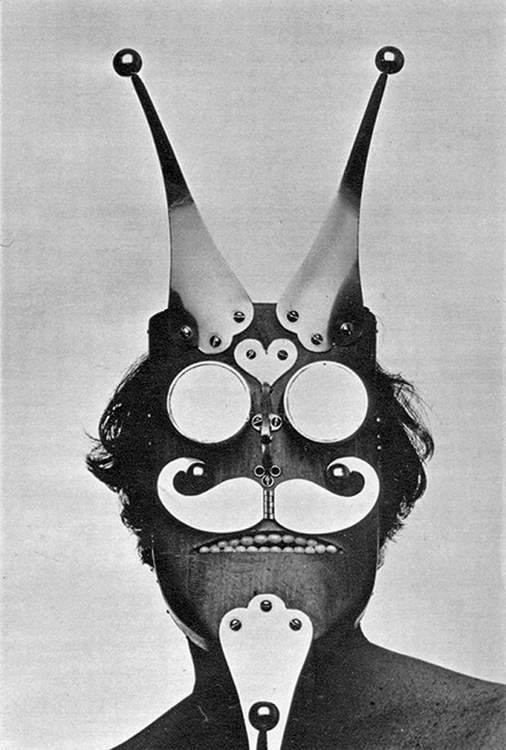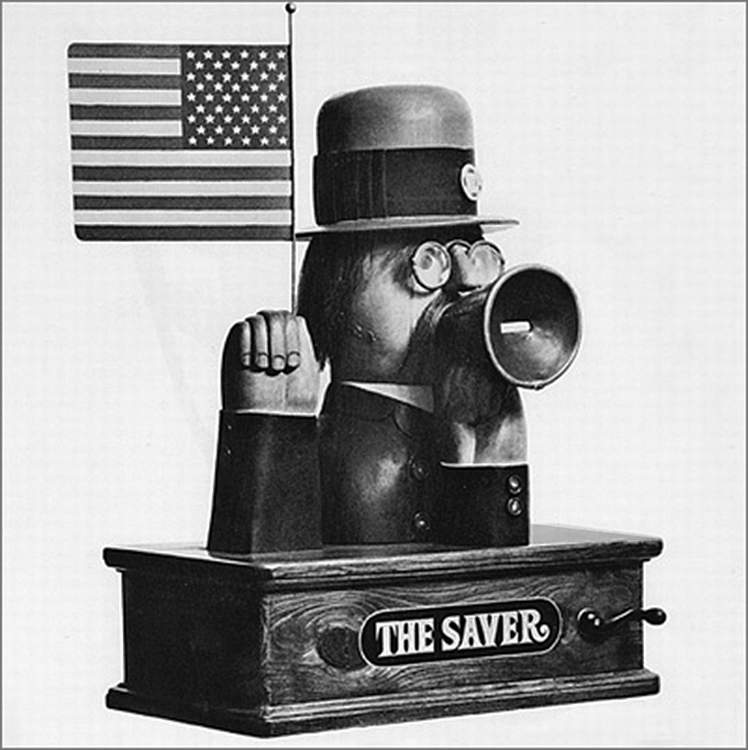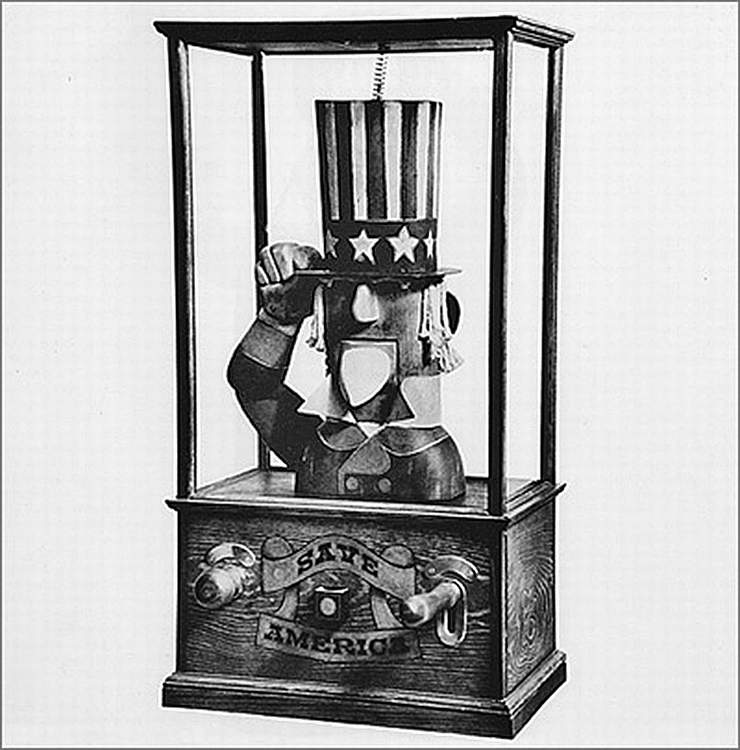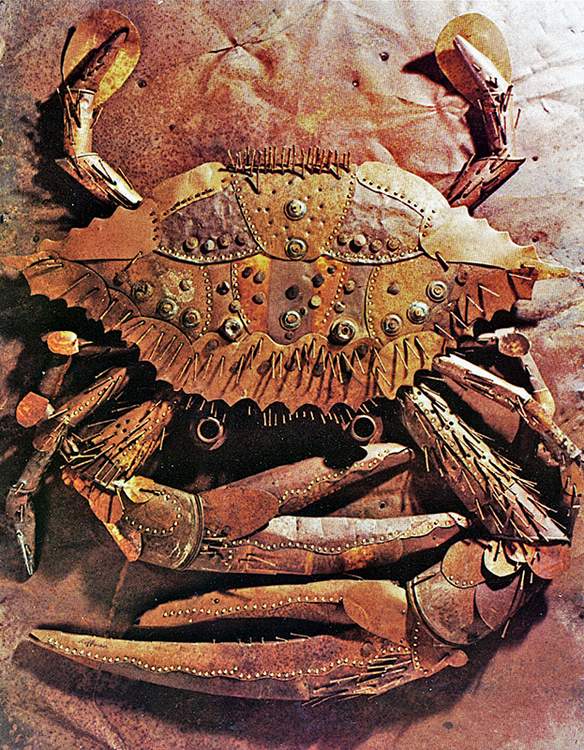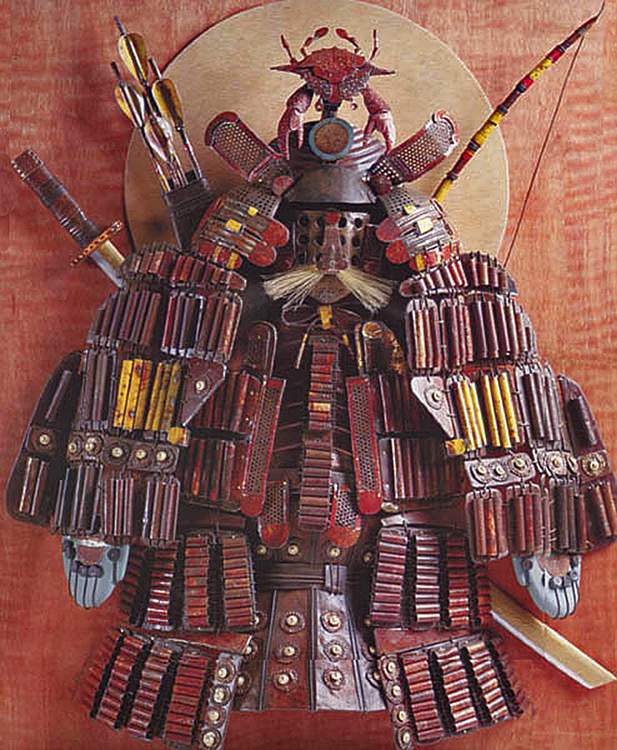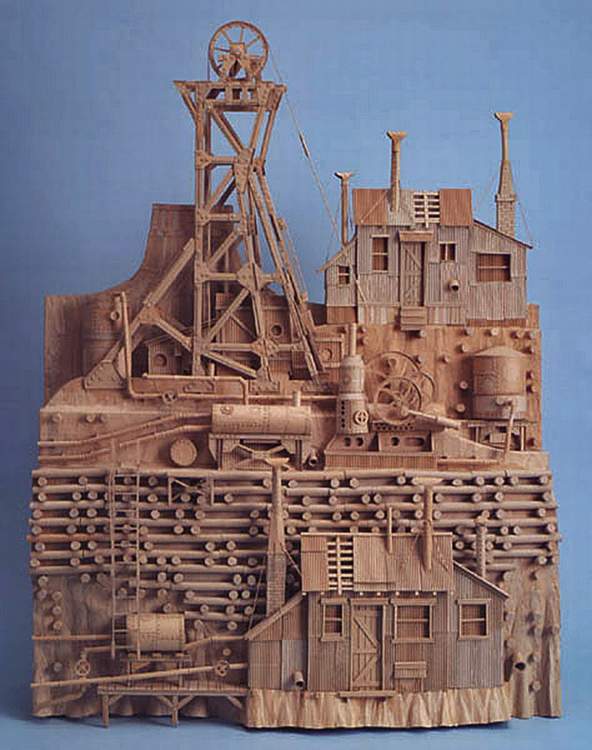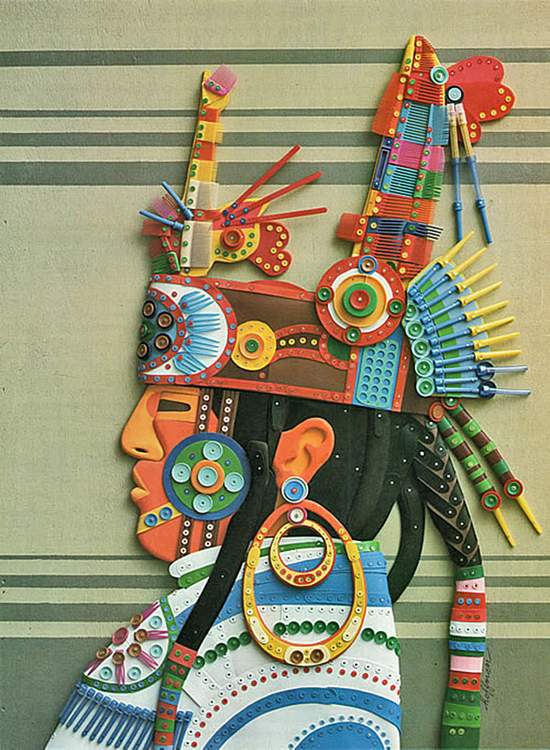 Chris Spollen's forty year career in illustration has included a variety of approaches to technique and medium, including the use printmaking and other forms of reproduction for projects with editorial and commercial clients. Spollen says, "For me, creating is an all-consuming and full-blown obsession. After many years of working with art directors and doing creative problem solving I feel like a well-oiled race horse. It's just that now I've now jumped over the fence and feel able to make images for myself. I can go back now to the world I once knew as a boy and draw from a crazy, re-imagined world of personally conceived images that I can build and develop on my own."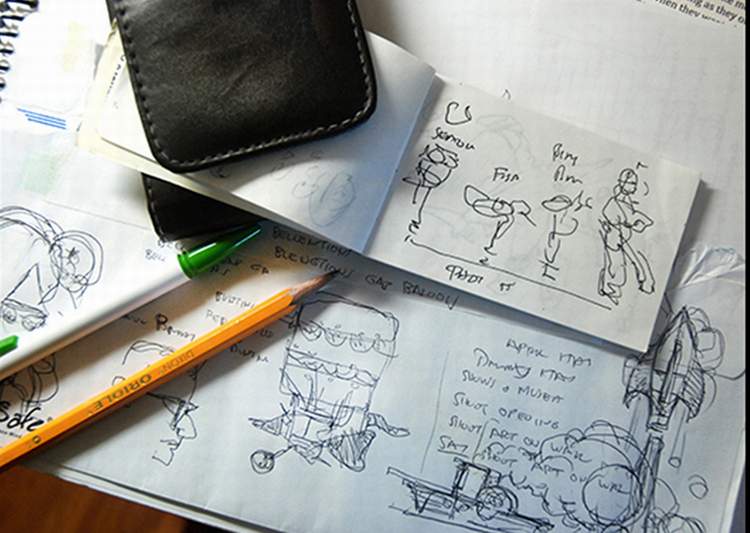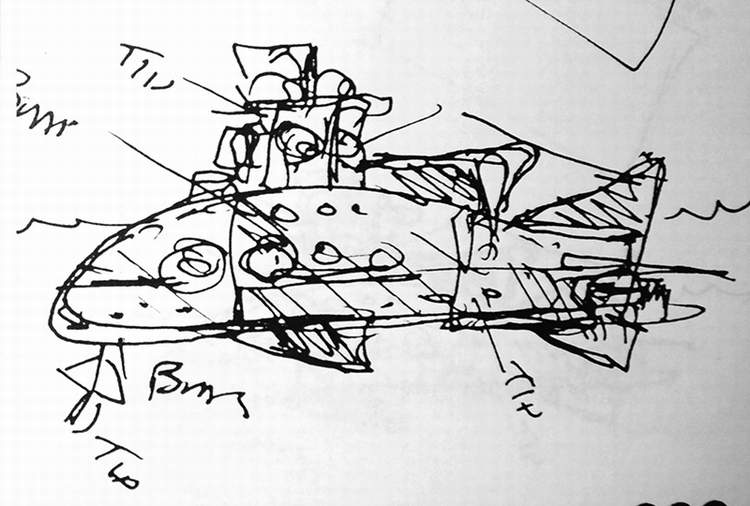 "Ever since high school I've tried to jot down images from my mind's eye—a hands-on, pencil and paper start to an idea or composition. I always have a small note pad on my belt, and when I am home, I am a compulsive doodler."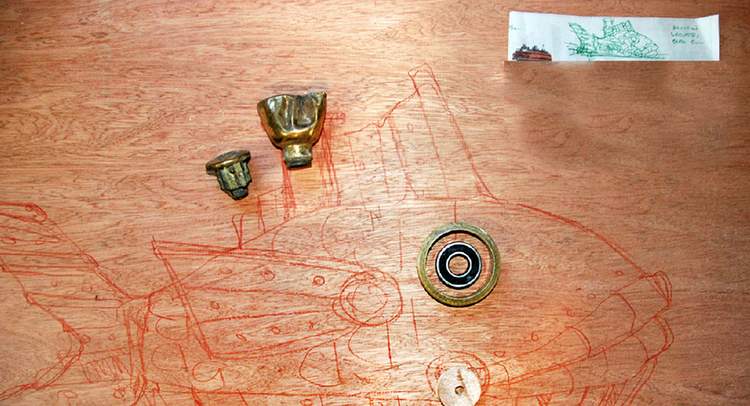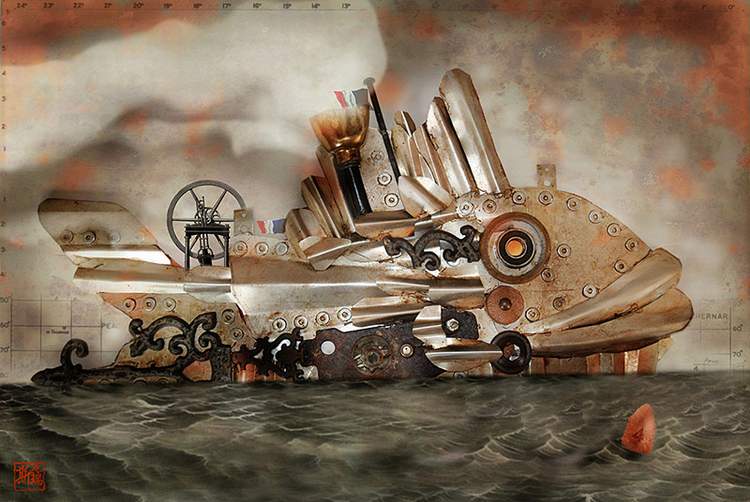 "The image above shows my thumbnail doodle next to a full-size drawing on plywood that will become the base-plate for a relief sculpture. I search my collection of scrap parts and objects for the appropriate findings, toss them all into a box, and then begin to experiment with positioning them on the red pencil sketch. When I am pleased with the layout, the materials are glued down permanently to the wood surface. Once the artwork is completed, it is photographed, then I digitally create an environment around it—in this case a seascape. The final art is a digital print."
"Fish Steamer" is in the permanent collection of the New Britain Museum of American Art in New Britain, Connecticut.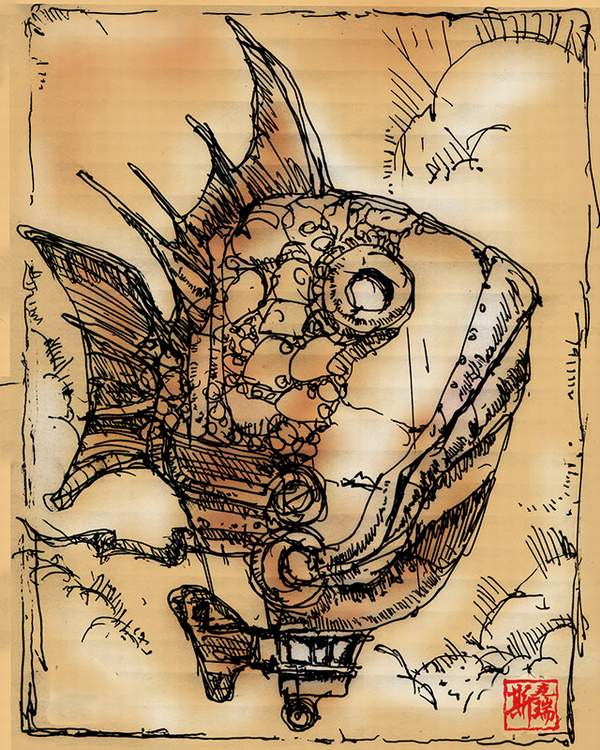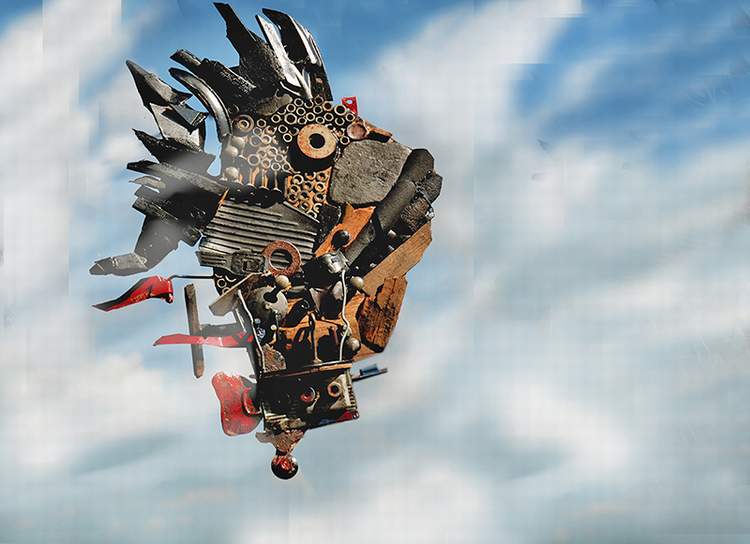 "This is another example of working from sketch to relief sculpture to digital media print. The drawing is one of thirty I made while on my third trip to China where I met my wife."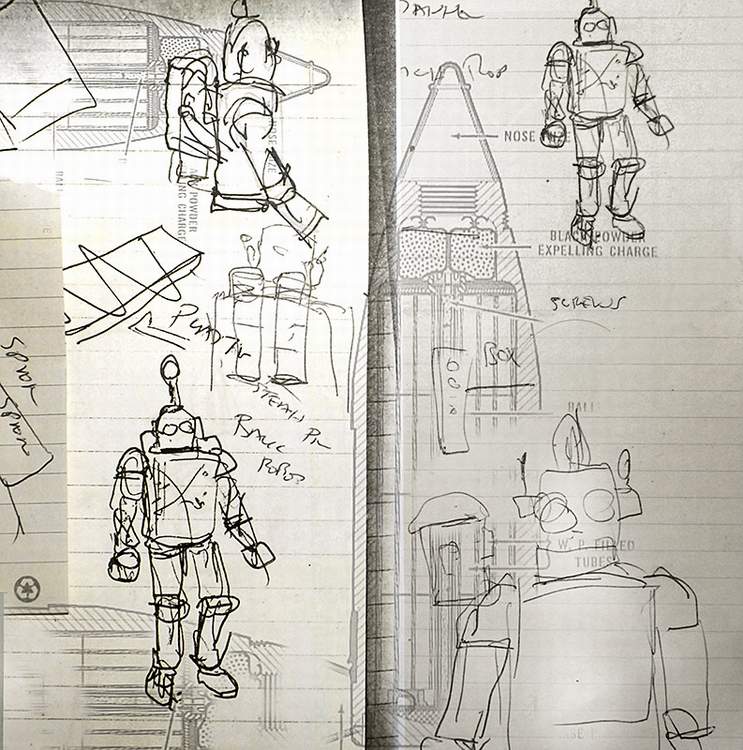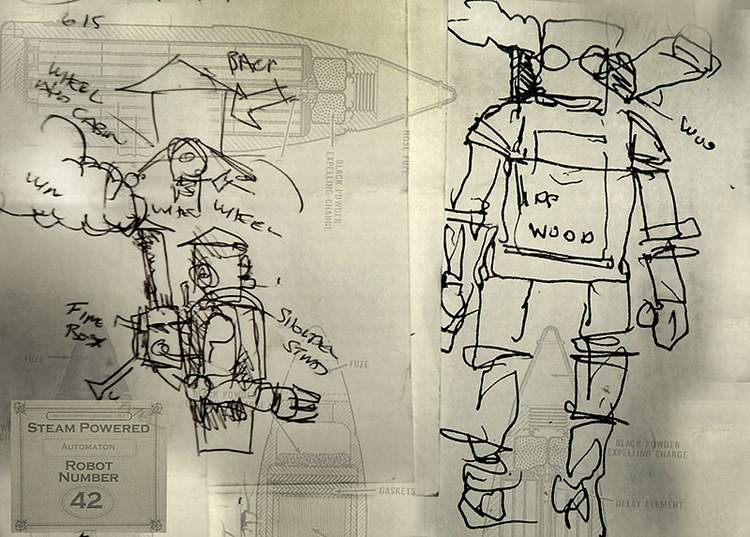 "Usually, if an idea will not leave my mind, it needs to be created. This free-standing life-sized robot sculpture was one idea that kept spinning around in my brain."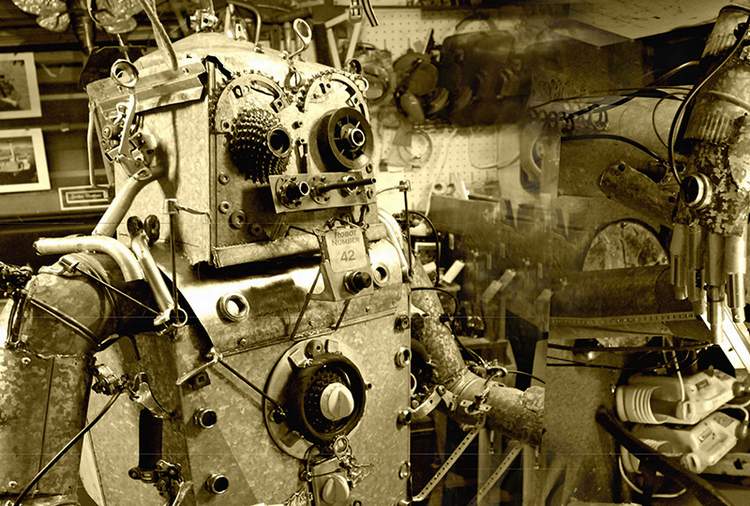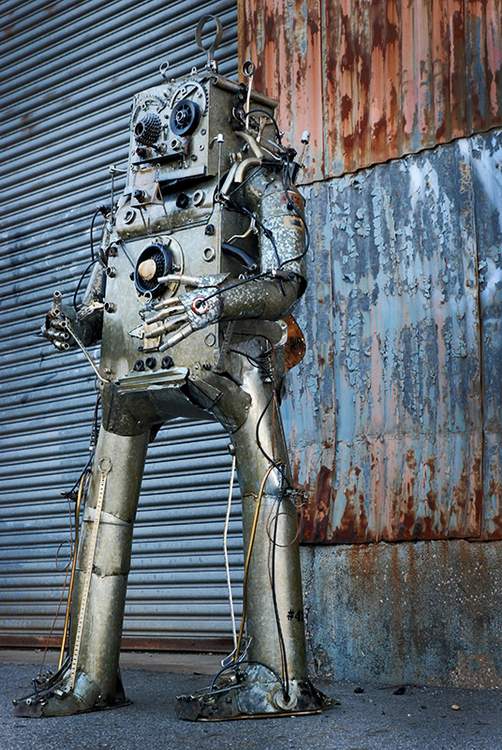 "Robot #42 took about three months to create. He was constructed during the winter months and is made primarily from our old forced air heating system and various recycled and discarded bike parts. At six feet, three inches tall, he stands proudly just outside our studio."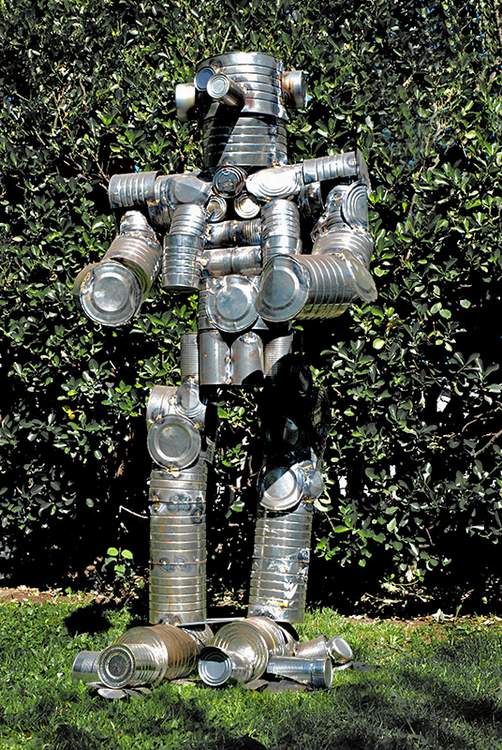 Sam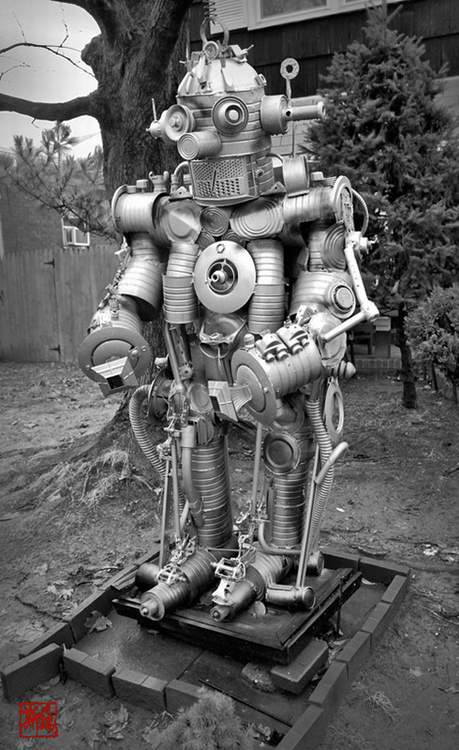 "Sam Re-Canned"
"Although my wife was somewhat concerned about his overall size, Sam turned out to be a real crowd pleaser. He was invited to be part of Norman Rockwell Museum's 2011 summer exhibition, Robot Nation: An Outdoor Installation for the 21st Century, featuring sculptural robots inspired by Blue Sky Studios' 2005 film, Robots. He now appears in my new book The Art of Recycling, and he was voted best in the show at the Monmouth Museum's exhibition The New Outsider Artist in 2014. After being outside in the weather for a time, Sam was provided with some repairs and revisions."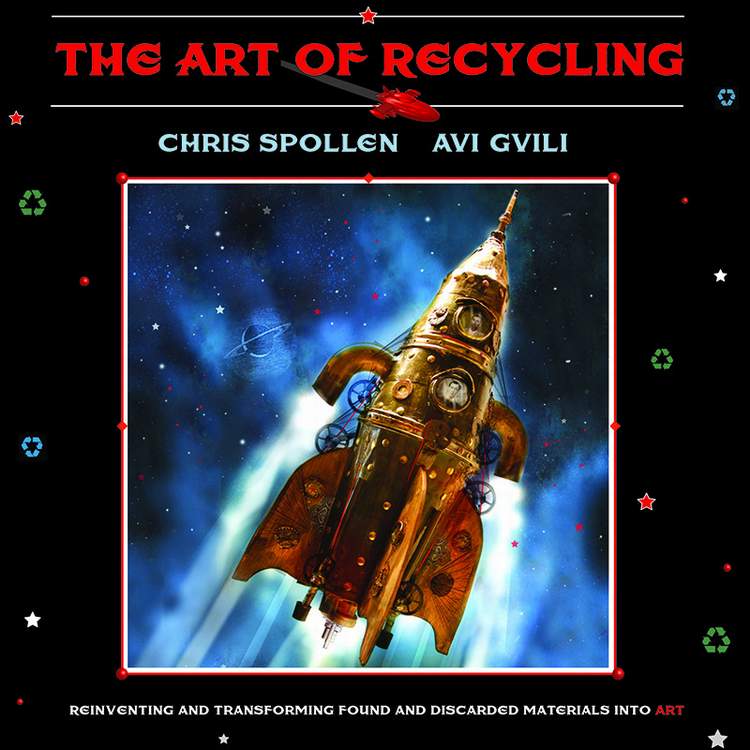 The Art Of Recycling, published by Boulevard Books, 2016. "...transforming the way we think about discarded material from one of forgotten refuse to fantastic recyclables."