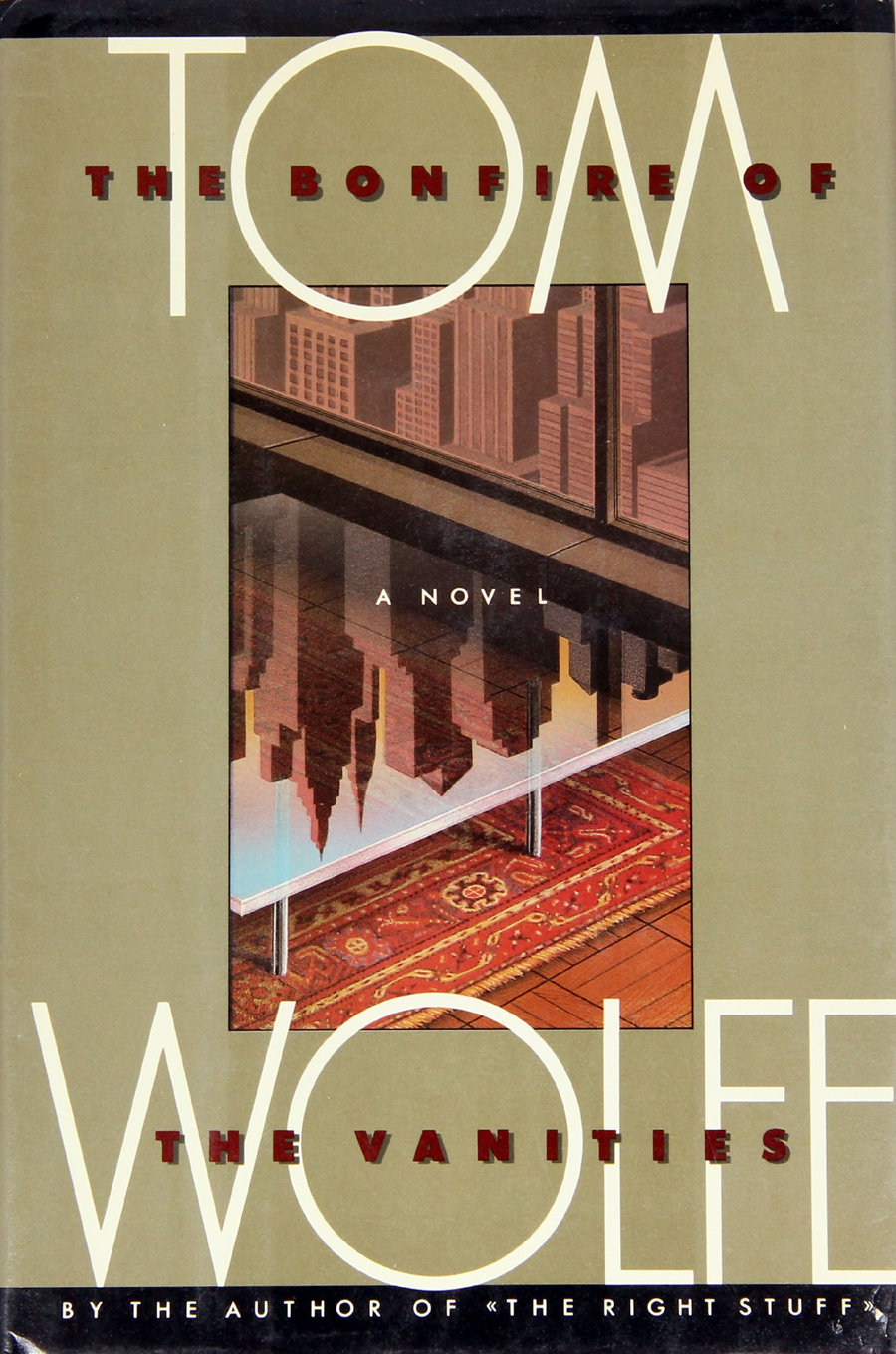 "I used to feel that book jackets were not serious. I don't feel that way anymore. When people ask me now if I'm going to start painting again on weekends – in other words, get back to 'serious' art – I tell them firmly, 'No.'"
©Fred Marcellino
"About Fred Marcellino," by Author Tom Wolfe:
The first time I laid eyes on Fred Marcellino's cover design for The Bonfire of the Vanities, I was stupefied. "You can't read the title," I said to myself. But I try not to interfere in publishing decisions like that one. In fact, Fred's treatment of the title was one of several brilliant touches in what turned out to be a uniquely stylish (as well as profitable) work of art. He flies over the supposed boundary between graphic and fine art at will.
Tom Wolfe is a best-selling author whose noted works include The Electric Kool-Aid Acid Test, The Painted Word, The Right Stuff, and The Bonfire of the Vanities.
Marcellino noted that, "As an artist, I don't really want to editorialize about a book – to make a statement about it from a point of view. Instead, I want to reflect it, to crystallize the book's feeling. If a book is good, images just come forth." Though the covers of books provide relatively small surfaces for artistic expression, they fueled Fred Marcellino's powers of creativity and imagination. With the rare ability to translate the feeling and style of an entire manuscript in one image, he defied conventional wisdom and proved that elegant, subtly painted covers could attract readers and sell books. At the time, the 'Big Book' look in publishing was the rage. Typically, an author's name was placed prominently at the top of the design in type large enough to be read across a crowded bookstore, and illustrations were small or non-existent.
Art directors and publishers eagerly commissioned Marcellino's evocative blend of imagery and typography, which provided compelling glimpses into sophisticated novels by serious authors. An avid reader and a lover of books, he read every manuscript from cover to cover, and from the mid-1970s through the early 1990s, created artwork for more than forty jackets each year. A sense of restraint and suspense is present in the artist's book jackets, which do not reveal their true meaning at first glance. By first provoking a reader's interest and then prolonging it, his award-winning designs are both intriguing and effective.