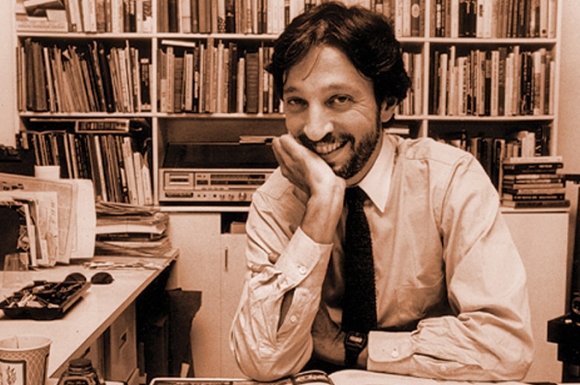 Biography
"I love to see my work in book and record stores, because then it doesn't belong to me anymore and I can begin to judge it on its own merits."
A celebrated artist and designer, Fred Marcellino (1939-2001) changed the look and feel of book covers for contemporary fiction before becoming an author and illustrator of award-winning children's books. Born in Brooklyn, New York, he studied painting at Cooper Union and attended the Yale University School of Art. Upon graduation in 1962, he continued his experimentation with abstract expressionist concepts and painting techniques and pursued his interest in theater as a set designer for small repertory companies.
In 1964, following a year of study in Venice on a Fulbright Fellowship, Marcellino returned to New York where he supported his intensive studio work with odd jobs as a bartender and a boot clerk. But by the end of the decade he had shifted directions, acknowledging his love of typography and design and his interest in narrative imagery. With a newly organized portfolio in hand, he visited record companies and publishers, and acquired a devoted clientele.
Marcellino achieved early success as an illustrator and designer of record album covers reflecting a diversity of musical and artistic styles. He began making his mark on the publishing world in the mid-1970s, and was soon regarded as the preeminent designer and illustrator of elegant, eye-catching book jackets. His subtly painted images created an alluring graphic identity for works by many prominent authors, including Tom Wolfe, Margaret Atwood and Anne Tyler. Simultaneously, his interest in the art of the children's book began to emerge.
In the mid-1980s at the height of his success, Marcellino turned his attentions to children's book illustration, a dramatic but enjoyable departure for the artist. His first full-color picture book, Puss in Boots, was awarded a prestigious Caldecott Honor in 1991, and many award-winning classics followed. I, Crocodile, his first original tale, was a critical and popular success. Hoping to complete Arrivederci, Crocodile as a sequel to the book, he continued to work while battling colon cancer—a struggle that was lost too soon.
Fred Marcellino died on July 12, 2001 at the age of 61. A master artist who continually and graciously elevated the graphic and pictorial standards in books, he leaves a legacy of outstanding imagery for the ages.
Dancing by the Light of the Moon: The Art of Fred Marcellino, the artist's first major retrospective, was organized by the Norman Rockwell Museum in 2003, traveling to the Los Angeles Public Library and National Museum of Children's Illustrated Literature. In 2015, The Eric Carle Museum of Picture Book Art mounted an exhibition of his art.
Illustrations by Fred Marcellino
Additional Resources
Bibliography
Andresen, Hans Christian and Fred Marcellino. The Steadfast Tin Soldier. New York: Harper Collins Publishers, 1992.
Falletta, Nicholas. The Art of Fred Marcellino. New York: Pulcinella Press, 2002.
Marcellino, Fred. I, Crocodile. New York: Harper Collins Publishers, 1999.
Perrault, Charles and Fred Marcellino. Puss in Boots. New York: Farrar, Straus and Co., 1990.
White, E.B. and Fred Marcellino. The Trumpet of the Swan. New York: Harper Collins Publishers, 1970.