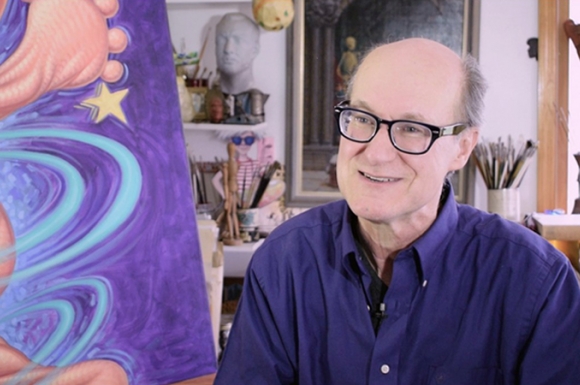 Biography
James Warhola was one of seven children born to Paul and Ana in Pittsburgh, Pennsylvania. His father was the older brother of famed Pop artist Andy Warhol. From an early age, Warhola watched his uncle create illustrations for shoes, shopping bags, and advertisements, which piqued his interest in the world of art.
Like Andy Warhol, Warhola attended Tam O'Shanter's Saturday Art Classes at the Carnegie Museum of Art, and graduated from Carnegie Mellon University with a BFA in design. In 1977, he moved to New York City and attended to the Art Students League, where Norman Rockwell and so many other noted artists found inspiration. There, he refined his painting skills, and with a focus on comics, science-fiction, and fantasy illustration, found work as a freelance illustrator and designer. Warhola has created artworks for more than three hundred book jackets, including Stranger in a Strange Land by Robert Heinlein and Neuromancer by William Gibson. In addition, he has been a regular contributor for Mad magazine since 1980, creating both cover and story illustrations, and one of the primary artists for the popular Garbage Pail Kids trading card series.
In 1987, he began to illustrate children's books, including The Pumpkinville Mystery, Eddie: Harold's Younger Brother, The Tinderbox, and The Brave Little Tailor. In 2004, Warhola won the International Reading Association's Award for Best Children's Non-Fiction Picture Book for his book Uncle Andy's: A Faabbbulous Visit with Andy Warhol, a recount of family trip to New York City to see his uncle and grandmother. In 2009, he wrote and illustrated the sequel Uncle Andy's: Uncle Andy's Cats.
"My first memories of Andy were of him as a very busy illustrator, with a different name than ours," Warhola recalls. "Oh, about the name change from Warhola to Warhol, which is something I'm often asked about. He dropped the 'a' simply because it was easier to pronounce, not because he knocked the 'a' off trying to hit a roach coming out of his portfolio while on his first interview—a story that my father liked to tell."
James Warhola resides in Tivoli, New York. Warhola continues to illustrate children's books today.
Illustrations by James Warhola
Additional Resources
Bibliography
Cole, Bruce and James Warhola. The Pumpkinville Mystery. New York: Simon & Schuster Books for Young Readers, September 15, 1987.
Kowalski, Jesse. Enchanted: A History of Fantasy Illustration. New York: Abbeville Press, 2020.
Warhola, James. Uncle Andy's: A Faabbbulous Visit with Andy Warhol. New York: Puffin Books, March 10, 2003.
Warhola, James. Uncle Andy's: Uncle Andy's Cats. New York: G.P. Putnam's Sons Books for Young Readers, July 9, 2009.