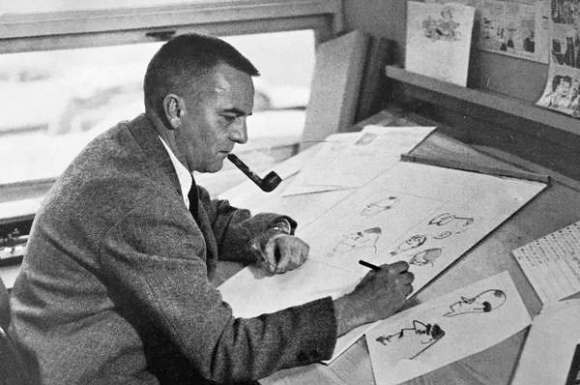 Biography
Peter Wells (born Herbert Hilbish Wells) was an American cartoonist and children's book writer, most famous for contributing drawings to the Katzenjammer Kids comic books and for being an instructor for the Famous Artists School Cartooning Course.
Peter, as he was commonly known, was born on January 8, 1912 to John H. and Wilhelmina (Baron) Wells of Port Clinton, OH. His father was an accomplished yacht designer with his own firm. He designed yachts for executives of early automobile companies in the Detroit area, among other notables. A collection of John H. Wells' designs is held at the Mystic Seaport.
Peter Wells spent his early years in Portland, ME and later Bronxville, NY and Scarsdale, NY. After his preparatory education at Morristown Academy, he graduated from Yale University in 1935. At Yale, he nurtured a penchant for cartooning while serving as art director of The Yale Record.
During the early 1940's, Wells wrote and illustrated a variety of children's books, one of which, Mr. Tootwhistle's Invention, won first prize in the New York Herald Tribune's Children's Spring Book Festival of 1942. His other children's books included Dolly Madison's Surprise and The Pirate's Apprentice. He also provided illustrations for children's books by other authors.
After his success with Mr. Tootwhistle's Invention, Peter Wells was hired as a staff cartoonist by King Features. Between 1948 and 1951, Wells wrote and drew for King Features' Katzenjammer Kids comic books series, although attributing the exact issues by him is difficult as the staff cartoonists usually didn't sign their work.
During World War II, Wells entered the Navy and served on a PT boat in the Pacific.
Between 1946 to 1952 , Wells illustrated for The Blue Book Magazine, a popular pulp magazine, which included artwork for a series of excerpts from Richard Hakluyt's Principall Discoveries of the English Nation. During the 1950s and 1960s, he created the cartoon strip Pete the Pup and others for Scholastic magazine. He also published cartoons in various boating magazines.
From 1954 to the early 1970s, he worked for the Famous Artists School, an art correspondance program founded by Al Dorne, as an instructor for the Cartooning Course. At one point, he and "Bud" (Forrest Cowles) Sagendorf acted as co-directors of the Cartooning Course and helped create some its lessons.
Peter was married for 60 years to his wife Helen (Rollins) Wells. They lived for many years in Noroton, CT where they raised three boys, whose antics found their way into many Katzenjammer Kids comics and his children's books. In his spare time, Wells was an avid sailor and jazz musician (playing the bass saxophone).
Peter Wells was a member of the National Cartoonist Society.
Illustrations by Peter Wells
Additional Resources
Bibliography
Wells, Peter. Mr. Tootwhistle's Invention. Philadelphia, PA: The John C. Winston Company, June 1942.
Wells, Peter. The Pirate's Apprentice. Philadelphia, PA: The John C. Winston Company, 1943.