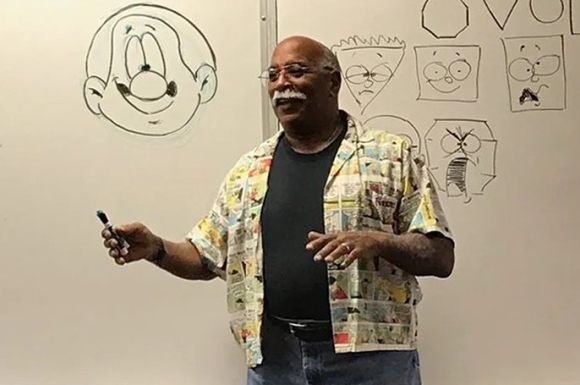 Biography
Cartoonist Stephen Bentley cites as a main influence the work of Charles Schulz, the creator of the Peanuts comic strip. While attending college in 1974, Bentley briefly spoke with Schulz at the Rose Parade in Pasadena where Schulz was serving as Grand Marshal, and he encouraged Bentley to follow his dream.
In a December 14, 1999 interview with The Stockton Record, Bentley recalled, "I was very much influenced by the simplicity of his art, his humor, his style, his point of view and his philosophy." Mirroring the spirit of optimism and community in Schulz's Peanuts, Bentley added, "I use the kids in my cartoon [Herb and Jamaal] in order to relate difficult and controversial issues in a very tactful and poignant way."
Photograph courtesy www.dailycartoonist.com
Illustrations by Stephen Bentley

Creators Syndicate, Inc.
https://www.illustrationhistory.org/illustrations/herb-and-jamaal-comic-strip-august-7-2012

Creators Syndicate, Inc.
https://www.illustrationhistory.org/illustrations/herb-and-jamaal-comic-strip-july-24-2012
Additional Resources
Bibliography