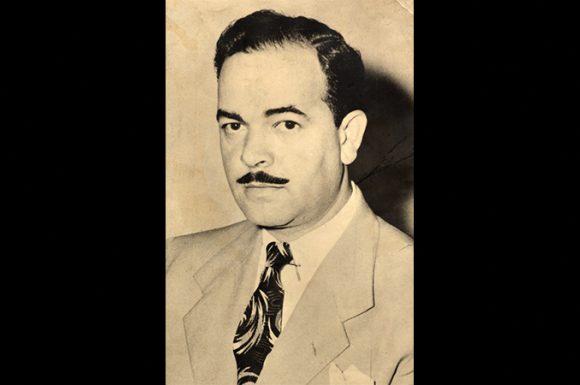 Biography
Known professionally as Sam Milai, Ahmed Samuel Milai was an editorial and comic strip cartoonist for the Pittsburgh Courier, an influential African American weekly newspaper published from 1907 to 1966. Milai worked as the paper's editorial cartoonist for thirty years, illustrating Your History, a cartoon feature for the publication that become known in the 1960s as Facts About the Negro. Designed to celebrate and inspire pride in the accomplishments of people of color across the fields of the arts, literature, education, and science, the series brought Black history to light at a time when such information was not widely acknowledged or shared. First appearing in 1934, Your History included short historical vignettes by journalist Joel A. Rogers and corresponding illustrations initially created by artist George L. Lee.
In 1940, Milai replaced Lee as the artist for the series, which was graphically patterned after Robert Ripley's popular Believe or Not cartoons featuring bold type, interesting insets, and compelling artwork, as seen here. Readers looked forward to the Saturday series, which became an important resource. In a January 1935 letter to the editor, a teacher in New Orleans praised Rogers and Lee "for stimulating a study of Negro History, a subject with which we should all be acquainted and yet, one of which we know the least."
Milai was also the creator of Bucky, a comic about a precocious child that ran from 1937 to 1950, and Don Powers, a color cartoon strip distributed by the Smith-Mann Syndicate of New York from 1950 to 1958 following the adventures of an African American athlete. The artist won the National Newspaper Publishers Association's John B. Russworm Trophy for the best cartoon eight times in his career, and he was also an educator at Pittsburgh's Ivey School of Professional Art and at the Pittsburgh Art Institute.
Illustrations by Sam Milai
Additional Resources
Bibliography
Rogers, J.A. and Sam Milai. Facts About the Negro. Pittsburgh, PA: Lincoln Park Studios, 1964.
Wanzo, Rebecca Ann. The Content of our Caricature: African American Comic Art and Political Belonging. New York University Press, 2020.