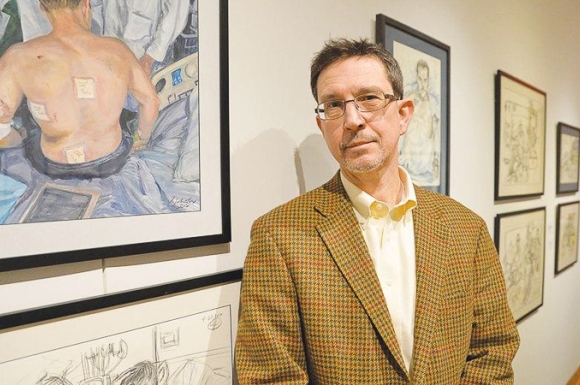 Biography
Victor Juhasz (1954) is a prolific American illustrator primarily known, nationally and internationally, for his humorous caricatures commissioned by major magazines, newspapers, advertising agencies, and book publishers. He is also acclaimed for his illustrations in award-winning children's books. Juhasz has worked as an embedded combat artist/witness, and courtroom sketch artist. He is known to assist with charitable foundation work and special documentation projects for the military, police force, Foundation Rwanda, and, during the COVID-19 lockdown, essential workers.
Juhasz's parents emigrated from Eastern Europe after World War II. His father and mother settled in Newark, New Jersey, where Juhasz was born in 1954. The family moved to Roselle, New Jersey where he attended St. Joseph the Carpenter elementary school and Roselle Catholic High School. Juhasz showed an interest in drawing early in life, and while in high school, participated in the Drama Club, the Poster Club, and he was the art director of the school newspaper, The Lion. Juhasz credits a high school teacher with dissuading him from pursuing his fantasy of becoming a cross-country truck driver, and encouraging him instead to follow a career using his artistic talents.
Before graduating from New York City's Parsons School of Design in 1975, Juhasz had already begun illustrating for The New York Times. His humorous caricatures and illustrations have been commissioned by major magazines, newspapers, advertising agencies, book publishers, and commercial clients (both national and international) including Time, Newsweek, Rolling Stone, The Wall Street Journal, The National Observer (Canada), GQ, The Washington Post, Harper Collins, Ogilvy & Mather Worldwide, Proctor & Gamble, and Jeffrey Richards Associates (Broadway Producers), among others. Juhasz also had a long working relationship with Golf Magazine "Sidespin" columnist, David Feherty (mid 90s to March 2012), illustrating the writer's columns and two volumes of his collected works.[1] As a courtroom artist for ABC-TV, The Washington Times, and The Washington Post, Juhasz covered the arraignment of the serial killer, Son of Sam, and the trial of John Hinckley who attempted to assassinate President Reagan.
Through his association with columnist, David Feherty, Juhasz became involved with Feherty's charity work for the Troops First Foundation's 2008 Thanksgiving tour of military bases in Kuwait and Iraq, drawing soldiers and Marines, and sending the originals to family members before Christmas. He traveled with the Foundation again in 2010 to Helmand Province, Afghanistan and to Kuwait in 2011.[2] Through the Society of Illustrators, Juhasz is a member of the USAF Art Program and his work, depicting training and interactions between servicemen and servicewomen, is part of the permanent collection of the United States Air Force in the Pentagon. His military projects continued during his collaboration with The Joe Bonham Project, started by combat artist and former Marine, Michael D. Fay. Juhasz drew wounded soldiers at Bethesda Naval Hospital and McGuire Hospital in Richmond, Virginia, as part of an artist documentation of the wars in Iraq and Afghanistan for the Smithsonian. In August 2011, he was embedded as a combat artist for two weeks with the 1-52nd Arctic Dustoff, an Army helicopter MEDVAC unit in Kandahar, Afghanistan where he accompanied the medic teams on missions recovering the wounded.[3] The work Juhasz has done documenting the training exercises of the USMC in bases around the country is now part of the permanent collection of the National Museum of the Marine Corps in Quantico, Virginia.
Juhasz's depictions of military life are part of what he refers to as "witness art," the ability to interact with the individuals he portrays, thus depicting the character of the people he sketches — something which he feels is often lost in photographs. He continues to develop his "witness art" and uses it to depict people working in other areas of service such as the New York City police force impacted by 9-11 at Ground Zero, and during the COVID-19 emergency, the essential workers who were on the front lines of the fight against the pandemic. Through Foundation Rwanda, Juhasz has depicted the women who were victims of rape during the genocide and the children they bore as a result of those rapes.
Collaborations with Sleeping Bear Press since 2004 have resulted in Juhasz's illustrations appearing in award-winning children's books such as, D is for Democracy: A Citizen's Alphabet and Everyone Counts, also H is for Honor – A Military Family Alphabet, among others.
Among Juhasz's many awards and citations are The Society of Illustrators' 2012 Arthur William Brown Recognition Award, and the Society's gold medal and prestigious Hamilton King Award for his embedded work in Afghanistan. He also serves on the Society's Board of Directors.[4]
Juhasz lives in New York with his psychotherapist, life coach, and motivational speaker wife, Terri Cole Juhasz. They have three sons and six grandchildren.
Footnotes:
[1] Alumni Spotlight. Roselle Catholic High School website. "Victor Juhasz '72, Prominent Illustrator & Reportorial Artist." January 2014. Accessed September 2, 2020. http://rosellecath.web701.discountasp.net/Alumni/Alumni-Spotlight/VICTOR-JUHASZ-72.aspx
[2] Contributor Bio. "Contributor Victor Juhasz, Award-winning illustrator." Huffington Post website. Accessed September 2, 2020. https://www.huffpost.com/author/victor-juhasz
[3] Ibid.
[4] Wikipedia's entry on Victor Juhasz. Accessed September 2, 2020. Last updated August 25, 2020. https://en.wikipedia.org/wiki/Victor_Juhasz
This artist's biography was written by Phyllis Geraghty, a writer with professional experience in the public relations, education, health, and non-profit sectors.
Illustrations by Victor Juhasz
Additional Resources
Bibliography
Grodin, Elissa and Victor Juhasz. D is for Democracy: A Citizen's Alphabet. Chelsea: Sleeping Bear Press, 2004.
Kimmelman, Leslie and Victor Juhasz. Hot Dog! Eleanor Roosevelt Throws a Picnic. Ann Arbor: Sleeping Bear Press, 2014.
Shoulders, Debbie, Michael Shoulders and Victor Juhasz. G is for Gladiator: An Ancient Rome Alphabet. Ann Arbor: Sleeping Bear Press, 2010.
Taibbi, Matt and Victor Juhasz. Insane Clown President: Dispatches from the American Circus. London: WH Allen, 2017.
Wilbur, Helen L. and Victor Juhasz. Z is for Zeus: A Greek Mythology Alphabet. Chelsea: Sleeping Bear Press, 2008.