Biography
R.O. (Bob) Blechman is a celebrated illustrator, animator, children's book author, graphic novelist, and editorial cartoonist. His seminal animated commercial created for Alka-Seltzer and his witty illustrations for The New York Times, The New Yorker, and The Huffington Post have established Blechman's work as an important touchstone in modern illustration art. This has brought a flurry of honors: in 1983 Blechman was awarded the title of Illustrator of the Year by Adweek; in 1984 he received an Emmy as director of The Soldier's Tale,an animated PBS special; he was the recipient of the New York Art Directors Club prestigious Hall of Fame in 1999; he received a Lifetime Achievement Award from The National Cartoonists Society in 2010; and in 2012, Blechman was inducted into the Illustrators Hall of Fame at the Society of Illustrators. A retrospective exhibition of his animated films was mounted at the Museum of Modern Art in New York in 2003.
Over the breadth of his career Blechman has focused on and even revisited a variety of visual themes. Some originated within the various stories he has written and illustrated since the 1950s; some evolve from the appropriation of art made in other times and places. His art also reflects his experiences or the places he has been. The world may be his oyster, but it becomes our treat.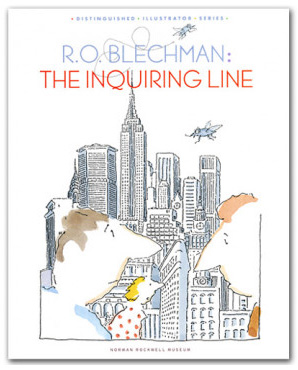 Illustrations by R.O. Blechman

R.O. Blechman
https://www.illustrationhistory.org/illustrations/parody-of-norman-rockwells-freedom-from-fear
Additional Resources
Bibliography
Berne, Jennifer and R.O. Blechman. God: 48 Famous and Fascinating Minds Talk About God. Philadelphia, PA: Running Press, 2017.
Blechman, R.O. Attention, Mr. Steinberg: My Encounters with Saul Steinberg. Washington, DC: Shoemaker & Hoard, 2004.
Blechman, R.O. Behind the Lines. New York: Hudson Hills Press, 1980.
Blechman, R.O. Dear James: Letters to a Young Illustrator. New York: Simon & Schuster, 2009.
Blechman, R.O. Franklin the Fly. Mankato, MN: Creative Editions, 2007.
Blechman, R.O. The Life of Saint Nicholas. New York: Stewart, Tabori & Chang, 1996.
Blechman, R.O. Onion Soup and Other Fables. New York: Odyssey Press, 1964.
Blechman, R.O. Talking Lines: The Graphic Stories of R.O. Blechman. Montreal: Drawn and Quarterly, 2009.
Heller, Steven and R.O. Blechman. Man Bites Man: Two Decades of Satiric Art. New York: A & W Publishers, 1981.