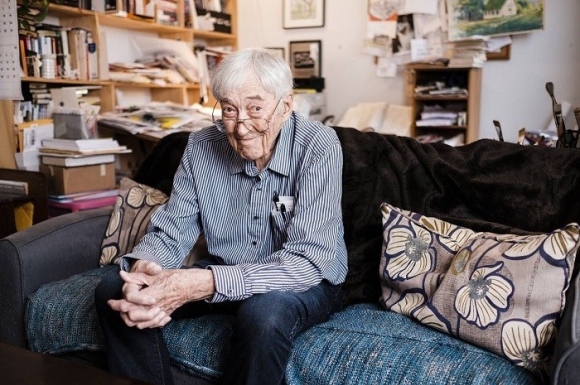 Biography
George Booth was born in 1926 to his mother Irma, and his father William, who were both teachers. Booth began drawing at the age of three, and as he grew up, his father helped him get a job as a printer's devil in a linotype shop. Both his mother and father had a healthy sense of humor.[1] His father often got a kick out of entertaining people, and one of Booth's recurring characters in his illustrations is modeled after his mother.
In his late teens, Booth was drafted into the U.S. Marine Corps where he began working at the official Marine Corps publication.[2] At the time, the US was fighting Japan, and it wasn't until two years later that he received a telegram about joining Leatherneck magazine. However, this meant that Booth would have to reenlist, which turned the heads of soldiers who were looking to return home. Booth reenlisted and went to work as a staff cartoonist at Leatherneck magazine in Washington DC, but was recalled to the Korean War in December 1950 where he returned to Camp Pendleton. He was then called back to Leatherneck a second time.
After working in Washington for a bit, Booth decided to move to New York in 1952 where he worked to earn some extra money.
In 1958, Booth married his wife Dione and soon became the art director for Bill Communications. However, due to money conflicts, he quit and returned to freelancing in 1965.[1] By the mid-60s, Booth had established a name for himself as a freelance illustrator. He appeared in magazines including The Saturday Evening Post, The American Legion, Look, and Collier's.[3]
When he was stationed at Leatherneck, illustrator John DeGrasse informed him he should focus on The New Yorker if he didn't want to be pinned to a cartoon every day. In 1969 Booth sold his first cartoon to The New Yorker. Since then, Booth has contributed hundreds of illustrations to the magazine, including over a dozen cover illustrations, and he is currently The New Yorker's oldest contributing cartoonist. In 1998, he was also the only New Yorker cartoonist to be profiled in the magazine.
During Booth's time at The New Yorker, he has illustrated numerous books, and several collections of his cartoons have been published. Booth loves to include scruffy and confused cats and dogs, characters based on Missouri relatives and neighbors, a single light hanging from the ceiling, and one of his most famous recurring characters, Mrs. Ritterhouse. Mrs. Ritterhouse is an eccentric old lady who plays the violin and does as she pleases. Those around her seem to accept her shenanigans, and when she's not pictured in the scene, her presence can still be felt.
After the 9/11 attacks in New York, The New Yorker informed their artists that they would not be buying any illustrations for the next issue. Artists were allowed to submit, but their work was not going to be purchased. Booth submitted an image of his mother, sitting in a kitchen chair, praying. Meanwhile, a cat hides its face at the edge of the rug, and her violin lays beside her with her bow facing inwards. In the next publication, Booth's illustration was included in the magazine. This was the only drawing the magazine bought and printed in the issue following the attack.[1]
Booth never went to college, but he attended various art schools to learn to draw. As a piece of advice, Booth stated that along with learning the basics in drawing and painting, one should also learn the business end because of the role it plays when you enter the art world.
In the early 2000s, Booth was awarded the Milton Caniff Lifetime Achievement Award and the Gag Cartoon Award by the National Cartoonists Society.
In his everyday life, Booth was referred to as "Mr. George" by those who knew him around his Brooklyn neighborhood, and had been seen walking his daughter to the train station while stopping to chat with neighbors.[2] Recently, a documentary by Nathan Fitch was released, which celebrates and explores Booth's work, motivation, and creative impact. Booth died in November 2022, at the age of 96.
[1] Gehr, Richard. "George Booth : Semper Fi." The Comics Journal, August 12, 2013. Accessed August 12, 2021. https://www.tcj.com/george-booth-semper-fi/.
[2] Goba, Kadia. "Cartoonist George Booth: A Real New Yorker." Bklyner, April 30, 2019. Accessed September 30, 2021. https://bklyner.com/cartoonist-george-booth-a-real-new-yorker/.
[3] Mattimoe, Jane. "George Booth." A Case for Pencils, June 14, 2016. Accessed September 30, 2021. https://afinecaseforpencils.com/post/145931550229/george-booth.
Illustrations by George Booth
Additional Resources
Bibliography
LeSieg, Theo and George Booth. Wacky Wednesday. New York: Beginner Books, 1974.
Booth, George. Omnibooth: The Best of George Booth. New York: Congdon & Weed, 1984.
Lorenz, Lee. The Art of the New Yorker 1925-1995. New York: Alfred A. Knopf, 1995.
Booth, George and Lee Lorenz. The Essential George Booth. New York: Workman Pub, 1998.
Remnick, David and Robert Mankoff. The New Yorker Encyclopedia of Cartoons, Volume 1 A-K. New York NY: Black Dog and Leventhal Publishers an imprint of Hachette Books, 2018.
Remnick, David and Robert Mankoff. The New Yorker Encyclopedia of Cartoons, Volume 2 L-Z. New York NY: Black Dog and Leventhal Publishers an imprint of Hachette Books, 2018.