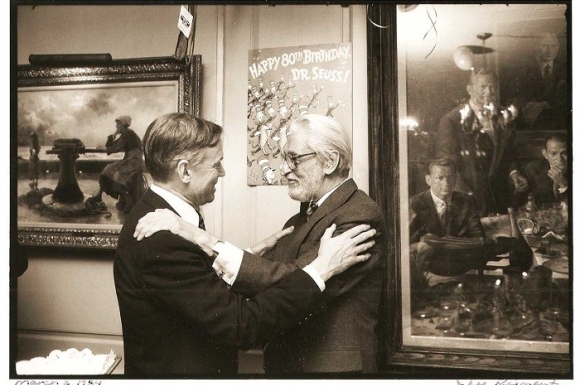 Biography
Roy McKie was born in Medford, Massachusetts in 1921. His mother was a primary-school teacher, and his father worked as a gate man for the Boston and Maine Railroad after returning home from the First World War. His father suffered from PTSD (post-traumatic stress disorder) and would often spend time in Chelsea, Massachusetts, coming home once a month for the weekend. However, when McKie was sick, he remembered his father would sit on his bed and draw what he could see outside the window on brown paper bags to show him. McKie would also draw pictures in the margins of a small book as he listened and drew the story that was being told on the radio.
In high school, McKie entered an art competition which required him to draw the history of the school — and he won. Over the weekends during his final years of high school, he would spend time working on still lifes for hours. After high school, McKie took an entrance exam for the Vesper George School of Art on Saturdays, with a payment of $5 for half a year. McKie was unable to make the payment, but one of his father's friends gave him the payment, allowing him to attend. In spite of the opportunity to attend art school, McKie eventually came to recognize that he had to support his family full time. From an early age, McKie was always working. As a boy, he worked selling newspapers at the railroad station. After high school he worked in multiple factories, and off hours, he worked at Howard Johnson making ice cream sodas.
Realizing he wasn't going to get anywhere working in factories, McKie returned to the Vesper George School of Art in Boston. While attending Vesper, he won the "Prix de Rome," which would have allowed him to study abroad. However, due to World War II restricting his travel, he instead attended the Louis Comfort Tiffany Foundation on Long Island, New York.[2] He graduated in 1941, and later worked for a man named Bruce Anderson, whom he met through a fellow student in Boston. With Anderson, he worked on posters and booklets for American Airlines. It was during this time that he met his first wife, Lois, and they had a son and daughter together.
McKie soon left Boston, and then worked for N.W. Ayer & Son Advertising in Philadelphia, where he met Leo Lionni — an art director at the time, and future author of children's books such as Alexander and the Wind up Mouse. While working for the Ladies' Home Journal, Lionni created bits to be published in their magazine. After he left, McKie began thinking up ideas for the journal and submitting them for approval. McKie also worked under Charles Coiner — an American painter and advertising art director — while he continued to work for N.W. Ayer & Son.[1]
After his work in Philadelphia, McKie moved to New York to do freelance work. During this time, he soon divorced his first wife. In 1963, he met June Reynard — an illustrator who worked for numerous fashion houses such as Christian Dior — at an art opening at the NY Society of Illustrators. The following year, the two married and moved to Greenwich Village where they shared an art studio.[1][2]
During McKie's time freelancing in New York, he got a call from Bennett Cerf — publisher and co-founder of Random House. Cerf had seen McKie's work and called to ask if he'd like to meet Ted Geisel, most famously known as Dr. Seuss. Coming together over the weekend, the two hit it off, sketching and talking with one another about collaborating. From then, he started doing work for Random House alongside Geisel.[1]
During McKie's life as an illustrator, he worked on more than 100 books for numerous different publishers, as well as humorous books with Henry Beard on subjects such as skiing, golfing, sailing, and fishing.[2] His favorite work of his was Snow, which he illustrated for screenwriter, author, and illustrator, P.D. Eastman. McKie described his style as being more of "an old fashioned way of approaching things. Softer, not so vulgar as a lot of what you see for children today."[1] However, it is his work with Dr. Seuss and the Beginner Book imprint series that catapulted his fame. He died in New Holland, Pennsylvania in 2015 at the age of 93.
[1] Streetman, Burgin. "In Celebration: Roy McKie." Vintage Kids' Books My Kid Loves. January 3, 2011. Accessed June 21, 2021. http://www.vintagechildrensbooksmykidloves.com/2011/01/in-celebration-roy-mckie.html
[2] "Roy A. McKie Jr." The New York Times. March 9, 2015. Accessed June 21, 2021. https://www.legacy.com/obituaries/nytimes/obituary.aspx?n=roy-a-mckie-jr&pid=174350926
Illustrations by Roy McKie
Additional Resources
Bibliography
Dr. Seuss and Roy McKie. Ten Apples Up on Top! New York: Beginner Books, 1961.
Dr. Seuss and Roy McKie. My Book About Me by Me Myself: I Wrote It! I Drew It! New York: Beginner Books, 1969.
Beard, Henry and Roy McKie. Fishing: An Angler's Dictionary. New York: Workman Pub, 1983.
McKie, Roy and P. D. Eastman. Snow. New York: Beginner Books A Division of Random House, 1990.