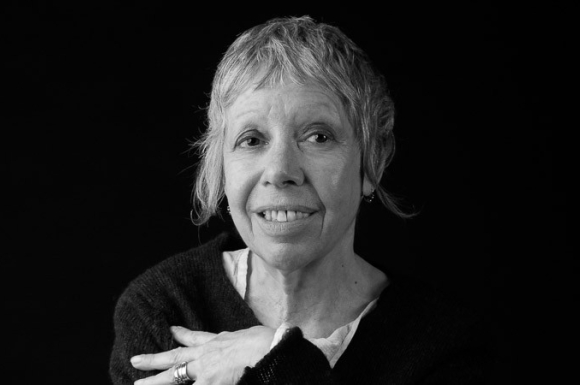 Biography
Born Althea Friedberg, Thea Kliros had been drawing since she was a child. However, when she got into high school, she considered becoming a dancer. She even danced with choreographer, dancer, and teacher Alwin Nikolais — performing at the Henry Street Settlement Playhouse where he was appointed as co-director. Kliros later studied at both Bennington College and the Yale University School of Art and Design. While at Bennington, she entered a contest for Seventeen Magazine and won. She continued to work for the magazine while she was still in school. It was during this time that she realized she could not work as both a dancer and an artist. Both careers required full commitment, therefore, she chose to continue pursuing art as her career. After Bennington, Kliros received a scholarship to the Yale Summer School where she studied with Josef Albers — a German-born artist and educator who became the first living artist to receive a solo show at the Museum of Modern Art.
It was at Yale where she met her first husband, Theodore Kliros, an artist and sculptor himself. The two later moved to Washington D.C., where Ted worked as director of the Corcoran Gallery of Art, and Thea worked painting dioramas for the Smithsonian Museum of Natural History. The two continued to paint and exhibit at galleries, and soon had two children, Hilary and Adrian.
Thanks to the proceeds from one of Ted's one-man shows, the family moved to Mallorca, Spain and only returned when their money ran out. Ted was later offered a job in Geneva, Switzerland, and the family moved back to Europe. Abroad, Thea continued to paint and exhibit her work. During her time in Switzerland, she began freelancing for Bella, a fashion magazine based in Milan, Italy. The family later returned to the U.S. and moved back to New York City. Upon their return, Thea began working full-time as a fashion illustrator. Her work appeared in publications such as Vogue, Women's Wear Daily, Seventeen, and Good Housekeeping. She would continue to work on fashion illustration until the late 80's. By then, photography had started to take over as the main source of fashion advertisement, with illustration slowly dying down. During this period, Ted suddenly passed away, making her work the only thing that kept her going. Kliros later married David Neuman, an advertising executive, and the two settled in Duchess County.
After departing from fashion illustration, Kliros began doing work for children's books. She produced dozens of works including the Raina Moore adaptations of Three Little Pigs (2003), The Three Bears (2003), and Three Billy Goats Gruff (2003). Kliros has won numerous awards for her work, and in 2000, she was awarded the Book Award by the Please Touch Museum in Philadelphia for her What Can You Do In The… series. One of her most notable works comes from the 2010 rendition of The Wizard of Oz by L. Frank Baum. Other titles of hers include the Anne of Green Gables (1993) stories by Lucy Montgomery, God Is Like…Three Parables for Children (2000) by Julie Walters, and Sand Castle (1999) by Brenda Yee, among others.
Unfortunately, in the summer of 1990, Thea's second husband, David, died of lung cancer. Kliros continued working on her art with a strong and engaging spirit. She lived in Manhattan, but would spend time in Millbrook, New York over the weekends, or when she found time to relax. In December 2013, Thea Kliros died at the age of 78.
Illustrations by Thea Kliros
Additional Resources
Bibliography
Baum, L. Frank and Thea Kliros. Wizard of Oz. Wilkes-Barre: Bedwick & Jones, 2010.
Garis, Howard Roger and Thea Kliros. Favorite Uncle Wiggily Animal Bedtime Stories. Mineola: Dover Publications, 1998.
Hines, Anna Grossnickle and Thea Kliros. What Can You Do in the Sun? New York: Greenwillow Books, 1999.
Kliros, Thea. Listen & Color: Favorite Poems for Children. Mineola: Dover Publications, 2004.
Kliros, Thea and Anna Sewell. Black Beauty. New York: Dover, 1993.
Kliros, Thea, E.T.A. Hoffmann and Raina Moore. The Nutcracker. New York: HarperFestival, 2003.
Kliros, Thea and Raina Moore. Three Billy Goats Gruff. New York: HarperFestival, 2003.
Kliros, Thea and Raina Moore. Three Little Pigs. New York: HarperFestival, 2003.
Lowe, Jillen. "Mill House Magic." Duchess Magazine, November/December 1991.
Palacios, Argentina, Thea Kliros and Miguel de Cervantes Saavedra. Adventures of Don Quixote. Mineola: Dover Publications, 1999.
Yee, Brenda Shannon and Thea Kliros. Sand Castle. New York: Greenwillow Books, 1999.