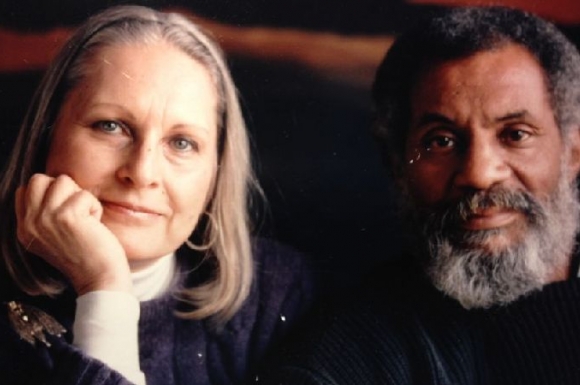 Biography
Diane Dillon was born as Diane Sorber on March 13, 1933 in Los Angeles, California; her husband Leo Dillon was born eleven days before her on March 11, 1933, in Brooklyn, New York. They met in 1953 while attending Parsons School of Design in New York City. The two artists quickly became rivals as they both viewed the other as the superior artist. Being jealous of each other's talents allowed for each artist to grow as they challenged each other. There are two major messages Diane and Leo wish to convey through their illustrations.[1] "The first is that all people whatever their culture or race, experience the same things… the second is that since the beginning of history, people have expressed themselves in wonderful and unique ways. Art in its many forms has survived to inform us of lives long gone. Art inspires, lifts our spirits, and brings beauty to our lives. We wish to pay homage to it and the people who created it.'"[2]
In 1957, the couple married. They first pursued separate careers in illustration before coming together and realizing their strengths were in collaboration. They approached each job as an opportunity to grow as artists. They tended to use whatever materials were necessary and worked for each piece, including pastels, colored pencil, watercolor, acrylic, stencils, typography, woodcut, pochoir (a stencil-based printing technique), found-object assemblage, collage, and sculpture.[1]
The Dillons created book covers, editorial illustrations, movie posters, and album covers. They also created a variety of advertisements with subjects that ranged from children's literature to political themes. They became well known in the science community for their covers of the Ace Science Fiction Specials as well as for numerous magazine illustrations and book covers for fiction author Harlan Ellison's work. The Dillions were awarded the Hugo Award for Best Professional Artist in 1971. Diane was the first woman to receive the award. In 1981, Ballantine Books produced a collection of their work in The Art of Leo and Diane Dillon. Other awards include the Hamilton King Award, the Chesley Award, the World Fantasy Lifetime Achievement Award, and the Spectrum Grand Master Award.[1]
Aside from the fantasy and science fiction world, the Dillions became best known for their many picture books for children. Their illustrations featured people from all ethnicities and cultural heritages. They won the prestigious Caldecott Medals for children's book illustrations two years in a row (1976-1977) for Why Mosquitoes Buzz in People's Ears and Ashanti to Zulu. Leo was the first African-American artist to win the award.[3] They also received Coretta Scott King Awards and Honors for Aida, Her Stories, Rap A Tap Tap Here's Bojangles—Think of That, and The People Could Fly. Over the course of their careers the Dillons taught at the School of Visual Arts and lectured at many colleges around the country. Diane and Leo Dillon were inducted into the Society of Illustrators Hall of Fame in 1997[1] and in 2008 they received the Society's Lifetime Achievement Award.
Leo passed away in May 2012 from lung cancer.[1] Together the couple worked together for over 40 years and produced more than 50 children's books. They received an award in nearly every genre. After Leo's death, Diane completed a book that the couple was working on; she also continues to explore her personal art and practice.[4] She released her own book titled I Can Be Anything! Don't Tell Me I Can't on February 27, 2018, and continues to live and work in New York City.[2]
[1] Fenner, Arnie. "The Artist: Leo and Diane Dillon." Tor.com. November 25, 2014. July 10, 2019. https://www.tor.com/2014/11/25/the-art-of-leo-and-diane-dillon/.
[2] "Leo & Diane Dillon." The National Center for Children's Illustrated Literature. n.d. July 10, 2019. https://www.nccil.org/artists/leo-diane-dillon.
[3] "Diane Dillon" Kids Reads. n.d. July 10, 2019. https://www.kidsreads.com/authors/diane-dillon.
[4] Marcel, Saundra. "Diane and Leo Dillon." The Professional Association for Design. November 16, 2015. July 10, 2019. https://www.aiga.org/diversity-inclusion-design-journeys-essay-diane-leo-dillon.
Image from: https://www.rmichelson.com/illustration/leo-diane-dillon/
Entry written by Rachel Mancour, 2019 Walt Reed Distinguished Scholar Intern
Illustrations by Diane Dillon
Additional Resources
Bibliography