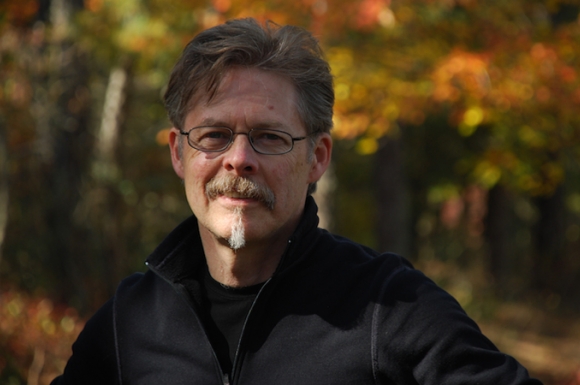 Biography
Artist and author Gregory Manchess has built a successful career in illustration through determination, ingenuity, and a relentless drive to succeed. After being advised early on that illustration was a dying field, Manchess went on to produce oil paintings for scores of book covers and advertising campaigns. His work has also appeared in National Geographic Magazine, Time, Atlantic Monthly, and The Smithsonian. His excellent figure work has led to numerous commissions for stamps by the U.S. Postal Service, including the Mark Twain stamp and the recently released "March On Washington" stamp.
Manchess recalls, "On the first day of art school, [teachers] said, 'Painting and drawing is dead. We no longer do that. We're all about conceptual art.' I struggled through four years of art school, trying to draw animals and people and scenes and learn perspective and all that stuff when people were telling me that I didn't know what I was doing."
Although his work has garnered him numerous awards and recognition from his peers, perhaps his greatest career achievement is his illustrated novel Above the Timberline.
Within the pages of the innovative storybook, Gregory Manchess carries forward the grand tradition of illustrated adventure novels popularized during the Golden Age of Illustration. Following in the footsteps of artists N.C. Wyeth, Howard Pyle, and Frank Schoonover, who respectively brought to life the story of Treasure Island, the exploits of King Arthur, and the Western novels of Zane Grey, Manchess has crafted a tale that combines the painted image with a wilderness adventure. The visual impact of Above the Timberline is made even stronger by the panoramic format of the paintings, which lends a cinematic quality to the story.
Set in the distant future, Above the Timberline details the travels of cadet Wesley Singleton as he desperately searches for his father, famed explorer Galen Singleton, who disappeared on an expedition into the frozen unknown. After receiving a cryptic note, Wesley begins following his father's trail. Over a seven-year process to create the book, Manchess looked inward to craft a narrative which is partly based on his own relationship with his father.
About his career, Manchess says, "I was interested in painting scenes and pictures of things that touched me, and if it touched me I knew it would touch other people." In Above the Timberline, through zeppelin battles, snowmobile chases, and dangerous encounters with polar bears, ice leopards, and treasure hunters, Manchess has masterfully painted in bold brushstrokes a window into a futuristic world with a tale containing eternal themes of family, friendship, loss, and love.
Illustrations by Gregory Manchess
Additional Resources
Bibliography
Fenner, Cathy and Arnie Fenner. Spectrum 17: The Best in Contemporary Fantastic Art. Nevada City, CA: Underwood Books, 2010.
Howard, Robert Ervin and Gregory Manchess. The Conquering Sword of Conan. New York: Del Rey/Ballantine Books, 2005.
Kowalski, Jesse. Enchanted: A History of Fantasy Illustration. New York: Abbeville Press, 2020.
Manchess, Gregory. Above the Timberline. New York: Saga Press, 2017.
Reed, Walt. The Illustrator in America, 1860-2000. New York: Society of Illustrators, 2001.
Waldman, Stuart and Gregory Manchess. The Last River: John Wesley Powell & the Colorado River Exploration Expedition. New York: Mikaya Press, 2005.
Waldman, Stuart and Gregory Manchess. Magellan's World. New York: Mikaya Press, 2007.