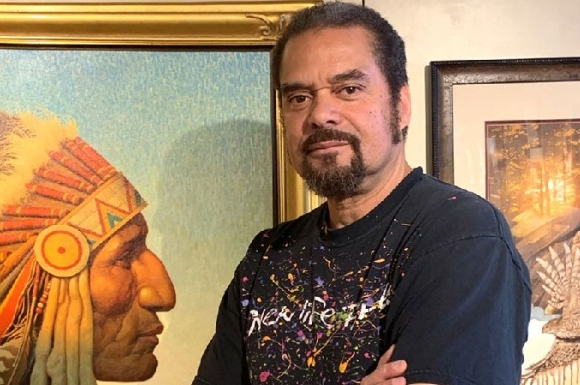 Biography
Over the past four decades, Blackshear has illustrated for magazines, movie studios, and the US Postal Service, for which he painted designs for postage stamps featuring legendary jazz musicians, classic film monsters, 1930s movie stars, and a series of African American heroes.
A graduate of the American Academy of Art in Chicago, Blackshear first found illustration work in 1977 with Hallmark Cards. After a brief stint with Hallmark, Blackshear worked for a handful of artists before deciding to be a freelance artist.[1] Throughout the 1980s and 1990s, Blackshear was hired by Universal Studios, National Geographic, and the United States Postal Service, which commissioned Blackshear to create several postage stamps of African American heroes for its "Black Heritage" series. In 1993, Blackshear released The African American Tradition: Heroes of Our Heritages, a portfolio of images from the lattermost series, which included Rosa Parks, Dorothy Height, Ida B. Wells, Martin Luther King Jr., and numerous others.
Thomas Blackshear is just as well known for his dramatic images of angelic figures in such paintings as The Awakening, Forgiven, Watchers in the Night, and Preparing to Sound the Alarm. In 2006, the Vatican celebrated his work with a solo exhibition.
Throughout his career, Blackshear has accrued a number of awards for his work. His work has been recognized by such organizations as the San Francisco Society of Illustrators, Illustrators West, and the National Association of Limited Edition Dealers for his work on collector's plates bearing images of angelic figures. In 2020, the Society of Illustrators inducted Blackshear into its Hall of Fame, alongside other acclaimed illustrators including Edmund Dulac, Drew Struzan, and Jeff Jones.[2]
[1] "About Thomas Blackshear." Thomas Blackshear II. November 10, 2020. http://thomasblackshearart.com/biography/4594227364
[2] "Hall of Fame." Society of Illustrators. November 10, 2020. https://societyillustrators.org/hall-of-fame/
Illustrations by Thomas Blackshear
Additional Resources
Bibliography
Blackshear, Thomas. The African American Tradition: Heroes of Our Heritages. Trumbull, CT: Greenwich Workshop, Inc., 1993.
Blackshear, Thomas. Ebony Visions Sketchbook: The Art of Thomas Blackshear. Petaluma, CA: Willitts Designs, 1998.
Blackshear, Thomas and Roy Lessin. Forgiven. Colorado Springs, CO: Chariot Victor Pub., 1996.
Kowalski, Jesse. Enchanted: A History of Fantasy Illustration. New York: Abbeville Press, 2020.