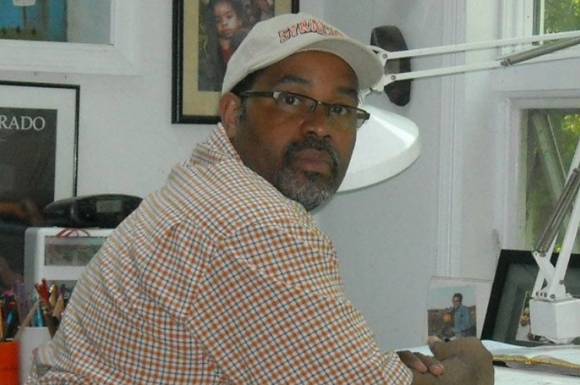 Biography
James E. Ransome (b.1961) is an American illustrator who is well-known for his children's books focusing on African American figures in history, politics, sports, and the arts. He and his author wife, Lesa Cline Ransome, have collaborated on several books together. Ransome has also illustrated greeting cards, magazines, and murals, and serves as an associate professor in the School of Art at Syracuse University.[1] Acclaimed by the Children's Book Council as one of the seventy-five authors and illustrators everyone should know, Ransome, after earning a Master of Fine Arts degree at age sixty, is developing a parallel career as a painter.[2]
Born in rural Rich Square, North Carolina, Ransome was raised by his grandmother who often asked him to read to her from the Bible. The dramatic Bible illustrations sparked his imagination and, along with hot rod cars from pages of comic books, Bible scenes were the first images he tried to illustrate. While there were no art galleries or museums where he was raised, and his school didn't offer any art classes, Ransome pursued his interest in art through a correspondence course he found on the back of a comic book. He was also impressed by images he saw on television and developed an interest in filmmaking.[3]
It wasn't until he moved to New Jersey after his freshman year in high school, that Ransome was able to develop his talents by taking filmmaking and photography classes at nearby Bergenfield High School. At the suggestion of his high school filmmaking teacher, Ransome turned his attention back to drawing and enrolled in a drawing and painting class. He went on to earn a Bachelor of Fine Arts degree from Pratt Institute in Brooklyn, New York. The artists who have had a major influence on Ransome's style of painting include Winslow Homer, Edgar Degas, and Joaquin Sorolla. One of his Pratt teachers, African American illustrator Jerry Pinkney, became his mentor and friend.[4]
When he illustrates, Ransome likes to listen to jazz. He also likes to combine his paintings and drawings with bits of paper, collaging the images. His mentor, artist Jerry Pinkney, points out a certain characteristic found in Ransome's illustrations: "You could see his brushstrokes, his painterly quality, his focus on story. He approached his illustration as a painter would approach a canvas."[5]
Ransome received numerous awards for his work: the Coretta Scott King Award for Illustration, the Coretta Scott King Honor Award for Illustration, an ALA Notable Book award, the NAACP Image Award for Illustration, and the Southeastern Book Association Best Book of the Year Award, among others. His books were also featured selections on the Reading Rainbow television program. Ransome currently lives in Rhinebeck, New York, with his wife and four children.[6]
[1] Wikipedia. "James Ransome (illustrator)." Last edited on March 12, 2022. Accessed on April 14, 2022. https://en.wikipedia.org/wiki/James_Ransome_(illustrator)
[2] Michel, Karen. NPR Radio Fine Art segment, "Illustrators Build A Bridge For Young Readers, Says Artist James Ransome." March 21, 2021. Last edited on March 24, 2021. Accessed on April 14, 2022. https://www.npr.org/2021/03/21/979436442/illustrators-build-a-bridge-for-young-readers-says-artist-james-ransome
[3] The website of James Ransome. "About." Accessed on April 14, 2022. https://jamesransome.com/?page_id=7
[4] Ibid.
[5] Michel, Karen. NPR Radio Fine Art segment, "Illustrators Build A Bridge For Young Readers, Says Artist James Ransome."
[6] The website of James Ransome. "About."
This artist's biography was written by Phyllis Geraghty, a writer with professional experience in the public relations, education, health, and non-profit sectors.
Illustrations by James Ransome
Additional Resources
Bibliography
Bandy, Michael S., Eric Stein, and James Ransome. Granddaddy's Turn: A Journey to the Ballot Box. Somerville, MA: Candlewick Press, 2015.
Cline-Ransome, Lesa. Game Changers: The Story of Venus and Serena Williams. New York: Simon & Schuster Books for Young Readers, 2018.
Cline-Ransome, Lesa and James Ransome. Before She Was Harriet. New York: Holiday House, 2017.
Mitchell, Margaree King and James Ransome. When Grandmama Sings. New York: HarperCollins, 2012.
Ransome, James. A Joyful Christmas: A Treasury of New and Classic Songs, Poems, and Stories for the Holiday. New York: Henry Holt, 2010.
Ransome, James. New Red Bike! New York: Holiday House, 2011.
Washington, James Melvin. Conversations with God: Two Centuries of Prayers by African Americans. New York: HarperCollins, 1994.