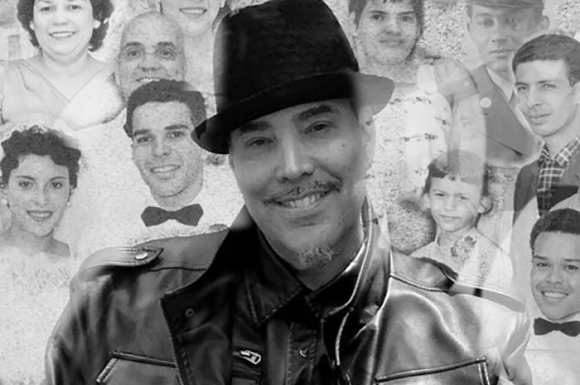 Biography
Born in the Bronx, but raised in Teaneck, New Jersey, Rudy Gutierrez is an artist and illustrator whose mission is to help lift and inspire the viewer's spirit. Through his work, he hopes to encourage viewers to feel their own validity and create a space where there are no labels or obstacles to prevent them from fulfilling their goals. Often, Gutierrez's work is about accepting and uplifting the viewer, with much of his work combining elements of indigenous art and cultures. He creates pieces that are abstract, but rich with emotion and story.[1]
Gutierrez is of Puerto Rican heritage, and when he received the Caldecott Honor Award for his work on "Double Bass Blues" he accepted the award on behalf of his ancestors, family, and other artists who have not garnered the same recognition.[2]
In conjunction with his acceptance of the Caldecott award, Gutierrez believes his highest aspiration is to speak on behalf of those who cannot speak for themselves. The award has inspired him to feel confident that more children will be able to see their own value and potential.
Gutierrez received his bachelor's degree in illustration at Pratt Institute, where he became a Professor of Illustration beginning in 1990. After graduating from Pratt, he established a career in illustration and has been working in New York.[3] He is married to DK Dyson, a renowned musician and vocalist.
In 2014, Gutierrez created a stamp for the U.S. Postal Service of famous musician, singer, and songwriter Jimi Hendrix. Gutierrez's art has appeared in numerous books, periodicals, and publications such as Rolling Stone and The New York Times.[4] His art for children's books has garnered him numerous accolades, including the Caldecott Honor Award, Pura Belpre Honor, America's Book Award, and the Children's Africana Book Awards-Africa Access Award.[5]
In 2022, his work appeared in the exhibition, Imprinted: Illustrating Race, at the Norman Rockwell Museum in Stockbridge, Massachusetts. The exhibition examines the perceptions of race and culture in published images and how they shape our attitudes towards marginalized groups and communities.
Gutierrez currently works as a professor in the Undergraduate Communications Design department at Pratt Institute and has stated, "The highest honor I can achieve is to assist a student to walk on his or her own path."[6]
Footnotes:
[1] Kalb, Deborah. "Q&A with artist and illustrator Rudy Gutierrez." Book Q&As with Deborah Kalb. April 19, 2014. Accessed October 7, 2021. http://deborahkalbbooks.blogspot.com/2014/04/q-with-artist-and-illustrator-rudy.html.
[2] Schu, John. "Caldecott Honor Artist Rudy Gutierrez." Watch.Connect.Read. March 11, 2020. Accessed 7 October 2021. http://mrschureads.blogspot.com/2020/03/caldecott-honor-artist-rudy-gutierrez.html.
[3] "Rudy Gutierrez." Pratt Institute. Accessed 30 September 2021. https://www.pratt.edu/faculty_and_staff/bio/?id=cVJySWFIMFhKV2xRaDFHRVU4MEFJZz09.
[4] Connects, Altpick. "Rudy Gutierrez Illustrates US Postage Stamp: Music Legend Jimi Hendrix." Altpick. April 2, 2014. Accessed 7 October 2021. https://blog.altpick.com/2014/04/02/rudy-gutierrez-illustrates-us-postage-stamp-music-legend-jimi-hendrix/?utm_source=altpick.
[5] "Rudy Gutierrez." Pratt Institute.
[6] Tinkelman, Murray. "Rudy Gutierrez." The Society of Illustrators. Accessed September 28, 2022. https://societyillustrators.org/award-winners/rudy-gutierrez/.
Illustrations by Rudy Gutierrez
Additional Resources
Bibliography
Garrett, Kenny. Sounds from the Ancestors. Mack Avenue Music Group, 2021.
Golio, Gary and Rudy Gutierrez. Carlos Santana: Sound of the Heart Song of the World. New York: Christy Ottaviano Books Henry Holt and Company, 2018.
Hammons, Chera. "Clarinet." Poetry Magazine, March 2021.
Loney, Andrea J. and Rudy Gutierrez. Double Bass Blues. New York: Alfred A. Knopf, 2019.
Phillips-Pendleton, Robyn and Stephanie Plunkett. Imprinted: Illustrating Race. Stockbridge, MA: Norman Rockwell Museum, 2022.
Santana, Cindy Blackman. Give the Drummer Some. Present Future Records, 2020.