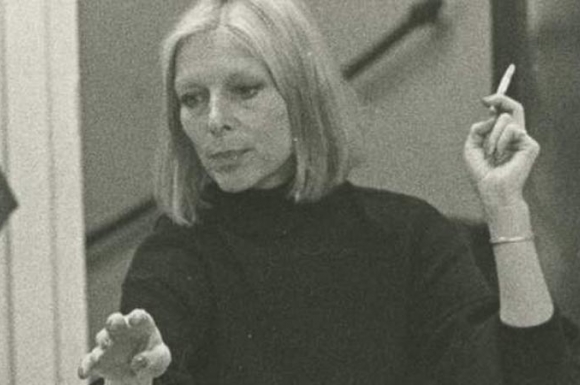 Biography
Jacqui Morgan studied at Pratt Institute, earning a BFA, and continued her education at Hunter College, City University of New York, receiving a MA. Morgan began her career in textile design, but in 1963, she started working as a freelance illustrator in New York City. In 1967, she made her mark when she created a poster for a famed New York City nightclub, Electric Circus.
During the 1960s and 1970s, the heyday of the psychedelic era, she designed and illustrated more iconic images such as The Joy of Seeing, 1973, for the American Optometric Association, and the Sansui poster series. Magazine covers of this period include the Tages Anzeiger, (Switzerland) American Artist, Graphis, Print, Cosmopolitan, and Novum Gebrauchs Graphik (Germany). Among her advertising clients were De Beers Diamond Jewellers, Scott Printing, Celanese, Exxon, and 7 UP.
In the early 1980s, her work shifted again with the Broadway show poster The Tap Dance Kid, in which she executed a dimensional realism with exaggerated color, light, and shadow. In a move to watercolor from dyes, Morgan's work took on a more painterly style with the line around her forms disappearing. She used this technique in her assignments for Land's End, Wine Spectator, and Eddie Bauer Home. Other clients included Thai Airlines, Mikimoto Cosmetics, and Yukijurushi Co. She also created packaging for BIC Corp. (lighters and pens), Nutra-Grain and Kelloggs (cereal boxes), Stanley Roberts, Cuisine Cubes (Quaker Oats), Romertoff, and a line of "Naturals" (shampoos, conditioners, and sprays) for Alberto Culver VO5, as well as album covers for RCA.

Her love of science-fiction led her to illustrate a number of science-fiction anthologies for young readers, including Children of Infinity and Survival from Infinity. Subsequently, she illustrated G.P. Alleman's The Healing Garden and Rebecca Schacht's Lights Along the Path. Morgan also created award-winning animated commercials for Burlington Industries and General Mills.
In a return to her textile background, she and a partner launched a line of clothing, "Mag Jac," which featured silk-screen and airbrush designs on T-shirts, jackets, and dresses. Reco Dishware commissioned Morgan for a line of designs.
Morgan also taught at the Fashion Institute of Technology in New York City, where her watercolor classes drew students from a wide variety of backgrounds and ages.
Norman Rockwell Museum holds a significant collection of her art and archives, featuring original illustrations, personal works, illustrated clothing, and housewares.
Illustrations by Jacqui Morgan
Additional Resources
Bibliography
Morgan, Jacqui. Watercolor for Illustration. New York: Watson-Guptill Publications, 1986.