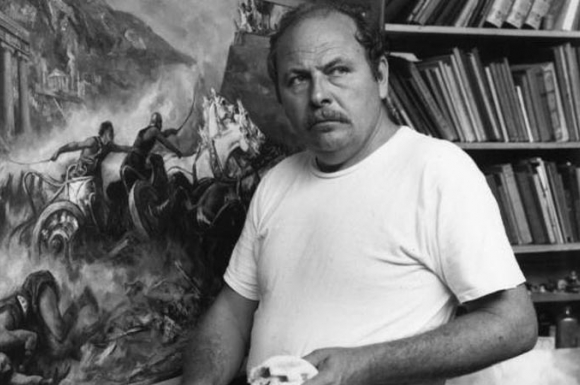 Biography
Born in Chicago in 1910, Ben Stahl was introduced to the world of art by his grandmother. She took him on visits to the Chicago Art Institute and other galleries beginning when he was six years old and continuing until he was fifteen. After these adventures she would buy him oilcloth, brushes, and paints, and he would create "masterpieces" on the front porch of the family home.
Stahl also read voraciously, which did not translate into academic excellence. However, when he was in seventh grade, he received a scholarship to attend Saturday morning lectures at the Chicago Art Institute. He would spend his Saturday afternoons drawing live animals at the Lincoln Park Zoo and the stuffed variety at the Field Museum, honing his knowledge of animal anatomy.
After high school, Stahl got a job as an apprentice at a commercial art studio. One of the partners, realizing Stahl was ambitious and talented, encouraged him to draw and paint to create a portfolio. It was the contents of this portfolio that landed him a job at Chicago's most prestigious art studio. During his time there and at other studios, plus a stint as a journalist for the Chicago Daily News, Stahl continued to develop a unique style, influenced by the Impressionists, which he felt would carry the mood and the emotional impact of commercial illustrations.
Ironically, Stahl's first assignment for The Saturday Evening Post was to illustrate a sea story – this for an artist who had never seen either the Atlantic or Pacific Oceans! The editors liked his work, and there followed four years of marine-themed assignments. Eventually Stahl asked for a change, so his next assignment was set in the desert – which he had also never seen.
He was being noticed, however, and eventually he decided to move to New York and become a freelance illustrator. He illustrated over 750 stories for the Post along with a number of other magazines, and he continued to explore new approaches in his easel painting.
In 1951, Stahl was commissioned to paint "The 14 Stations of the Cross" for a special edition Bible published in 1952 by the Catholic Press of Chicago. For this assignment Stahl spent over three months in Jerusalem making preliminary sketches and conducting extensive research before beginning the paintings. These 45 x 34 inch oil on canvas paintings became part of the collection of the Museum of Art in Fort Lauderdale, Florida. In 1965, Stahl created another series of mural-sized Stations of the Cross which were housed in the Museum of the Cross, which he designed, in Sarasota, Florida. Four years later, all of the large 9 x 6 feet canvases were stolen – an art theft estimated at $1.5 million ($10 million when adjusted for inflation). The paintings were never recovered.
Illustrations by Ben Stahl
Additional Resources
Bibliography
Plunkett, Stephanie Haboush and Magdalen Livesey. Drawing Lessons from the Famous Artists School: Classic Techniques and Expert Tips from the Golden Age of Illustration. Beverly, MA: Rockport Publishers, 2017.
Stahl, Ben. Blackbeard's Ghost. Boston: Houghton Mifflin, 1965.
Stahl, Ben. How I Make a Picture. Westport, CT: Institute of Commercial Art, 1950.
Stahl, Ben. The Secret of Red Skull. Boston: Houghton Mifflin, 1971.