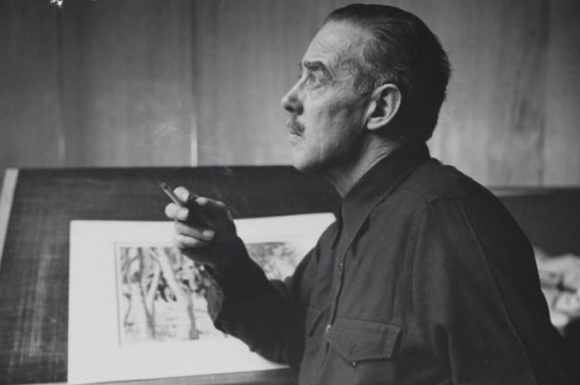 Biography
Fred Ludekens was born in Hueneme, California, in 1900, and grew up in Victoria, British Columbia, and Alaska. Unlike many successful artists, he wasn't born with a drawing pencil in his hand, nor did he spend every spare minute painting as a child. In fact, as a young man he was a lot more interested in hunting, fishing, and making money than he ever was in art.
However, at the age of 20, newly married to his high school sweetheart, he needed a steady job. He remembered enjoying drawing pictures, so he decided to follow the maxim, "Do what you like to do." He figured that someone must get paid for painting pictures on billboards, so he tried for a job at an outdoor advertising agency. It wasn't long before it became clear that he had no knowledge of art whatsoever. He took a few classes and determined to work as hard as necessary to hone his craft.
Several years of agency work followed, and then Ludekens decided to freelance. Offered the chance to become art director at a large agency, he accepted; as he said, "I wanted to find out what the people who buy pictures really think." As director, he was allowed to assign himself any freelance jobs that interested him. He continued in that dual role for a number of years until, in 1941, he finally found the pressure too grueling and turned to freelance work full time.
Ludekens's first large illustration project was a book called Ghost Town, set in an area of California that he knew and loved. He designed the entire book, chose the typeface, and made twenty-two drawings. It was this work that brought him to the attention of the art editor of The Saturday Evening Post, who invited him to illustrate a number of serials.
Ludekens had an individual way of working. To him, illustrations were a translation of thinking, a way to communicate a mood or emotion that an author wants to evoke. He never worked from photos, except for reference, and didn't use models. He believed that an illustration could only be "successful" if the picture maker was sympathetic, knowledgeable, and objective in his thinking.
Illustrations by Fred Ludekens
Additional Resources
Bibliography
Ludekens, Fred. How I Make a Picture. Westport, CT: Institute of Commercial Art, 1951.
Palm Springs Desert Museum. Fred Ludekens, Stanley Galli. Palm Springs, CA: Palm Springs Desert Museum, 1978.
Plunkett, Stephanie Haboush and Magdalen Livesey. Drawing Lessons from the Famous Artists School: Classic Techniques and Expert Tips from the Golden Age of Illustration. Beverly, MA: Rockport Publishers, 2017.