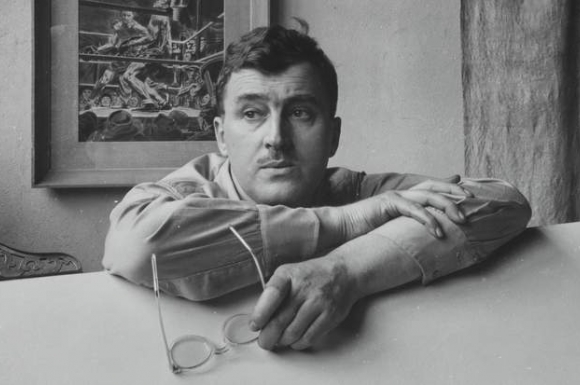 Biography
Robert Fawcett's art training began early – as soon as he could hold a pencil. His father, an amateur artist, urged him to draw, even paying the child a penny for each picture he made. Fawcett was born near London, England, in 1903, and it did not take long for him to discover within himself a passion for art. However, it would be some time before he was able to harness that passion.
Fawcett's family emigrated to Canada in 1913, and then to New York City six years later. He had left school at 14 and apprenticed himself to an engraving shop. He worked at a series of routine jobs, saving his money until he had accumulated $1,000, enough to support him for two years of study at the Slade School of Art in London.
At Slade, Fawcett underwent rigorous training in drawing and became acquainted with the groundbreaking work of artists such as Picasso, Matisse, Rouault, and Braque. About a visit to Paris, he recalled, "We would just go to the Louvre and look at the pictures – steep ourselves. This is real studying, the other is just the acquisition of mechanical technique."
Returning to New York, Fawcett did only enough commercial work to keep himself alive, while working furiously at his easel paintings. Within two years he was given a one-man show, and two-thirds of his paintings sold. However, he became disillusioned with the culture of the gallery world, feeling that creating illustrations was a more honest way to sell art. He determined that his easel paintings would be given to friends or saved for his own enjoyment. Beginning in 1944, he embarked on a long career supplying story illustrations to The Saturday Evening Post, among other magazines. In later years, he turned to reportorial assignments, including a piece on Oxford, Mississippi, for Look magazine.
Fawcett was called "the illustrator's illustrator," because it took a trained eye to appreciate the excellence of the drawing and the masterful use of color that are combined in his technique. However, he never lost sight of his audience – the reading public. He felt that illustrators have a great responsibility because, "We represent the only view of art, of beauty, to millions of people. If we do less than our best, we cheat them."
Illustrations by Robert Fawcett
Additional Resources
Bibliography
Apatoff, David and Manuel Auad. Robert Fawcett: The Illustrator's Illustrator. San Francisco, CA: Auad Publishing, 2010.
Fawcett, Robert. On the Art of Drawing. Mineola, NY: Dover Publications, 2008.
Plunkett, Stephanie Haboush and Magdalen Livesey. Drawing Lessons from the Famous Artists School: Classic Techniques and Expert Tips from the Golden Age of Illustration. Beverly, MA: Rockport Publishers, 2017.