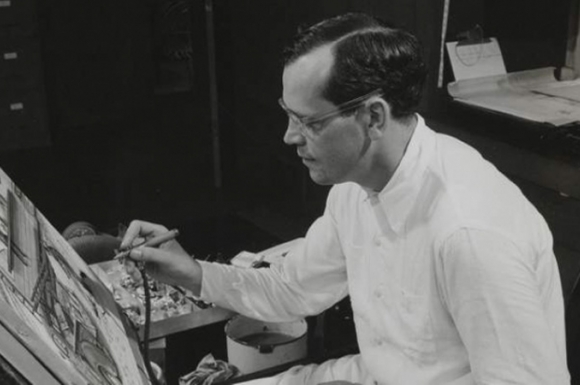 Biography
Stevan Dohanos was known as a sensitive portrayer of common objects. His careful observation of everyday things began during his childhood in the mill town of Lorain, Ohio, where he was born in 1907, the son of Hungarian immigrants. From an early age, Dohanos worked to contribute to the family budget, and left school as soon as he could at age 16.
He worked his way into a white-collar job in the steel mill office, and spent his free time copying the pictures on the calendars that hung on the walls. Before long, co-workers were offering to buy his drawings. He charged fifty cents apiece, then a dollar, and eventually a dollar fifty for a copy of a Norman Rockwell Post cover.
Inspired by this success, Dohanos decided he might have a future in art. He took a correspondence course, and then went to night classes at the Cleveland Art School, eventually taking a job as an apprentice in lettering at a commercial art studio. At the same time as he honed his technical skills, he also developed his fine art ability – which he liked to call his "Sunday painting" – and in 1932 won first prize at the Cleveland Art School for a group of engravings.
In 1935, Dohanos was offered a position at an agency in New York. He took a leave of absence in 1936 to work for six months in the Virgin Islands as a member of a U.S. Treasury Department art project. It was an enlightening and productive time: he developed a completely new style of painting, portraying the brilliant colors of the tropics in a manner both rugged and exquisitely detailed. The resultant paintings were popular; Eleanor Roosevelt bought three.
His career blossomed. He was in demand both for advertising and illustration assignments, and he was also commissioned to paint murals in public buildings in West Virginia, West Palm Beach, and St. Thomas, Virgin Islands. He was determined to try for the coveted job of creating covers for The Saturday Evening Post, and in 1943 he succeeded.
In later years he designed over forty stamps for the United States Postal Service, and served as design coordinator for the Citizen Stamp Advisory Committee.
Dohanos was known for taking infinite pains in creating his illustrations. Often they harked back to people and places from his childhood or incidents he observed in rambling about the countryside. Whatever scenes they represented, his paintings were illuminated by his kind, earthy humor and his passionate love for the American scene.
Illustrations by Stevan Dohanos
Additional Resources
Bibliography
Dohanos, Stevan. American Realist. Westport, CT: North Light,1980.
Dohanos, Stevan. How I Make a Picture. Westport, CT: Institute of Commercial Art, 1950.
Guitar, Mary Anne. 22 Famous Painters and Illustrators Tell How They Work. New York: D. McKay Company, 1964.
Plunkett, Stephanie Haboush and Magdalen Livesey. Drawing Lessons from the Famous Artists School: Classic Techniques and Expert Tips from the Golden Age of Illustration. Beverly, MA: Rockport Publishers, 2017.