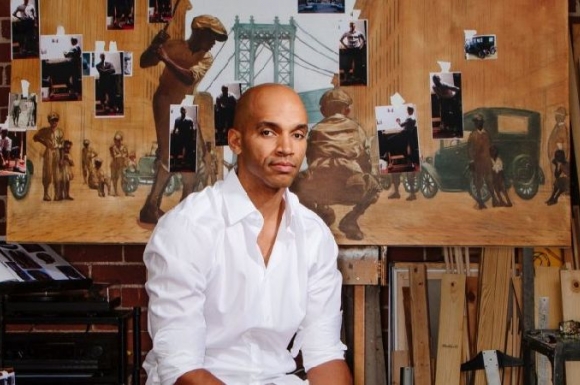 Biography
Contemporary illustrator and author Kadir Nelson (b.1974) is enamored with the interconnectivity of the human experience in America. The winner of many awards for his art and books, Nelson's work often captures externally simple, singular moments in American life. But, the quotidian, familiar scenes in Nelson's work seem so familiar the viewer can infuse their own personal experience into his art.
Kadir Nelson was born in Washington, DC in 1974, but grew up mostly in Atlantic City, New Jersey and San Diego, California.[1] He committed to art early in his life, beginning to draw at age three before ultimately becoming an apprentice to his uncle Michael Morris—an artist and art teacher—when he was eleven years old.[2] Nelson then received a more formal education in art at the Pratt Institute in Brooklyn, where he received his BFA.[2]
Upon graduating, Nelson wasted no time creating art for large audiences. It was at this time when he worked with DreamWorks Pictures to create art for Steven Spielberg's Oscar nominated film Amistad (1997).[3] With Spielberg, he served as a visual development artist, creating conceptual art to give the director a visual outline for the film.[4]
One may be most familiar with Nelson's art from his frequent cover work for The New Yorker. Most recently, his painting Say Their Names was published on the June 22, 2020 issue of the magazine.[5] As is sometimes seen in Nelson's work, faces are grouped closely together to relay a sense of communal history and civic responsibility. In Say Their Names, the body of George Floyd—a Black man killed by a Minneapolis police officer in May 2020—is painted as the space in which Nelson illustrates the history of violence against African Americans in America.[5] The faces of those killed recently as a result of racial violence (such as Ahmaud Arbery and Breonna Taylor) appear, as well as those murdered in decades past, such as Malcolm X and Martin Luther King, Jr.[5] Nelson's chilling inclusion of periwinkle—a common burial plant used to identify unmarked graves of unnamed Black slaves—shows how racial violence has become entrenched in the physical American landscape.[5]
Another significant Nelson New Yorker cover, A Day at the Beach, was illustrated for the July 11-18, 2016 issue.[3] This image depicts an African American family at the beach; the confident and regal looking father has his son on his back, he holds his daughter's hand, and he stands next to his wife who cracks a small smile. What seems to be a simple genre painting contains both familial and political truths. Going to the beach is often a logistical fiasco; this group's composure emanates the stability that a family's close relationship—and parental leadership—can create.[3] Moreover, Nelson raises a Black family in an everyday setting to the American consciousness. Genre scenes featuring African Americans are limited in American art; Nelson's cover brings draws attention to this scene with clarity, precision, and dignity.[3]
In addition to magazine illustration, Nelson's art manifests itself in diverse ways. He has created art for HBO, Nike, and National Geographic.[6] Nelson also created cover art for Michael Jackson's posthumous album Michael (2010) and for Drake's 2013 release, Nothing Was the Same.[6] Furthermore, Nelson has designed over a dozen U.S. postage stamps which feature images of American athletes such as Joe DiMaggio, Ted Williams, and Wilt Chamberlain.[6]
Nelson's work in book illustration has been widely praised. Most notably, he authored and illustrated We Are the Ship: The Story of Negro League Baseball (2008), which won the 2009 Sibert Medal for the most distinguished informational book for children and the 2009 Coretta Scott King Author Award; it was also featured on the cover of Sports Illustrated.[2][6] In 2002, Nelson was awarded an NAACP Image Award for his illustration of Will Smith's book, Just the Two of Us.[2] In 2008, he received a Caldecott Honor for illustrating Henry's Freedom Box, written by Ellen Levine.[2] Most recently, Nelson won the 2020 Caldecott Medal and was named the Coretta Scott King Book Awards Illustrator Winner for his work in Kwame Alexander's The Undefeated, which explores the Black experience in relation to racial injustice.[7][4]
Kadir Nelson has always been quick to respond to current events via his art. Amidst the fragmented reality of the coronavirus pandemic, Nelson's work has given viewers a foothold of solidarity. His 2020 painting After the Storm teems with life as, in signature Nelson style, multiple human heads cluster together, looking upwards towards a light source beneath breaking clouds. Nelson's work has no boundaries; race, age, gender, and ethnicity coalesce, uniting around a common hope to progress beyond the pandemic.[7] Nelson's style is already textured, but what makes After the Storm particularly tactile is that many of its figures are touching each other.[7] Social distancing limits human touch, and Nelson's inclusion of it reminds the viewer that people are so capable of emotionally and physically uplifting others.[7] After the Storm exemplifies Kadir Nelson's emphasis on collective memory and the ways in which Americans have both divided themselves and attempted reunification.
[1] "Kadir Nelson." Wikipedia. Last edited May 31, 2020. Accessed July 1, 2020. https://en.wikipedia.org/wiki/Kadir_Nelson
[2] "Kadir Nelson." Scholastic. Accessed June 29, 2020. https://www.scholastic.com/teachers/authors/kadir-nelson/
[3] McDonald, Soray Nadia. " 'The New Yorker': Kadir Nelson's 'A Day at the Beach'." The Undefeated. August 11, 2016. Acccessed July 2, 2020. https://theundefeated.com/features/the-new-yorker-kadir-nelsons-a-day-at-the-beach/
[4] "The Coretta Scott King Book Awards." American Library Association. Accessed July 1, 2020. http://www.ala.org/rt/emiert/cskbookawards
[5] "Kadir Nelson's 'Say Their Names'." The New Yorker. June 14, 2020. Accessed June 29, 2020. https://www.newyorker.com/culture/cover-story/cover-story-2020-06-22
[6] "The Artist." The Art of Kadir Nelson. Accessed June 29, 2020. https://www.kadirnelson.com/about
[7] Falcon, Gabriel. "Artist Kadir Nelson's evocative respone to the pandemic." CBS News. April 19, 2020. Accessed June 29, 2020. https://www.cbsnews.com/news/artist-kadir-nelson-after-the-storm/
This artist's biography was written by Noah Hochfelder, the 2020 Norman Rockwell Museum Walt Reed Distinguished Intern. Noah is a rising junior at Middlebury College in Vermont where he studies the humanities and arts, with a primary focus on English and American literatures.
Illustrations by Kadir Nelson
Additional Resources
Bibliography
Alexander, Kwame and Kadir Nelson. The Undefeated. Boston: Houghton Mifflin Harcourt, 2018.
Levine, Ellen and Kadir Nelson. Henry's Freedom Box. New York: Scholastic, 2007.
Nelson, Kadir. Baby Bear. New York: Balzer + Bray, 2014.
Nelson, Kadir. Heart and Soul: The Story of America and African Americans. New York: Balzer + Bray, 2011.
Nelson, Kadir. He's Got the Whole World in His Hands. New York: Dial Books for Young Readers, 2005.
Nelson, Kadir. We Are the Ship: The Story of Negro League Baseball. New York: Jump at the Sun/Hyperion Books for Children, 2008.
Rappaport, Doreen and Kadir Nelson. Abe's Honest Words: The Life of Abraham Lincoln. New York: Hyperion Books for Children, 2008.
Weatherford, Carole Boston and Kadir Nelson. Moses: When Harriet Tubman Led Her People to Freedom. New York: Jump at the Sun/Hyperion Books for Children, 2006.