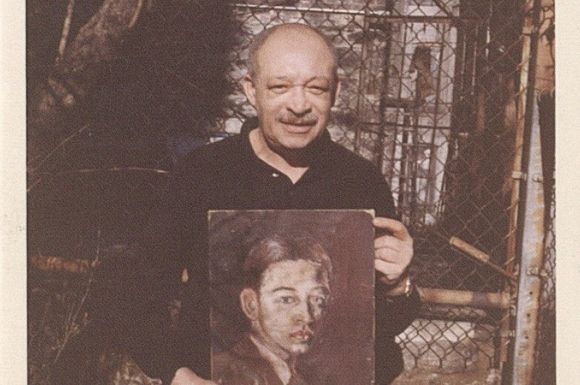 Biography
Prolific during the Harlem Renaissance, Charles Alston was known for his grasp on abstract design and the ability to express the social movements that were shaping America at the time. Alston was not only a painter and illustrator, but he also worked on sculpture and graphic design — earning both national and international acclaim. Alston did not conform to the trends and artistic standards that were set in place during the time, instead, his work ranged from realism to abstract modernism, painting what he experienced around himself.
Born in Charlotte, North Carolina to Reverend Primus Priss Alston and Anna Miller Alston, Charles Alston first began learning art from his older brother, Wendell. From then, his talent was recognized by both the Public School 179 and Dewitt Clinton High School — where he worked as the art editor for the school's magazine, The Clinton Magpie. During high school, Alston was able to find time to study drawing and anatomy at the National Academy of Art over the weekends. Here was where he first began to work with oil paints. After finishing high school, Alston was accepted into Columbia University where he studied fine art and earned his Bachelor's degree. He was awarded a fellowship to study at Columbia's Teachers College upon graduating, earning his Masters in 1931.
After graduating from Columbia, Alston began teaching with the Harlem Arts Workshop, where he mentored young and aspiring artists including Jacob Lawrence. During the '30s and '40s, Alston had his hand in numerous projects and positions. He fostered a career as an illustrator for prominent publications such as Mademoiselle, Fortune, and The New Yorker. When the Great Depression hit, he was one of only a few African Americans who held a job as supervisor for the Works Progress Administration. In 1936, he was commissioned by the WPA's Federal Art Project to paint murals for New York's Harlem Hospital Center. Alston supervised the completion of the murals, and led a staff of thirty-five artists and assistants. The murals were completed in 1940, and featured black historical medical professionals, as well as African healers.
Following his work with the WPA, the U.S. got involved in the Second World War. During this time, Alston worked for the Office of War Information. His main job was creating posters that were meant to boost wartime morale, as well as urge black Americans to support the war effort. When the war ended, Alston returned to New York and started teaching at the Art Students League from 1950 to 1971. In 1953, he had his first solo exhibition at the John Heller Gallery. While working at the Art Students League, he also began instructing at the Museum of Modern Art from 1956 to 1957 — becoming the first African American to teach at both institutions. A decade later, Alston was appointed to the Advisory Board of the National Council of Culture and Arts by President Lyndon B. Johnson. After ending his time at the Art Students League, he became professor at the City College of New York, teaching there from 1971 up until his death.
On April 27, 1977, Charles Alston died at the age of 69. Following his death, the Art Students League created the Charles Alston Merit Scholarship to honor his legacy.
Alston was prolific in all fields, but he was most well-known for his mural work, and his 1970 bust of the late Martin Luther King, Jr. His most widely praised murals are the ones commissioned by the WPA — Magic in Medicine and Modern Medicine. Both pieces sit opposite each other at the Harlem Hospital Center and offer dialogue between traditional and modern medical practices.
Alston's inspiration in murals comes from black history, as well as from Mexican muralists, including Jose Clemente Orozco, Diego Rivera, and David Alfaro Siqueiros. Alston was influenced by their work, which inspired people towards social activism — Diego Rivera in particular. Alston would frequently visit Rivera, and the two would converse with each other in French, as that was the language the two had in common.
In 1970, Alston was commissioned by Reverend Donald Harrington to create a bust of the late Martin Luther King, Jr. for the Community Church of New York. Alston made five casts of King's likeness, one of which was commissioned by the National Gallery of Art. This bust was later given on loan to the White House in 1990, where it was placed in the library. Alston's work became the first image of an African American to be put on display in the White House, and in 2009 when Barack Obama was elected President, the bust moved into the Oval Office.
Illustrations by Charles Alston
Additional Resources
Bibliography
Bearden, Romare and Harry Henderson. A History of African-American Artists from 1972 to the Present (New York: Pantheon Books, 1993).
Berman, Greta. The Lost Years: Mural Painting in New York City under the WPA Federal Art Project, 1935-1943 (New York: Garland Pub, 1978).
Herskovic, Marika. American Abstract and Figurative Expressionism: Style is Timely Art is Timeless (New York: New York School Press, 2009).
Lewis, Samella. African American Art and Artists (Berkeley: University of California Press, 2003).
Wardlaw, Alvia J. Charles Alston (San Francisco: Pomegranate, 2007).