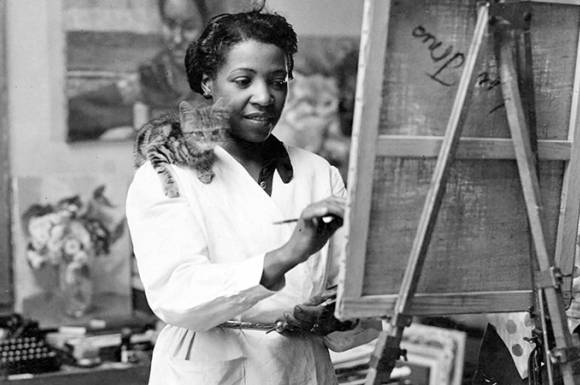 Biography
Loïs Mailou Jones (1905-1998) was a prolific American artist, educator, and champion and mentor of African American artists. An influential figure of the Harlem Renaissance movement, Jones was highly educated and actively engaged in her work from an early age. She was skilled in a variety of art forms including costume creation, textile designs, watercolors, paintings, and collages, and her extensive travels enriched her style. She served on Howard University's art faculty for nearly fifty years.[1]
Born in Boston, Massachusetts, Jones' parents encouraged her to draw and paint using watercolors. Her father, Thomas Vreeland, was the first African American to earn a law degree from Boston's Suffolk Law School and her mother, Carolyn Jones, was a cosmetologist. Jones attended the High School of Practical Arts in Boston and took night classes at the School of the Museum of Fine Arts, Boston. At the age of seventeen, Jones held her first solo exhibition in Martha's Vineyard where her parents owned a home.[2]
Soon after graduating from college, Jones began creating textile designs for New York City firms. Shifting her focus to education, in 1928 she accepted a teaching position at the Palmer Memorial Institute in North Carolina where she founded the art department. Two years later, she began her tenure at Howard University in Washington, DC, which lasted from 1930 to 1977.
While Jones developed as an artist through visits and summers in Harlem during the onset of the Harlem Renaissance, she traveled extensively abroad as well, earning a fellowship to study in Paris at the Académie Julian in 1937. She also made several trips to Haiti and Africa where she was energized by what she saw and experienced.[3] In Jones' study of masks from diverse non-Western civilizations she found powerful keys to infusing her art with her ancestry's spirit and meaning. Throughout her career, Jones championed African American art and has been an important role model for other African American artists.[4]
Devoted to her students, Jones had a strong desire to create books for children of color —those featuring positive portrayals of characters who looked like them. The Picture-Poetry Book, the artist's 1935 publishing collaboration with American poet, playwright, actress, and educator Gertrude Parthenia McBrown, is filled with beautifully rendered, naturalistic illustrations of African American children who dream, play, and enjoy the wonders of nature, an approach that simply did not exist at the time. The artist's other illustrated books include The Child's Story of the Negro by Jane Dabney Shackelford (1938) and Lilly May and Dan: Two Children of the South by Marel Brown (1946), among others.
The recipient of numerous international and national awards and honors, Jones exhibited her art nationally and internationally as well. She received several honorary doctorates from institutions like Massachusetts College of Art in Boston, The Atlanta College of Art, and Howard University, among others. President Jimmy Carter honored her at the White House in 1980 for outstanding achievements in the arts; and there was even a "Loïs Jones Day" declared in Washington, DC on July 29, 1984.
Jones died at her home in Washington, DC, in 1998 at the age of ninety-two. She is buried on Martha's Vineyard in the Oak Bluffs Cemetery.[5]
[1] Page, Melinda. "Lois Mailou Jones and the Art of Perseverance." Frederic Magazine, February 8, 2021. Accessed on May 5, 2022. https://fredericmagazine.com/2021/02/lois-mailou-jones-artist-textile-design/
[2] Wikipedia. Last updated on March 30, 2022. Accessed on May 5, 2022. https://en.wikipedia.org/wiki/Lois_Mailou_Jones
[3] Ibid.
[4] Hartigan, Lynda Roscoe. "Lois Mailou Jones." African-American Art: 19th and 20th-Century Selections (brochure., Washington, DC: National Museum of American Art, 1995). Smithsonian American Art Museum. Accessed on May 4, 2022. https://americanart.si.edu/artist/lois-mailou-jones-5658
[5] https://en.wikipedia.org/wiki/Lois_Mailou_Jones
This artist's biography was written by Phyllis Geraghty, a writer with professional experience in the public relations, education, health, and non-profit sectors.
Photo courtesy Loïs Mailou Jones Pierre-Noël Trust.
Illustrations by Loïs Mailou Jones
Additional Resources
Bibliography
Remembering Loïs: Selections from the Estate of Loïs Mailou Jones, October 26 - December 18, 1998. Washington, DC: Howard University Gallery of Art, 1998.
The World of Loïs Mailou Jones. Washington, DC: Meridian House International, 1990.
Benjamin, Tritobia H. The Life and Art of Loïs Mailou Jones: The Passion for Art. San Francisco: Pomegranate Artbooks, 1994.
Benjamin, Tritobia H. and Mod Mekkawi. Loïs Mailou Jones: The Passion for Art. Washington, DC: Howard University Libraries, 1988.
Brown, Marel. Lilly May and Dan: Two Children of the South. Atlanta: Home Mission Board, Southern Baptist Convention, 1946.
Chapman, Chris. Loïs Mailou Jones: A Life in Color. Bloomington, IN: Xlibris, 2007.
Shackelford, Jane Dabney. The Child's Story of the Negro. Washington, DC: Associated Publishers, 1938.
VanDiver, Rebecca. Designing a New Tradition: Loïs Mailou Jones and the Aesthetics of Blackness. University Park: Pennsylvania State University Press, 2020.