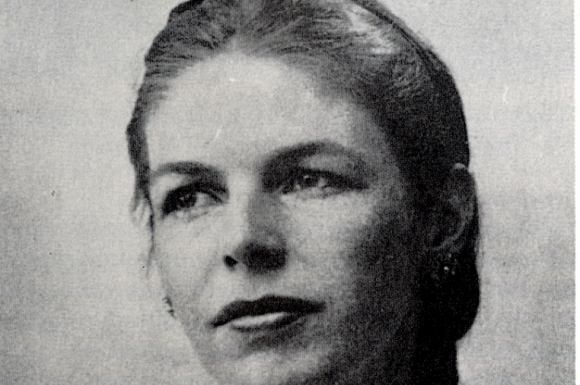 Biography
Virginia Lee Burton (1909-1968) was born in Newton Centre, Massachusetts on August 20, 1909. Her parents, Alfred Burton, an engineer, and Dalkeith Yates, a poet and artist, moved the family to Carmel-by-the-Sea, California in 1920. In 1925 Burton's parents divorced. Following high school, Burton studied dance in San Francisco.[1] She hoped to become a dancer and had just signed a contract to be in her sister's travelling dance troupe when, in 1928, her ballet career ended. Burton's father broke his leg, and she decided to move back to Massachusetts to take care of him.[2]
In Boston, Virginia Lee Burton landed a position as a "sketcher" for the Boston Transcript, where she completed sketches of dancers and actors to accompany articles written by the drama and music critic. She enrolled in a drawing class at the Boston Museum School in 1930 and married her professor, George Demetrios, less than a year later, on March 28, 1931. They had their first son named Aristides Burton Demetrios on February 17, 1932. The family settled in Folly Cove, Gloucester, Massachusetts. On August 30, 1936, they had their second son, Michael Burton Demetrios.[1]
Burton started writing children's books as a way to entertain her sons. She would test out the stories and illustrations on her own children and their friends to decide where to make adjustments depending on their reaction.[3] The subject of her first book was a piece of dust titled Jonnifer Lint; it was rejected by thirteen publishers. Her first published illustration work was for Sad-Faced Boy (1937) by Arna Bontemps, commissioned by Houghton Mifflin Company. The first published piece that she wrote and illustrated was Choo Choo: Story of a Little Engine Who Ran Away (1937). Burton received the Caldecott Medal and the Lewis Carroll Shelf Award for The Little House (1942). Other well-known works by Burton include Mike Mulligan and His Steam Shovel (1939), Calico, The Wonder Horse (1941), Katy and the Big Snow (1943), and Maybelle, the Cable Car (1952).[1]
Virginia Lee Burton published her final book, Life Story, in 1962. This book features a tale of life at its inception through an illustrated stage play. The acts and scenes are narrated by a cast of characters including an astronomer, a geologist, a paleontologist, a historian, a grandmother, and Burton herself. The last few pages depict the last twenty-five years of her life in Folly Cove, where she led a group of forty-five designers and craftspeople.[1] The Folly Cove Designers was composed mostly of women who had no prior artistic training. In this group, they carefully produced designs cut into linoleum blocks and printed on fabric.[4] All of Burton's books are illustrated in great detail, but Life Story is the one that stands out the most. Virginia Lee Burton passed away at the age of fifty-nine on October 15, 1968.[1]
[1] "Virginia Lee Burton Papers." Philadelphia Area Archives Research Portal. n.d. July 10, 2019. http://dla.library.upenn.edu/dla/pacscl/ead.html?fq=top_repository_facet%3A%22Free%20Library%20of%20Philadelphia%22%20AND%20genre_form_facet%3A%22Drawings%20(visual%20works)%22&id=PACSCL_FLP_clrc0004
[2] "Virginia Lee Burton, Artist at Home." Rebecca Writes. November 19, 2013. July 10, 2019. http://www.rebecca-writes.com/rebeccawrites/2013/11/19/virginia-lee-burton-artist-at-home.html
[3] "Virginia Lee Burton." Twentieth-Century American Children' Literature. September 25, 2006. July 10, 2019. https://library.uoregon.edu/ec/exhibits/childrenslit/vlburton.html
[4] "Folly Cove Designers" Cape Ann Museum. n.d. August 8, 2019. https://www.capeannmuseum.org/collections/folly-cove-designers/
This artist's biography was written by Rachel Mancour, 2019 Walt Reed Distinguished Scholar Intern.
The photograph of the artist is from: https://www.continuum.umn.edu/2018/06/women-artists-virginia-lee-burton/
Illustrations by Virginia Lee Burton
Additional Resources
Bibliography
Burton, Virginia Lee. Katy and the Big Snow. Boston: Houghton Mifflin, 1943.
Burton, Virginia Lee. Life Story. Boston: Houghton Mifflin, 1962.
Burton, Virginia Lee. The Little House. Boston: Houghton Mifflin, 1942.
Burton, Virginia Lee. Mike Mulligan and His Steam Shovel. Boston: Houghton Mifflin, 1939.
Burton, Virginia Lee. Mike Mulligan and More: A Virginia Lee Burton Treasury. Boston: Houghton Mifflin, 2002.