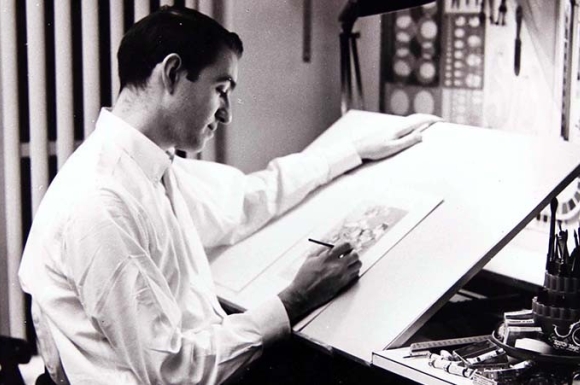 Biography
Hilary Knight was born in Hempstead, Long Island on November 1, 1926, to artist parents Clayton Knight and Katharine Sturges. Commercial artists, his parents were essential in forming their child's artistic identity. Both parents studied art in Chicago and moved to New York in the 1920s where they worked as graphic artists for magazines, and created murals and paintings in their Roslyn, Long Island home between 1922 and 1932. Their talent and enthusiasm for teaching Hilary Knight had a tremendous effect on the artist he would become. He notes, "Both my parents had incredible technical training, which is rare these days. My mother painted these huge oil paintings for magazine illustrations. She was always very busy and would give me a paper and colors and I would work too. It all seemed very natural at the time." One newspaper referred to Knight growing up in "a built-in art school he had with his parents..."
Other artists whose work influenced Knight include Edmund Dulac, Edward Wilson, C.B. Falls, Maginel Wright Enright, Maud Tousey Fangel, Rea Irvin, and Ronald Searle. Clayton Knight and Katharine Sturges were friends with many of these popular illustrators who often visited their home. Young Hilary Knight was acquainted with their work, and as his artistic skill developed Knight began adapting some of their distinctive styles.
In addition to her commercial work, Sturges painted grand murals throughout their home in Roslyn, Long Island. In 1932, the impact of the Great Depression necessitated the sale of the family home, and they relocated to Manhattan. At age sixteen Hilary Knight dropped out of high school and enrolled in New York's Art Students League, where he studied under George Grosz and Reginald Marsh. In 1944, Knight enlisted in the Navy and spent time in Okinawa, Japan. Upon his return to the United States, Knight briefly worked as an assistant set designer for a season of the Ogunquit Playhouse summer theater in Ogunquit, Maine. Returning to New York, he attended the School of Interior Design and worked for an interior design firm while submitting illustrations for publication in magazines.
Knight's first magazine commission came from Mademoiselle in 1952. He remembers drawing "little Eloises," or pre-cursors to Eloise, for three issues. Knight admired the work of British illustrator and satirist, Ronald Searle, and his comic strip, St. Trinian's, which detailed the trials and tribulations of the staff and residents of an all-girl's boarding school. The similarities between the ill-mannered students and the carefree Eloise are unmistakable.
Though he achieved massive success with the 1955 release of Eloise: A Book for Precocious Grown-Ups, Knight continued creating illustrations for magazines throughout his career. Knight has produced cartoons and drawings for periodicals such as the Saturday Evening Post, McCall's, Woman's Day, Harper's, Vanity Fair, Cricket, and others.
In addition to his work in magazines, Knight was in constant demand by companies hoping to capitalize on his unique style. At times he was an ad man for a wide variety of consumers of television programs, for clothing from Saks Fifth Avenue, home decoration design, Dannon Yogurt, and much more.
Fashion
Early in his career, Knight desired to be a set and costume designer. Knight had always loved costume design and thought he might follow in his mother's footsteps by becoming a fashion artist. Knight recalls being inspired early in life by Hollywood designer Adrian's costumes for the 1936 film The Great Ziegfeld, Carmen Miranda in the 1939 Broadway musical Streets of Paris, Lena Horne in the 1942 film Panama Hattie, and other fashion designs in films made during the Golden Age of Hollywood, as well as the costumes of Broadway plays.
Following his service in World War II, Knight briefly worked as an assistant set designer for a season of the Ogunquit Playhouse summer theater in Ogunquit, Maine. Settling in New York for the last time, he attended New York's School of Interior Design and created interior design drawings for James Aster while submitting illustrations for publication in magazines.
Throughout his career Knight has made connections with many in the fashion industry, including longtime friend William Ivey Long, award-winning costume designer for Broadway productions, including The Producers, Guys and Dolls, Cabaret, Hairspray, and Chicago, to name a few. Knight recalled, "I've always been mesmerized by glamour people. I was growing up in the period that's considered so chic today -- the '30s. Our house was filled with Art Deco, and my mother wore Tappe dresses and Stehli abstract printed silks. In spite of my parents' plans for me to take up heavy, serious painting, after studying at the Art Students League with George Grosz and Reginald Marsh I turned into an artist of nostalgia."
Knight's first published work appeared in Mademoiselle in 1952; two years later he met actress and singer, Kay Thompson. Their collaboration on the Eloise books changed the trajectory of Knight's rapidly rising career, though he never gave up his love for fashion design. He has created hundreds of costume designs in his career, for professional and personal projects.
Eloise
In January 1954, Hilary Knight was introduced to Kay Thompson in a meeting that would forever alter their lives. At the time, Knight was creating cartoons and illustrations for Mademoiselle and House and Garden, while Thompson was finishing a successful concert tour. She had been a popular singer and actress for several years, and a vocal coach to Frank Sinatra, Lena Horne, Marlene Dietrich, Lucille Ball, and Judy Garland, who asked Thompson to be the godmother to her daughter, Liza Minnelli, in 1946.
Mutual friend, D.D. Ryan, recalled, "Kay would call me and do Eloise on the phone. She would say 'This is Eloise' in that funny little voice. I said, 'There is a fellow across the hall, a great friend of mine, Hilary Knight.' He used to make little drawings and shove them under my door. One morning he made a drawing of a fat little prissy pretty girl with frizzy blond corkscrews. She had a satin ribbon in her hair and a bulging belly, and she was facing a little girl who looked just like Eloise. I said, 'I have a drawing of Eloise.' And Kay got enormously interested."
The first meeting between the future Eloise collaborators took place following a performance at The Persian Room in the Plaza Hotel in New York in late-January 1954. Knight and Thompson were brought together by D.D. Ryan, an assistant to Harper's Bazaar's fashion maven, Diana Vreeland. Ryan suggested that Thompson and Knight should collaborate on a book. Thompson had already created the character of Eloise, whom she would sometimes impersonate while speaking to friends on the telephone. Thompson biographer, Sam Irvin, noted that Eloise was an imaginary friend from Thompson's childhood and she had been using the Eloise voice since her youth.
Beginning work on the book in 1955, the Eloise co-creators turned in a first draft to a publisher who was not interested. However, Simon & Schuster's Jack Goodman was moved by the story and inspired Thompson and Knight to continue refining the book. Knight completed his final color overlays in July 1955 and the book was published on November 28, 1955. Though the Book for Precocious Grown-Ups was originally intended for adults, it proved to be tremendously popular with children and quickly became a best seller. Over the next sixty-seven years, the public's adoration of the forever six-year-old Eloise inspired a series of books, a line of commercial products, a song, two movies, and an animated television series.
Knight recalls, "I did a sketch of the little girl, and we worked together. It was a total collaboration. Kay talked about the way she looked, the little costume." Knight designed the attitude and personality of Eloise through discussions with Kay, while basing her physical appearance on family friend, Eloise Davison, a food writer for the New York Herald Tribune. Though in her fifties, Knight imagined what Davison would have been like as a child.
It was unusual for a picture book to be marketed to adults, but that is just what Kay Thompson had in mind with Eloise. Knight recalls walking into bookstores with Kay Thompson; if Eloise was on display in the children's section, Thompson would move it back with the rest of the books. After all, Eloise wasn't exactly an ideal role model for children. In December 1955, The Charlotte News reviewed the book, pointing out that Knight "…has come up with a girl who isn't the repulsive sort Ronald Searle would create, but one nobody would ever make the mistake of trying to cuddle." Another critic noted Eloise "wanders the corridors befriending the guests and tossing occasional temper tantrums."
However, children did fall in love with Eloise, the forever six-year-old resident of the top floor of the Plaza Hotel. Eloise was watched over by her British Nanny and accompanied by her dog, Weenie, and turtle, Skipperdee. It seems odd now that the New York Times never reviewed the original book, though Knight credits the ad copy for generating interest in the book, and a Life magazine article in December 1955 helped propel the book to become a bestseller.
In 1957, following the tremendous success of Eloise two years prior, Thompson and Knight traveled to Paris twice while preparing a follow-up titled Eloise in Paris. While filming Funny Face in Paris the previous year, Thompson noticed a chic hotel in the Left Bank that was very popular with trendsetters of the era–—the Relais Bisson. Knight recalls the hotel was adorned with modern French paintings. They agreed the hotel would become the setting for Eloise in Paris.
In December 1957, Good Housekeeping included an insert titled, "Eloise at Christmastime." Eloise at Christmastime was redrawn and expanded for release by Random House in book form on September 22, 1958.
The single for Kay Thompson's song "It's Absolutely Christmastime" was written by Thompson, who also performed the tune in the voice of Eloise. The record was a promotional release given to radio stations in November 1958 to promote the recent publication of Eloise at Christmastime.
Simon & Schuster reissued the book in 1999 with new art by Hilary Knight. He altered the closing page that depicted Eloise showing off all of her Christmas presents, to a drawing of hotel staff with presents they received from Eloise. Knight commented, "It's a better note to end on."
Eloise in Moscow was published in 1959 by Simon & Schuster. Thompson and Knight traveled to Moscow and stayed at the National Hotel where they spent four weeks researching the book at ballets, circus performances, puppet shows, concerts, theatres, and restaurants where, Knight recalls, they ate caviar at every meal. Knight has declared Eloise in Moscow his favorite of the Eloise books.
The fifth Eloise book, Eloise Takes a Bawth, would not be published for forty-three years.
Kay Thompson was living in Rome in the summer of 1966 when Knight traveled to collaborate on their fifth Eloise book, Eloise Takes a Bawth. Though Knight had prepared hundreds of drawings for Thompson, she appeared to be frustrated with the project and dismissed Knight's work and his thoughts on the book. When Eloise Takes a Bawth was ready to publish, Thompson cancelled the project and chose to remove the three Eloise sequels from print.
Thompson's friend, film critic Rex Reed, noted, "The story of why Eloise is under wraps is also the story of Kay Thompson. Eloise is hiding because Kay is hiding." Thompson told biographer Stephen Silverman, "I have experienced many bad moments from the beginning of Eloise's life."
Eloise Takes a Bawth by Kay Thompson and Mart Crowley with illustrations by Knight finally saw the light of day when Simon & Schuster published the book in 2002.
The 2014 book, The 365 Days of Eloise, is the first Eloise book written and illustrated by Hilary Knight. As Eloise celebrates the holidays throughout the year, Knight presents a reformed Eloise: a kinder, more thoughtful child who is very appreciative of her Nanny and those around her. Eloise even mentions her mother several times, which was something Kay Thompson's text often avoided. This is the final Eloise book illustrated by Knight, and is a fitting tribute to the character he and Thompson created so many years ago.
What is it about Eloise that draws children to the books nearly seventy years later? The antics of Kay Thompson's character antics certainly are amusing in a cross-generational way, though it is Knight's artwork that defines Eloise. In a December 17, 2002 article on Hilary Knight, Samantha Critchell suggested, "Eloise has a funny little face. Her anatomy and the way she propels her way through the books is what brings her to life."
Broadway
In a 1977 interview, Broadway producer Harry Rigby declared, "I can't imagine doing a musical without Hilary."
Hilary Knight recalls his first theater experience was seeing the Rodgers and Hart Broadway musical Jumbo, which opened at the Hippodrome Theatre in November 1935. Seating 5,300, the Hippodrome hosted circuses, Broadway plays, and vaudeville acts. Knight also attended many performances at Radio City Music Hall and the Roxy Theatre.
Hilary Knight and the world of Broadway were destined to come together. Knight's illustration career on Broadway began in 1965 when he was hired by producer Harry Rigby to create the poster artwork for the musical Half A Sixpence. Subsequent Broadway work included posters and/or playbills for No, No, Nanette (1971), Good News (1974), Gypsy (1974), I Love My Wife (1977), Ain't Misbehavin' (1978), Whoopee! (1979), Mame (1983), Meet Me in St. Louis (1989), and Busker Alley (1995), among other productions.
The vivid colors, kinetic figures, and dynamic composition in Knight's imaginative illustrations were perfect for capturing the excitement and showmanship of the Broadway musicals. Upon attending a 1974 exhibition of Knight's Broadway artwork on display at the Triton Gallery in New York's Theatre District, fashion publicist Eleanor Lambert wrote, "The [private opening] of the show was such a crush of theatre biggies, from Ethel Merman to Jane Powell to Debbie Reynolds, Alice Faye, and Leslie Uggams, that we gave up trying to pry our way to the door."
In Vanity Fair's April and May 2011 issues, Knight provided sketches for a feature titled "Hilary Knight's Broadway." In 2017, The New York Public Library for the Performing Arts at Lincoln Center celebrated Knight's contributions to Broadway in the exhibition, Hilary Knight's Stage-Struck World.
In a 1971 interview, Knight commented, "Creating a show poster, which might look elementary to many people is a fearful job. Before you think of the design, you have to consider and deal with all the star names, the director and choreographer and every other name in the show in percentage to the title of the play."
Author / Illustrator
The four Eloise books created by Kay Thompson and Hilary Knight in the 1950s comprise just a fraction of the books that Knight has illustrated over the last six decades. Creating artwork for authors of more than seventy books, Knight is a storyteller and author in his own right. He has written and illustrated more than a dozen of his own books, and he does not show any signs of stopping. Knight is currently writing an illustrated memoir titled Hilary Knight: Drawn From Life, in addition to his first graphic novel, Olive & Oliver, a collaboration with his nieces, Kitty and Lily Knight.
The following are some highlights from Knight's work with other authors:
The Wonderful World of Aunt Tuddy by Jeremy Gury, 1958, Random House, New York
Beginning with Mrs. McBee by Cecil Maiden, 1960, Vanguard, New York
Jeremiah Octopus by Margaret Stone Zilboorg, 1962, Golden Press, New York
The Night Before Christmas by Clement Clarke Moore, 1963, Harper & Row, New York
Captain Boldheart and the Magic Fishbone by Charles Dickens, 1964, Macmillan, New York
When I Have a Little Girl by Charlotte Zolotow, 1965, Harper & Row
Sunday Morning by Judith Viorst, 1968, Harper & Row
The Book of Wishes and Wishmaking by Duncan Emrich, 1971, American Heritage
Matt's Mitt by Marilyn Sachs, 1975, Doubleday, Garden City, New York
That Makes Me Mad! by Steven Kroll, 1976, Pantheon, New York
Algonquin Cat by Val Schaffner, 1980, Delacorte Press, New York
The Mrs. Piggle-Wiggle Treasury by Betty Bard MacDonald, 1985, HarperCollins, New York
Beauty and the Beast by Jeanne-Marie Leprince de Beaumont, 1990, Simon & Schuster
Books written and illustrated by Knight include:
Hilary Knight's ABC, 1961, Golden Press, New York
Hilary Knight's Mother Goose, 1962, Golden Press
Angels and Berries and Candy Canes, 1963, Harper & Row, New York
Christmas in a Nutshell Library, 1963, Harper & Row
A Christmas Stocking Story, 1963, Harper & Row
A Firefly in a Tree: A Carol for Mice, 1963, Harper & Row
Where's Wallace?, 1964, Harper & Row
Sylvia, the Sloth: A Round-About Story, 1969, Harper & Row
The Circus is Coming: A Picture Parade, 1978, Golden Press
Hilary Knight's Cinderella, 1978, Random House, New York
Hilary Knight's The Twelve Days of Christmas, 1981, Macmillan, New York
Hilary Knigh't's The Owl and the Pussycat, 1983, Simon & Schuster, New York
The 365 Days of Eloise: My Book of Holidays, 2015, Simon & Schuster
At ninety-five years old, Knight is currently working on an illustrated memoir, Hilary Knight: Drawn From Life, which documents his remarkable life and career—growing up with artistic parents, creating a successful career creating artwork for magazines and advertising, drawing Eloise, illustrating and writing numerous books, and living in semi-retirement. He noted, "When we were trying to come up with a title, I'd originally called it A Family Tree, thinking of all the things in my life connecting, but that didn't really work. So I came up with the brilliant idea, Drawn From Life, and I checked the title on Amazon. The first thing that popped up was Ernest Shepard's autobiography—and I was delighted! He was a tremendous influence on my own work, and on Eloise. So that became my title, too—with a great big bow to Ernest."
Illustrations by Hilary Knight
Additional Resources
Bibliography
Dickens, Charles. Captain Boldheart and the Magic Fishbone. New York: Macmillan, 1964.
Knight, Hilary. The 365 Days of Eloise: My Book of Holidays. New York: Simon & Schuster, 2015.
Knight, Hilary. The Circus is Coming: A Picture Parade. New York: Golden Press, 1978.
Knight, Hilary. Hilary Knight's The Owl and the PussyCat. New York: Simon & Schuster, 1983.
Knight, Hilary. Sylvia, the Sloth: A Round-About Story. New York: Harper & Row, 1969.
Leprince de Beaumont, Jeanne-Marie. Beauty and the Beast. New York: Simon & Schuster, 1990.
Maiden, Cecil and Hilary Knight. Beginning with Mrs. Mcbee. New York: Vanguard Press, 1960.
Thompson, Kay and Hilary Knight. Eloise in Paris. New York: Simon & Schuster, 1957.
Viorst, Judith. Sunday Morning. New York: Harper & Row, 1968.