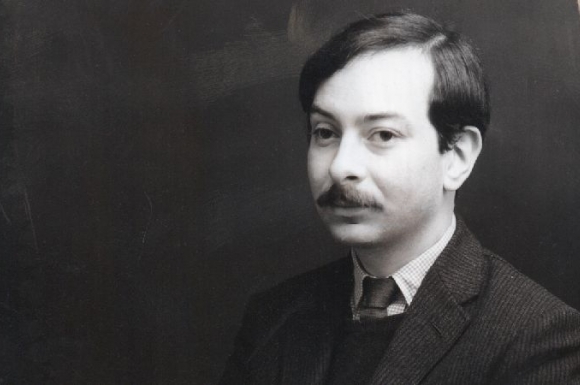 Biography
Emanuel (Manny) Schongut (b.1936) is a versatile and prolific American illustrator known for his book jacket and interior illustrations, but also for his editorial and advertising art, children's books, and posters. Currently based in San Francisco, Schongut was associated with the Push Pin Studios, a well-respected and innovative New York City graphics design group.[1] He also taught reportorial art and figure drawing at Pratt Institute in New York for several years and currently teaches in the San Francisco Bay area.[2]
While he was raised mostly in small towns in the Catskill region of upstate New York, Schongut never felt too far from New York City and its vibrant art community. His family ran a tourists' house so there was a constant flow of visitors from Manhattan. And since he had relatives who lived in the city, he often traveled back and forth. Schongut was the class artist during his early school years and always knew he wanted a career using his artistic talent, so he enrolled in New York's Pratt Institute where he studied under Richard Lindner. Schongut also claims to have been influenced by the works of Arthur Szyk, early Disney, Norman Rockwell, and illustrations from a book of Hans Christian Andersen fairy tales given to him by his sister.
Working in watercolor, pencil, and pen and ink, Schongut developed a distinctive style usually featuring simply drawn human figures and abstract images in stark configurations, avoiding bright colors and elaborate detail, and preferring more subdued and uncluttered designs.[3] Beginning in the 1960s, Schongut began painting several covers for Doubleday books followed by assignments from other publishers. In the 1970s his assignments also included illustrations in children's books as well as magazine illustrations and advertisements, notably in publications such as New York Magazine and the New York Times, among others. Included in the more than twenty children's books he illustrated are five "board books" which he authored. His high-profile projects included four posters promoting PBS programs, "Masterpiece Theatre" and "Mystery," financed by corporate sponsor, Mobil Oil.[4]
Schongut currently lives in the San Francisco area where he continues to work as a freelance illustrator, teaches, and participates in gallery shows.
[1] "Emanuel Schongut." The Bookshop. Accessed October 16, 2020. https://bookshop.org/contributors/emanuel-schongut
[2] "The Watercolour Illustrations of Emanuel Schongut." Emanuel Schongut Illustrator. Accessed October 16, 2020. http://www.eschongut.com/
[3] "Schongut, Emanuel." SFE: Science Fiction Encyclopedia. Accessed October 16, 2020. Last edited August 12, 2018
[4] Ibid.
This artist's biography was written by Phyllis Geraghty, a writer with professional experience in the public relations, education, health, and non-profit sectors.
Illustrations by Emanuel Schongut
Additional Resources
Bibliography
Asimov, Isaac and Emanuel Schongut. Tomorrow's Children: 18 Tales of Fantasy and Science Fiction. Garden City, NY: Doubleday, 1966.
Hawkesworth, Jenny and Emanuel Schongut. The Lonely Skyscraper. Garden City, NY: Doubleday, 1980.
McCracken, Blair and Emanuel Schongut. Stars are for Storytelling. New York: Holt, Rinehart and Winston, 1973.
McHargue, Georgess and Emanuel Schongut. The Talking Table Mystery. Garden City, NY: Doubleday, 1977.
Manley, Seon and Emanuel Schongut. The Ghost in the Far Garden and Other Stories. New York: Lothrop, Lee & Shepard, 1977.
Schongut, Emanuel. Hush Kitten. New York: Simon & Schuster, 1983.
———. Look Kitten. New York: Simon & Schuster, 1983.
———. Play Kitten. New York: Simon & Schuster, 1983.
———. Wake Kitten. New York: Simon & Schuster, 1983.
Vlahakis, Andrea and Emanuel Schongut. Christmas Eve Blizzard. Mt. Pleasant, SC: Sylvan Dell, 2005.