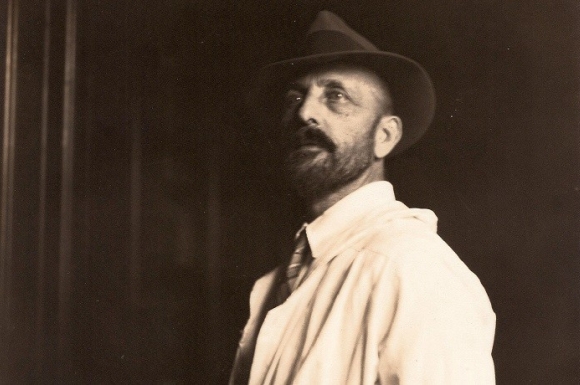 Biography
Born in the Ukraine in 1875, Zygmunt Iwanowski (Sigismund de Ivanowski) moved to America in 1902 when he was in his late twenties. He began living in Westfield, New Jersey and eventually purchased a studio at the Hotel des Artistes in New York City.
Prior to moving to America, Ivanowski studied under Wojciech Gerson, a leading Polish painter of the mid-19th century and longtime professor at the School of Fine Arts in Warsaw. After studying with Gerson, Ivanowski became a gold medal student from 1890 to 1896 at Russia's St. Petersburg Academy of Fine Arts. He was offered a job painting the Russian royal family of Nicholas II, but he did not pursue the task. Following his time in St. Petersburg, he attended the Académie Julian in Paris for two years and studied under Jean Paul Laurens, a French painter and sculptor, and Jean-Joseph Benjamin-Constant, a French painter and etcher. He continued his studies in Warsaw, Munich, and London with James Abbott McNeill Whistler. Later, he married his wife, Helen Moser, who was an aspiring American singer.
While residing as an artist in the States, he was recognized as an outstanding illustrator for magazines, including Harper's, Scribner's, Ladies' Home Journal, and Century. From 1906 to 1914 Ivanowski painted a series of portraits of actresses for Century magazine. His most prominent portraits are of the 26th President of the United States, Theodore Roosevelt (made between 1908 and 1910), and the Polish statesman, composer, concert pianist, and first Prime Minister of the Polish Republic, Ignacy Jan Paderewski. On his paintings, he signed his name Sigismund de Ivanowski, and with that signature, he would secure a place in the history of American painting.
Ivanowski was a fan of Paderewski's music, and in 1917, the two met in Washington, DC where they immediately became friends. After meeting with Paderewski, he closed his studio in Westfield to join the Blue Army, a volunteer Polish force that was recruited by the United States to help fight against the Germans in France through World War I. During this time, Ivanowski became Paderewski's attaché, was responsible for the recruitment effort, and was a liaison with the Allies. After the November 1918 armistice, Ivanowski was awarded by the French government with the Legion of Honor for his work in organizing the Blue Army. Following the war, he and his wife joined Paderewski and his wife on their return to Poland. There, from 1918 to 1920, Ivanowski continued to aid Paderewski in Warsaw.
Several years later, the couple returned to the United States where Ivanowski continued to work as an artist. His works included cityscapes, garden scenes, daily life, nude figures, and portraits. He leaned more towards a realistic and academic style, and worked in either charcoal or oil paint.
During his time in the United States, he became a member of the Society of Illustrators in New York City, and of the National Arts Club in New York City. His work has been shown in numerous exhibitions from 1907 to 1982. Ivanowski also worked on illustrations for numerous books including The Land of the Blue Flower by Frances Hodgson Burnett, and Miss Amerikanka: A Story by Olive Gilbreath. Ivanowski died in 1944 in Westmoreland, New Hampshire at the age of sixty-nine.
Kostoulakos, Peter. "Sigismund de Ivanowski." askART. Accessed October 12, 2021. https://www.askart.com/artist/Sigismund_de_Ivanowski/25585/Sigismund_de_Ivanowski.aspx.
"Papers of Painter Zygmunt Iwanowski, Friend of Paderewski, Acquired by Hoover Archives." Stanford University Hoover Institution. October 14, 2015. Accessed 13 October 2021. https://www.hoover.org/news/papers-painter-zygmunt-iwanowski-friend-paderewski-acquired-hoover-archives
Illustrations by Sigismund de Ivanowski
Additional Resources
Bibliography
Allen, James Lane and Sigismund De Ivanowski. A Cathedral Singer. New York: Century Co., 1916.
Burnett, Frances Hodgson and Sigismund De Ivanowski. The Land of the Blue Flower. New York: Moffat, Yard, and Company, 1909.
Gilbreath, Olive and Sigismund De Ivanowski. Miss Amerikanka: A Story. New York: Harper & Bros., 1918.
Lawson, Thomas William and Sigismund De Ivanowski. Friday, the Thirteenth: A Novel. New York: Doubleday, Page & Company, 1907.
Rickert, Edith and Sigismund De Ivanowski. Folly. New York: Baker & Taylor Co., 1906.