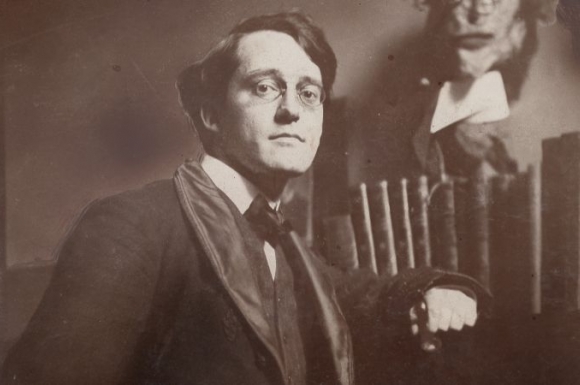 Biography
Though best known as a painter of incidents on the streets of New York, John Sloan began his career as an illustrator, and the lessons of illustration remained central to his practice. Between 1892 and 1915, illustration was Sloan's primary means of support, and his work appeared in newspapers, books, and magazines, and on advertising posters. Sloan's illustration work inflected his paintings and etchings, helping to shape his interests and his technique.
Born in 1871 in Lock Haven, Pennsylvania, Sloan moved to Philadelphia with his family at the age of five. He grew up in a household that prized books, periodicals, and prints, and the earliest evidence of Sloan's artistic talent comes in the form of drawings added to his 1883 copy of Treasure Island. Using ink, watercolor, and pencil, the young Sloan produced several half-page illustrations, penned tiny images in the table of contents, and even added his name to the title page. Produced when the artist was around age twelve, these drawings foreshadowed Sloan's future vocation.
Sloan's career as a professional illustrator began while he was still in his teens. As a young man, he was forced to leave the prestigious Central High School to help support his family. One of his early jobs was at A. Edward Newton, where he produced cards, gift books, and other novelties. Many of these items were produced as etchings, a medium he taught himself in the late 1880s. For Newton, Sloan depicted the homes of famous poets, designed pretty calendars, and etched booklets like Thoughts from Tennyson. His delicate, precise renderings reveal a flair for decoration, which helped him earn a position on the staff of the Philadelphia Inquirer in 1892.
That year Sloan rented a studio on Chestnut Street with another illustrator, Joe Laub. He also began to take classes at the Pennsylvania Academy of the Fine Arts and met the painter Robert Henri, who had just returned from study in Paris. Sloan's diverse interests are apparent in the business card that he produced about that time. On the card, etched with architectural and foliate motifs, Sloan promoted his skills in designing, etching, illustrating, advertising sketches, and lettering. Sloan continued at the Inquirer, until he received a better offer from the competing Philadelphia Press. At the newspapers, Sloan produced a wide range of illustrations including on-the-spot news pictures, though it quickly became apparent that this was not his strength, unlike his friends William Glackens, George Luks, and Everett Shinn who excelled at rapid sketches.
Sloan specialized in decorative work, like headings, puzzles, and illustrations for fiction and the society pages. He studied French and English illustrators including Daumier, Gavarni, Leech, and Du Maurier. He developed an elegant personal style, using flat patterns and sinuous lines that drew on French art nouveau and Japanese woodblock prints. Sloan was part of the emerging aesthetic of the poster style. His stylized illustrations began to appear in advertisements and little magazines, like Moods and The Echo, and on book covers, as well as in the Philadelphia papers. With Shinn, Sloan attempted to launch a magazine named and patterned after the French Gil Blas, with illustrations by his expanding circle of friends. These little magazines were very short-lived, but at the end of the decade Sloan's elegant illustrations began to appear in books and mainstream magazines. By that time, his presence was strong at the Press where he produced puzzles for the Sunday supplement. In 1900, his puzzles became full-page color features that invited readers to send their solutions to the newspaper for a ten-dollar prize.
Around the turn of the century, under the influence of Henri, Sloan was beginning to paint more seriously, producing portraits and scenes of life in his Philadelphia neighborhood. His work for the Press was supplemented with a major commission to etch illustrations for a luxurious edition of the works of the French author, Charles Paul de Kock, published by Frederick J. Quinby Co. of Boston. In all Sloan produced 53 etchings for the series. His images include humorous character studies and groups of figures interacting in the streets, gardens, and drawing rooms of mid-19th century Paris. The De Kock commission honed Sloan's abilities as an etcher and earned him praise as an illustrator.
His reputation as an illustrator and his mastery of etching served him well when he moved to New York in 1904. His New York City Life set—a series of etchings featuring humorous glimpses of the streets and apartments of Sloan's neighborhood—benefitted from the lessons learned producing the De Kock project. The City Life etchings, which were not illustrations, vividly conveyed the character of the city's neighborhoods and residents through composition, pose, and expression.
In moving to New York, Sloan followed several Philadelphia friends. Around the turn of the century, Henri, Shinn, Glackens, and Luks had all relocated to New York, which had become the national center of art and publishing. As newspapers moved toward the use of more photographs, Sloan and his illustrator friends were forced to shift their focus toward magazines and books. Newspaper puzzles and cartoons remained sources of income for Sloan and Luks, but Sloan also sought commissions from Century, Collier's and McClure's. His adoptive city provided the setting for some of Sloan's most accomplished magazine illustrations, like his pictures for "The Steady" from 1905. In addition, he and his friends became increasingly interested in painting the people and places they encountered in New York.
Finding their city paintings frequently rejected from juried exhibitions, the group of friends, headed by Henri, began to organize alternative exhibitions. In 1908, Sloan, Henri, Shinn, Glackens, and Luks received an enormous amount of press attention when they exhibited together—with three other friends, Arthur B. Davies, Ernest Lawson, and Maurice Prendergast—at Macbeth Galleries. Portrayed as a protest against the conservatism of the National Academy of Design, the show was a huge success attracting publicity, visitors, and sales. The group became known as the Eight and the exhibition toured around the country. None of Sloan's work sold, however, and he supported himself that year, in part, by illustrating Ralph Bergengren's humorous pirate tales in Collier's in a clever woodcut style. His style was popular with the author, and the stories were popular with the public. Sloan continued to illustrate Bergengren's pirate tales for five more years, even as he became increasingly engaged with Socialist politics.
Between 1911 and 1914, Sloan would produce some of his most powerful and important illustrations for the Socialist press. In 1911 he memorialized the horrific death of garment workers in his neighborhood with The Triangle Shirtwaist Factory Fire, which appeared in the New York Call. In 1912 Sloan joined the board of The Masses and helped to transform it into a groundbreaking publication. Like other Socialists in Greenwich Village, Sloan was at least as interested in artistic freedom as he was in party doctrine and the magazine reflected this orientation. Illustrations often appeared without text and even covers need not be overtly political. The covers Sloan designed for The Masses included a scathing indictment of John D. Rockefeller and a girl swinging in Washington Square, and his presence at The Masses helped attract submissions from less politically engaged artist-friends, like Glackens, George Bellows, and Stuart Davis.
Work for The Masses did not pay, and Sloan was fortunate that his friend Norman Hapgood had become editor of Harper's Weekly. Hapgood purchased covers and significant illustrations, often of New York City subjects, from Sloan between 1913 and 1915. In Harper's and The Masses, and in his paintings and etchings, Sloan depicted life on the streets and in the parks of lower Manhattan, where he lived. As an artist and illustrator, in the teens Sloan became known for his depictions of Chelsea and Greenwich Village.
After 1915, Sloan's output as an illustrator declined sharply. He left The Masses and began teaching at the Art Students League. Kraushaar Galleries began to represent him in 1916, providing occasional sales, and Sloan supported himself as an instructor, with only occasional forays into illustration. Though he increasingly identified himself as a teacher and a painter, Sloan did take on a few important book projects after 1916—Mitch Miller by Edgar Lee Masters in 1920, The Beginning of a Mortal by Max Miller in 1933, and W. Somerset Maugham's Of Human Bondage in 1938.
Illustrations by John French Sloan
Additional Resources
Bibliography
Hawkes, Elizabeth H. John Sloan's Illustrations in Magazines and Books. Wilmington, DE: Delaware Art Museum, 1993.
Lobel, Michael. John Sloan: Drawing on Illustration. New Haven, CT: Yale University Press, 2014.
Morse, Peter. John Sloan's Prints: A Catalogue Raisonné of the Etchings, Lithographs, and Posters. New Haven, CT: Yale University Press, 1969.
Sloan, John and Robert Henri. Revolutionaries of Realism: The Letters of John Sloan and Robert Henri, Edited by Bennard B. Perlman. Princeton, NJ: Princeton University Press, 1997.