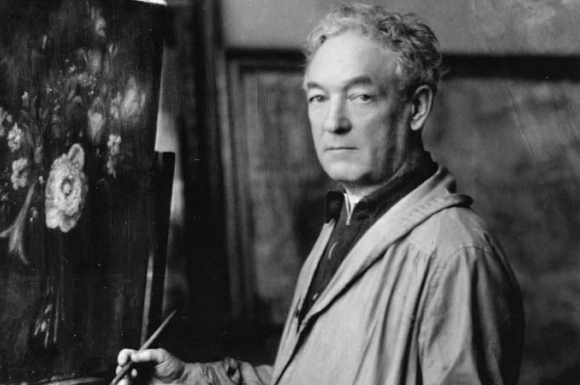 Biography
Born in Philadelphia, William Glackens attended Central High School with John Sloan and Albert C. Barnes. At school William and his older brother Louis Glackens were known for their comic drawings. After graduation William Glackens went to work as a newspaper illustrator, first at the Philadelphia Record and eventually at the Philadelphia Press, a newspaper distinguished by its excellent illustrations. Possessed of an extraordinary visual memory, Glackens excelled as an artist-reporter, drawing newsworthy events alongside other talented young illustrators, including Sloan, Everett Shinn, and George Luks. Glackens also attended evening classes at the Pennsylvania Academy of the Fine Arts, and began painting with encouragement from the painter Robert Henri, traveling with Henri to Paris in 1895.
When he returned, Glackens settled in New York City and worked briefly for the Sunday World, but artist-reporter jobs were disappearing as the half-tone process allowed newspapers to reproduce photographs mechanically, without the intervention of illustrators. He began seeking commissions for magazine and book illustrations. In 1898, McClure's magazine sent Glackens to cover the Spanish-American War in Cuba, but because the war was so short-lived, few of his images were published. Returning to New York, he found work illustrating books and magazines. In 1902 he landed a commission to produce illustrations for a deluxe edition of novels by the French author Charles Paul de Kock (1793–1871). Over the next two years Glackens would produce 54 etchings and drawings for the de Kock series and encourage his associates Sloan, Shinn, and Luks to join the project. Reviewers of the books praised the many drawings, bringing attention to the young illustrators.
In the first decade of the 20th century, Glackens illustrated dozens of articles, stories, and poems, many about life in New York City, for Scribner's, Collier's, and other mainstream magazines. For his magazine work, he developed a distinctive style with short, deft strokes that conveyed the energy of urban life. This style found its fullest expression in the colorful, crowded, full-page drawings that often served as covers or centerfolds for Collier's Weekly.
Mirroring his work in illustration, Glackens painted images of urban life—including famous pictures of Café Mouquin and Hammerstein's Roof Garden, and his masterpiece The Shoppers, which depicts his wife and her friends inspecting the merchandise in an urban store. With his friends from Philadelphia, Glackens participated in the groundbreaking exhibition of "The Eight" at Macbeth Gallery in 1908. After 1910, Glackens concentrated on painting and produced fewer illustrations. He regularly traveled to Europe, and in 1912 he began to assist his friend Albert Barnes in assembling his collection of European modern art, including masterpieces by Cezanne, Matisse, and Renoir. Glackens served on the committee to select American art for the 1913 Armory Show and served as the first president of the Society of Independent Artists in 1917.
Heather Campbell Coyle, Curator of American Art, Delaware Art Museum
Illustrations by William Glackens
Additional Resources
Bibliography
Allyn, Nancy E. William Glackens: Illustrator in New York, 1897–1919. Wilmington, DE: Delaware Art Museum, 1985.
Allyn, Nancy E. and Elizabeth H. Hawkes. William Glackens: A Catalogue of his Book and Magazine Illustrations. Wilmington, DE: Delaware Art Museum, 1987.
Coyle, Heather Campbell. "The Character and Rhythm of Modern Life: Glackens as an Illustrator." In William Glackens. Ft. Lauderdale, FL: Barnes Foundation/Museum of Art Fort Lauderdale, 2014.
Gerdts, William H. William Glackens. New York: Abbeville Press, 1996.
Glackens, Ira. William Glackens and the Ashcan Group: The Emergence of Realism in American Art. New York: Grosset & Dunlap, 1957.
Glackens, Ira. William Glackens and The Eight: The Artists who Freed American Art. New York: Writers & Readers Publishing in association with Tenth Avenue Eds, 1957.
Wattenmaker, Richard J. "The Sketchbook Studies of William Glackens." In The World of William Glackens. Bonita Springs, FL: Sansom Foundation, 2011.
Zurier, Rebecca. Picturing the City: Urban Vision and the Ashcan School. Berkeley, CA: University of California Press, 2006.