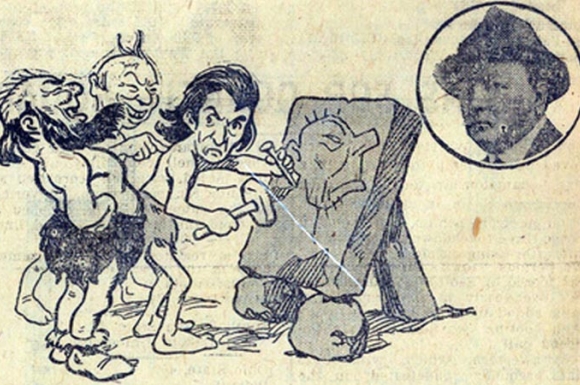 Biography
Louis Glackens was the older brother of American painter William Glackens. As students at Philadelphia's Central High School, Lou and William entertained students and teachers by making on-the-spot drawings of school events and personalities during assemblies. With his flair for comic delineation, Lou quickly found work as a commercial illustrator after graduation. His drawings for The Last Tenet Imposed upon the Khan of Tomathoz from 1892 show a confident draughtsman adept at exploiting delicate lines and blank space to create dynamic illustrations. The book also demonstrates Glackens's skill at the kind of racial and ethnic caricature that was common in the American comic press in the late 19th century, and in the 1890s he began working regularly for Puck, one of the leading humor magazines in the United States.
During his over-20-year career at Puck, Glackens created dozens of covers and hundreds of comic drawings poking fun at a wide range of subjects, including politics, fashion, and shifting cultural values. He worked in a variety of formats and styles. His full-page color covers use fluid lines, bold colors, and open space for dramatic impact, while his multi-panel cartoons revel in myriad details. Historical subjects seem to have been a specialty; from 1900 through 1903, during the height of the Colonial Revival, Glackens published a series called "In Colonial Days" that took a light-hearted look at Puritans and America's Founding Fathers. Glackens also illustrated for general interest magazines, newspapers, book publishers, and producers of novelties. Beginning in 1915, around the time when Puck changed ownership and began its decline, Glackens put his lively lines to work for animation studios, producing more than 20 films for Bray Studios, a pioneer in animated filmmaking.
Heather Campbell Coyle, Curator of American Art, Delaware Art Museum
Illustrations by Louis Glackens
Additional Resources
Bibliography
Glackens, Ira. William Glackens and the Ashcan Group: The Emergence of Realism in American Art. New York: Grosset & Dunlap, 1957.
Newgarden, Mark. "L.M. Glackens Cartoons (1915–1920)." The Bray Animation Project. 2016. http://brayanimation.weebly.com/l-m-glackens.html
Sloan, Helen Farr. City Life Illustrated: 1890–1940; Sloan, Glackens, Luks, Shinn, their friends and followers. Wilmington, DE: Delaware Art Museum, 1980.