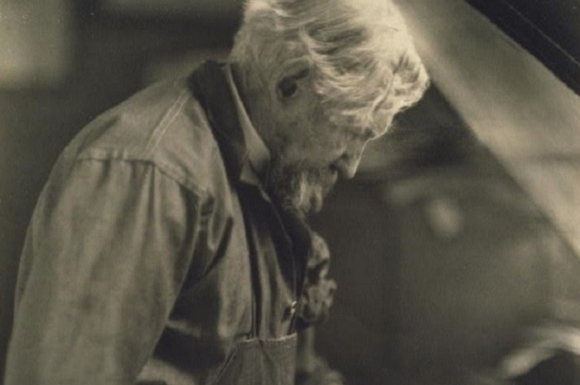 Biography
Born to Quaker parents in Philadelphia, Joseph Pennell was a lonely kid who found solace in reading and drawing when he was young. With very few friends, Pennell found pleasure in going to his father's workplace on the wharf and drawing the docked ships. Although he was a quiet man, his father encouraged his son's artistic abilities and helped him with his drawings — providing pencils and papers for him to use. The family later moved, and Pennell attended the Germantown Friends School. Pennell was impressed by the Pennsylvania Academy of the Fine Arts exhibit in 1876 and applied for admission, but he was rejected. Instead, he worked selling coal, and attended the Pennsylvania School of Industrial Art in the evenings. Later, Pennell was accepted into the Academy School with the help of a professor from the Industrial School.[1]
During his time at the Academy, Pennell did not get along with his professors. He felt that they did not encourage or discourage him, rather choosing to insult his work. He was an impossible student, and when talking with former student and artist Thomas Eakins, Pennell informed him of his distaste for painting, instead wanting to work on drawing and illustrating. After he graduated, he opened his own studio with artist Henry R. Poore and started etching and illustrating travel articles and books. Pennell's first commission was for a man named Charles Wister, who asked for two pen drawings.[2] Pennell's work for magazines like Century, Harper's, and soon McClure's, would send him traveling across Europe, producing etchings, drawings, and lithographs. Pennell's work in Europe during the 1880s would lead to some of his most well-known prints of cathedrals, temples, and street scenes.
In June 1884, Pennell married Elizabeth Robins, a woman born into an affluent banking and finance family. Joseph and Elizabeth frequently worked together on many art and travel books, with Elizabeth establishing a career for herself that closely paralleled that of Joseph's. She wrote for English papers and American magazines. Both agreed that they would not let marriage interfere with their work, and the couple traveled throughout Europe as they continued writing and illustrating.[3] The Pennells lived in London for thirty years and in 1884, Joseph met the man who would greatly influence his work, James McNeill Whistler — an American artist who was primarily based in the UK. The pair became friends and in 1908, with Whistler's permission, the Pennells published a biography of the artist.
However, with the start of the war in 1914, Pennell moved back to the United States. He was horrified by the war and the destruction of the cities and lives that he so loved to draw. During the war, he created posters and drawings of munitions and the war efforts in Britain, France, and the U.S. He even traveled to the front in France, but was soon disgusted by the violence and destruction and decided to leave.[1]
Joseph Pennell's career kicked off at an early age when he was accepted to work for Scribner's — soon to be Century Magazine. His work for Century, and following publications, allowed Pennell to experiment and meet new friends who would inspire his work. Pennell believed that the correct way of illustrating was by observing nature. He never copied sketches and he stated that "to copy photographs is death to an artist."[2] Throughout Pennell's career, he was able to produce more than 900 etchings and mezzotints (a method of engraving where large areas of tone are able to be produced), more than 600 lithographs, and approximately 100 book illustrations.[2]
Towards the end of his life, Pennell spent time traveling and lecturing in Washington D.C. He also taught students at the Art Students League in New York. However, Pennell ended up contracting influenza, which developed into pneumonia. He died on April 23, 1926 at his home in Brooklyn at the age of sixty-eight.[3]
[1] Young, Mahonri Sharp. "The Remarkable Joseph Pennell." American Art Journal, vol. 2, no. 1, Kennedy Galleries, Inc., 1970, pp. 81-91, https://doi.org/10.2307/1593868.
[2] Pennell, Joseph. "The Adventures of an Illustrator Mostly in Following His Authors in America & Europe." Little, Brown, and Company, 1925.
[3] "Pennell family paper." University of Pennsylvania: Kislak Center for Special Collections. http://dla.library.upenn.edu/dla/ead/detail.html?id=EAD_upenn_rbml_MsColl50. Accessed 5 October 2021.
[4] "Joseph Pennell." Smithsonian American Art Museum. https://americanart.si.edu/artist/joseph-pennell-3751. Accessed 29 September 2021.
Illustrations by Joseph Pennell
Additional Resources
Bibliography
Pennell, Joseph. Modern Illustration. London & New York: G. Bell & Sons, 1895.
Pennell, Joseph, Howard Coppuck Levis and Lessing J. Rosenwald Reference Collection (Library of Congress). Joseph Pennell's Pictures in the Land of Temples. London Philadelphia: William Heinemann; J.B. Lippincott, 1915.
Pennell, Joseph. Joseph Pennell's Pictures of the Wonder of Work. Philadelphia: J.B. Lippincott, 1916.
Pennell, Joseph. Etchers and Etching: Chapters in the History of the Art, Together with Technical Explanations of Modern Artistic Methods. New York: The MacMillan Company, 1919.
Pennell, Joseph and Elizabeth Robins Pennell. Joseph Pennell's Pictures of Philadelphia: Reproductions of Sixty-Four Lithographs Made by Him. Philadelphia and London: J.B. Lippincott, 1926.
Pennell, Joseph and New York Edison Company. Some Studies by Joseph Pennell. New York: New York Edison Company, 1927.
Conrad, Peter. The Art of the City Views and Versions of New York. New York: Oxford University Press, 1984.
Watrous, James. American Printmaking: A Century of American Printmaking 1880-1980. Madison Wis: University of Wisconsin Press, 1984.
Wuerth, Louis A., Joseph Pennell and Elizabeth Robins Pennell. Catalogue of the Lithographs of Joseph Pennell. San Francisco: Alan Wofsy Fine Arts, 1991.