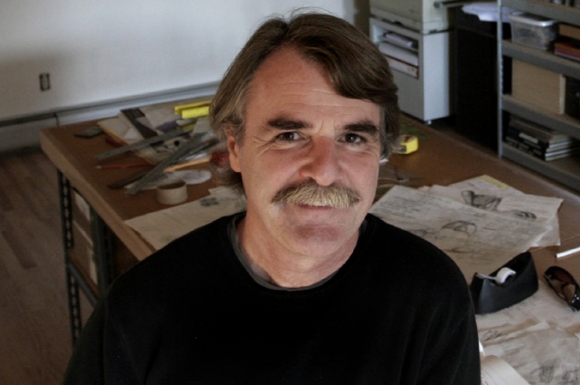 Biography
When David Macaulay (b.1946) was a young boy living in Bolton, England, he was fascinated by simple technology. It was not long before he began constructing elevators out of shoe boxes, tape, and string, and devising intricate systems of moving cable cars with empty spools and thread.
He and his family lived at the end of a row of identical brick houses typical of those found in industrial Northern England. At the bottom of the street were woods where young Macaulay spent much of his time playing and exploring—lost in his own imagination. There, he uncovered a wealth of small treasures like animal skeletons and unusual rocks, which he collected and catalogued. If inclement weather kept him indoors, he joined his family in the kitchen, where projects were always underway. "My parents were both makers of things," the artist has said, "and we were all witness to what they were making—whether my mother was preparing food or sewing or my father was building easels for the local school—it was all done around the kitchen table." A television was not present in the Macaulay household until he was ten years old.
Employed in the knitting industry, David Macaulay's father was adept at repairing and improving the function of complex, clamorous textile machinery, and his skills were in high demand. After accepting a manufacturing position in fast-paced Bloomfield, New Jersey, he brought his family to America when David was eleven years old. "Actually, he flew on ahead to find an apartment and buy new furniture. My mother was left with the task of overseeing our five-day transatlantic journey on the S.S. United States. While the view may have been fairly predictable, a different movie was shown every day and it was always free."
In 1962 the family moved to Rhode Island where Macaulay finished high school. It was during this period that he began to draw seriously. "It was such a great way of showing off." As senior year began, Macaulay considered his next steps. The artist's grandfather, a surveyor, had introduced Macaulay to the art of architectural drafting and in the process had kindled an interest in design that lead to his pursuing a career in architecture. He attended the Rhode Island School of Design from 1964 to 1968, and spent his fifth and final year of study in Rome, Italy—a city that he has returned to over and over again, both in life and in art. Though he ultimately decided against a professional career in architecture, his training had served him well, enabling him to navigate complex ideas with confidence.
After graduation, David Macaulay taught briefly on the junior and senior high school level and worked in an interior design office before moving into freelance illustration. In 1973, after two years of experimenting with the creative connections between words and pictures, his first book was published. Cathedral was an immediate success. A Caldecott Medalist and recipient of a prestigious MacArthur Fellows Program "Genius Grant," he is perhaps best known for his international best seller, The Way Things Work. Readers can transcend the boundaries of time, culture, and geography through City, Castle, Pyramid, Mill, Underground, Unbuilding, Mosque, Ship, and The Way We Work. The artist's elegant, light-hearted picture books include Rome Antics, Shortcut, and Black and White. He served as the host of Building Big, a PBS miniseries about the world's greatest feats of engineering and ingenuity, for which he also produced a companion book. He is the recipient of the Norman Rockwell Museum's 2011/2012 Artist Laureate Award.
Illustrations by David Macaulay
Additional Resources
Bibliography
Macaulay, David. Cathedral. Boston, MA: Houghton Mifflin, 1973.
Macaulay, David. Mosque. Boston, MA: Houghton Mifflin, 2003.
Macaulay, David. The New Way Things Work. New York: Dorling Kindersley Ltd., 1998.
Macaulay, David. Ship. Boston, MA: Houghton Mifflin, 1993.
Macaulay, David. The Way Things Work. London, England: Dorling Kindersley, 1988.
Macaulay, David. The Way Things Work Now. Boston, MA: Houghton Mifflin Harcourt, 2016.
Macaulay, David. The Way We Work: Getting to Know the Amazing Human Body. Boston, MA: Houghton Mifflin, 2008.
Macaulay, David. Underground. Boston, MA: Houghton Mifflin, 1976.