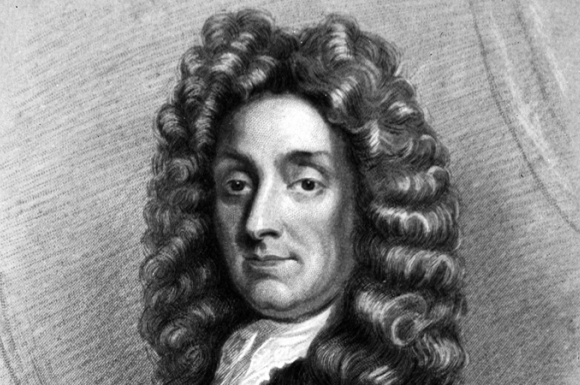 Biography
Christopher Wren (1632-1723) was born in East Knoyle, Wiltshire, and later, moved to Windsor. He was educated at Westminster School and Oxford University. Wren showed an early talent for mathematics and enjoyed inventing things. His interest in architecture developed from his study of physics and engineering. In 1664, Wren was commissioned to design the Sheldonian Theatre in Oxford and a chapel for Pembroke College, Cambridge; from then on, architecture was his main focus. In 1665, Wren visited Paris where he was strongly influenced by French and Italian baroque styles.
In 1666, the Great Fire of London destroyed much of the medieval city, providing a huge opportunity for Wren. He designed fifty-one new city churches, as well as the new St. Paul's Cathedral. In 1669, he was appointed surveyor of the royal works which effectively gave him control of all government building in the country, and he was knighted in 1673.
Wren's other commissions include the Royal Observatory at Greenwich, a hospital in Chelsea for retired soldiers, a hospital for sailors in Greenwich, Trinity College Library in Cambridge, and the facade of Hampton Court Palace.
Illustrations by Christopher Wren

Public Domain
https://www.illustrationhistory.org/illustrations/drawing-of-the-west-elevation-of-st.-pauls-cathedral-london
Additional Resources
Bibliography
Bennett, J.A. The Mathematical Science of Christopher Wren. Cambridge, MA: Cambridge University Press, 1982.
Downes, Kerry. Sir Christopher Wren: The Design of St. Paul's Cathedral. London: Trefoil Publications, 1987.
Hutchison, Harold Frederick. Sir Christopher Wren: A Biography. London: Gollancz, 1976.
Jardine, Lisa. On a Grander Scale: The Outstanding Career of Sir Christopher Wren. London: Harper Collins, 2002.
Jeffery, Paul. The City Churches of Sir Christopher Wren. London: Hambledon Press, 1996.
Pevsner, Sir Nikolaus. Christopher Wren, 1632-1723. Milan, Italy: Electa Editrice, 1958.
Tinniswood, Adrian. His Invention So Fertile: A Life of Christopher Wren. London: Jonathan Cape, 2001.