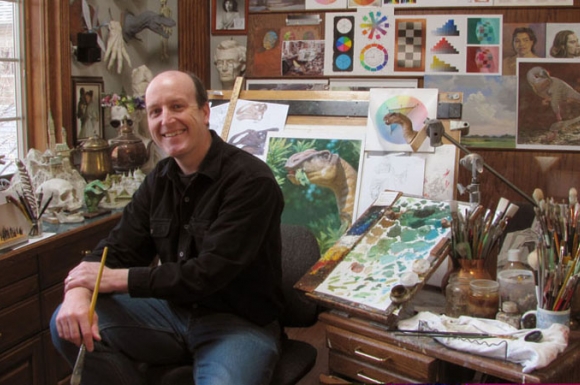 Biography
As a young boy, James Gurney (b.1958) found it difficult to find books on dinosaurs, a subject that always captivated him. In Palo Alto, California where he grew up, a childhood museum visit provided his first encounter with the skeleton of a formidable Allosaurus and a lifetime love of the prehistoric. When the museum was closed for the night, he pictured dinosaur skeletons "stepping over the railing and stalking through the corridors before returning to their platforms at daybreak."
Gurney's daydreams soon inspired an interest in archaeology and lost civilizations. During his youth, National Geographic magazine provided ready access to tales of adventure and the cultures of the world. The artist recalls many hours spent after school excavating his suburban backyard for arrowheads or "even a lost temple."
As a student at the University of California at Berkeley, James Gurney sought out professors with a passion for archaeology and paleontology, and studied collections in regional museums. He created careful drawings of Egyptian scarab carvings for a scientific publication, and after participating in an archaeological dig, decided to major in anthropology.
Gurney pursued his interest in drawing and painting at the Art Center College of Design in Pasadena, California, sketching outdoors at every opportunity. A cross-country railroad trip with friend and fellow artist Thomas Kinkade resulted in The Artist's Guide to Sketching (1982), his first published book. Later, he painted jungle and volcano backdrops for major motion pictures, which piqued his interest in the fantasy genre. His art soon appeared on the covers of science fiction and fantasy novels, but his big break as an illustrator came from National Geographic. A string of challenging assignments for the publication provided the opportunity to work with scientists and historians, and the chance to recreate worlds that could never be photographed.
Though Gurney's secret dream was to discover a lost city as significant as Troy or Machu Picchu, he knew that he could always paint such a place. In his spare time, he created Waterfall City and Dinosaur Parade, first published as fine art prints by the Greenwich Workshop in 1990. These two paintings inspired the conceptual framework for Dinotopia—the lost island that is peaceably inhabited by both dinosaurs and humans.
Through the years, the artist has immersed himself in every detail of the island, from maps to mechanics and metaphysics.The New York Times bestseller, Dinotopia: A Land Apart from Time, has been published in eighteen languages with over two million copies sold. A lavish 2002 Hallmark Entertainment production inspired by his work achieved record-setting ratings and an Emmy award for best visual effects. The artist added to the series with Dinotopia: the World Beneath, Dinotopia: First Flight, and Dinotopia: Journey to Chandara.
The illustrator of seventeen U.S. postage stamps, James Gurney resides in the Hudson River Valley of New York, where he also enjoys pursuing his love of plein air (outdoor) painting inspired by the Hudson River School tradition of the 19th century.
Solo exhibitions of his artwork have been presented at The Smithsonian Institution, Norman Rockwell Museum, The Norton Museum of Art, and the Delaware Art Museum, among others. He is a popular lecturer at art schools, movie studios, and game companies. His book, Color and Light: A Guide for the Realist Painter, was based on his daily blog, gurneyjourney.blogspot.com, and was Amazon.com's #1 bestselling book on painting for over 52 weeks. Gurney is also the author of "Pyle as Picturemaker," an essay in Howard Pyle: American Master Rediscovered, published by the Delaware Art Museum.
Illustrations by James Gurney
Additional Resources
Bibliography
Gurney, James. Color and Light: A Guide for the Realist Painter. Kansas City, MO: Andrews McMeel, 2010.
Gurney, James. Dinotopia: First Flight. New York: Harper Collins Publishers, 1999.
Gurney, James. Dinotopia: A Land Apart from Time. Atlanta, GA: Turner Publishing, Inc., 1992.
Gurney, James. Dinotopia: The World Beneath. New York: Harper Collins Publishers, 1995.
Gurney, James and Thomas Kinkade. The Artist's Guide to Sketching. New York: Watson-Guptill, 1982.
Kowalski, Jesse. Enchanted: A History of Fantasy Illustration. New York: Abbeville Press, 2020.