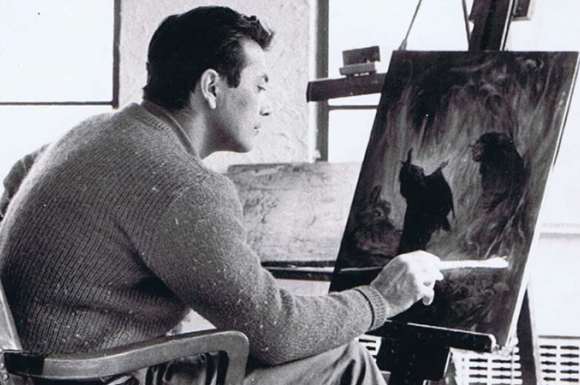 Biography
One of the pioneers of modern fantasy illustration, Frank Frazetta, began his career in the dwindling days of the pulp magazine. Though largely self-taught, he began taking drawing classes at the Brooklyn Academy of Art at just eight years old. His first work was published in Tally-Ho Comics when he was sixteen. In 1952, Frazetta began drawing Al Capp's popular comic strip Li'l Abner, in addition to working on numerous comic book titles.
Following the end of the Golden Age of Illustration in the 1920s, a number of artists continued working for the next few decades. J. Allen St. John, as illustrator of Edgar Rice Burroughs's Tarzan and John Carter series, influenced a new generation, which included Frank Frazetta, Jeff Jones, the Brothers Hildebrandt, and Boris Vallejo. These young artists began to lead the evolution of illustration away from traditional outlets like the newsstand into new arenas. The focus of many was on fantasy illustration—in print (paperback book covers, magazines), film posters, animation, role-playing games, and, eventually, video games.
Frazetta's illustration of Ringo Starr for Mad magazine in 1964 brought attention to Frazetta's work, and movie studios hired him to paint film posters. However, his 1966 cover of the book Conan the Adventurer propelled Frazetta to stardom. In 1969, Frazetta painted the memorable cover of the debut issue of Vampirella. His striking paintings of Conan, Tarzan, and John Carter of Mars altered the way readers viewed the characters and influenced other artists and film directors, including George Lucas, who visited Frazetta's studio in 1978.
In 1983, animator and film director Ralph Bakshi, famous for his work on the animated features Fritz the Cat (1972), Wizards (1977), and The Lord of the Rings (1978), invited Frank Frazetta to collaborate with him on the film Fire and Ice (1983). At the time, Frazetta was hugely popular for his paintings of Conan the Barbarian, John Carter, and other fantasy figures, as well as the iconic Death Dealer, which he painted in 1973. An added bonus for Bakshi was that Frazetta had previously worked in the film industry, creating promotional material for the movies What's New Pussycat? (1965), Mad Monster Party? (1967), and Clint Eastwood's The Gauntlet (1977).
Bakshi intended the film to be an animated version of a Frazetta painting. To help replicate the artist's signature style, Fire and Ice was designed using the rotoscope process created by Max and Dave Fleischer. This involved filming an actor's movement, such as a dance or a sword fight, and tracing the figure from the motion picture film onto animation sheets, using input from Frazetta. The result was a more accurate animated rendering of the actor's movement than could be achieved by drawing from model sheets. In the early years of their careers, illustrators James Gurney and Thomas Kinkade worked as background artists on the film.
Frazetta continued working through the next two decades, often revisting some of his classic works such as Death Dealer. His legacy continues through the Frazetta Art Museum, which is located on Frazetta's estate in East Stroudsburg, Pennsylvania, and overseen by Frank Frazetta, Jr., and in the licensing of his images and massive social media presence maintained by daughter Holly and granddaughter, Sara, through their company Frazetta Girls.
Illustrations by Frank Frazetta
Additional Resources
Bibliography
Ballantine, Betty and Frank Frazetta. The Fantastic Art of Frank Frazetta. New York: Rufus Publications, 1975.
Fenner, Arnie and Cathy Fenner. Icon: A Retrospective by the Grand Master of Fantastic Art. Grass Valley, CA: Underwood Books, 1998.
Frazetta, Frank. Small Wonders: The Funny Animal Art of Frank Frazetta. Princeton, WI: Kitchen Sink Press, 1991.
Frazetta, Frank and Cathy Fenner. Drawings and Watercolors of Frank Frazetta. Grass Valley, CA: Underwood Books, 2004.
Frazetta, Frank and Edward Mason. Telling Stories: The Comic Art of Frank Frazetta. Nevada City, CA: BlackBart, 2008.
Kowalski, Jesse. Enchanted: A History of Fantasy Illustration. New York: Abbeville Press, 2020.
Spurgeon, Tom. Classic Comics Illustrators: Frank Frazetta, Russ Heath, Burne Hogarth, Russ Manning, Mark Schultz. Seattle, WA: Fantagraphics Books, 2005.
Spurlock, J. David and Frank Frazetta. Frazetta Sketchbook. Lakewood, NJ: Vanguard Publishing, 2013.
Spurlock, J. David and Frank Frazetta. The Sensuous Frazetta. N. Miami Beach, FL: Vanguard Publishing, 2016.