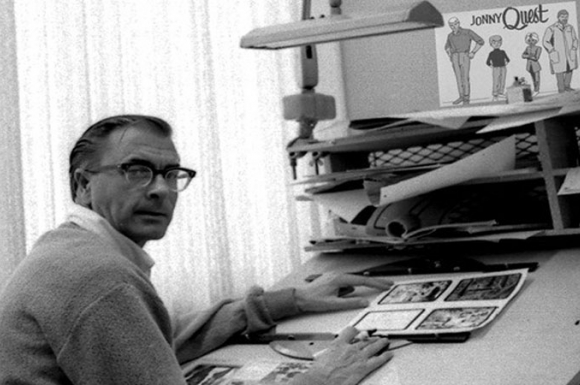 Biography
Doug Wildey (1922-1994) began his career by illustrating Western comics in the 1950s—most notably for the series, The Outlaw Kid, for Marvel Comics' precursor, Atlas Comics. In 1962, Wildey briefly worked alongside illustrator Alex Toth on Toth's cartoon series, Space Angel. Soon after, Hanna-Barbera asked Wildey to develop an adventure cartoon series. In creating Jonny Quest, Wildey broke new ground in animation with a more realistic cartoon design, unusual color palette, and use of futuristic technology. Though the series was very popular with audiences in its primetime slot during the 1964 television season, the elaborate design proved to be too expensive for Hanna-Barbera to continue production past one season.
In addition to his work on Jonny Quest, Wildey wrote and designed several other animated television programs, including Return to the Planet of the Apes (1975), Godzilla (1979), Thundarr the Barbarian (1980), The Incredible Hulk (1982-1983), and many more.
Illustrations by Doug Wildey
Additional Resources
Bibliography
Barbera, Joseph. My Life in 'Toons: From Flatbush to Bedrock in Under a Century. Atlanta, GA: Turner Publishing, Inc., 1994.
Beck, Jerry. The Hanna-Barbera Treasury: Rare Art and Mementos from your Favorite Cartoon Classics. San Rafael, CA: Insight Editions, 2007.
Hanna, William and Tom Ito. A Cast of Friends. Dallas, TX: Taylor Publishing Company, 1986.
Kowalski, Jesse. Hanna-Barbera: The Architects of Saturday Morning. Stockbridge, MA: Norman Rockwell Museum, 2016.
Takamoto, Iwao and Michael Mallory. My Life with a Thousand Characters. Jackson, MS: University Press of Mississippi, 2009.