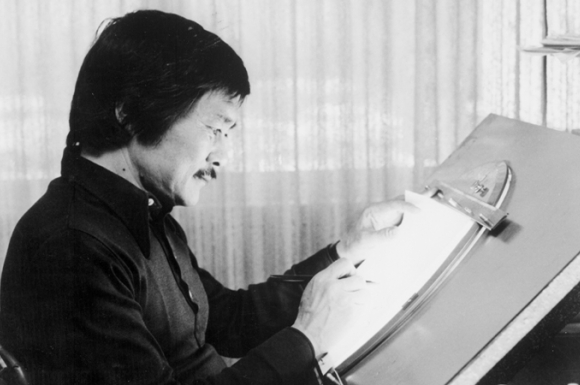 Biography
Iwao Takamoto first learned animation skills during his teenage years, as a prisoner in the Manzanar internment camp, which held over 110,000 Japanese Americans during World War II. At the end of the war, he joined the Disney animation studio where he became the key assistant to one of Disney's legendary Nine Old Men, Milt Kahl. In 1961, Takamoto became an employee of Hanna-Barbera where he worked as an animator and character designer before assuming the role of Creative Producer, which allowed Takamoto to help shape the future of the company. Takamoto continued in that role at Hanna-Barbera until his retirement in 2001.
The reduced budget of TV animation with Hanna-Barbera versus film animation with Disney meant that fewer frames would be produced - 12 frames per second for TV animation versus 24 frames per second for film animation. Another cost-cutting measure was to use as much of a cel as possible to construct a scene. This caused the effect of "ring around the collar" – the tendency of Hanna-Barbera characters to be drawn with neckties and collars. According to Takamoto, "This was so the head could be easily separated onto its own cel without a seam line." When possible, animators would draw characters like Fred Flintstone and Barney Rubble with five o'clock shadows to further reduce animation.
One of the highlights of Takamoto's career at Hanna-Barbera was a project very different from Hanna-Barbera's experiments with Stone Age families and picnic basket-stealing bears. The film version of E.B. White's 1952 book, Charlotte's Web, was a project which Takamoto took special care in supervising. He remarked, "Having become taken with Garth Williams' illustrations from the book, I decided to use a similar style of drawing for the designs." Takamoto wrote about the difficulty he found in creating "an appealing character out of a spider." He noted he kept the spider's body structure very simple "…and then concentrated on finding a way to take advantage of her large eyes to make her sweet and feminine-looking." Given that Hanna-Barbera was not set up internally to create time-consuming animated feature films like the Walt Disney Studios, Takamoto expected horrible reviews. He was surprised to find in Time magazine "…a very good review. They thought it was terrific." William Hanna was also pleased with the final product, noting that the film was "The crown of our mutual artistic aspirations… This film remains one of my personal favorites as a showcase of the best of what our people were creating, an endeavor of stunning excellence."
Illustrations by Iwao Takamoto

Warner Bros.
https://www.illustrationhistory.org/illustrations/presentation-board-for-scooby-doo-where-are-you-1969

Warner Bros.
https://www.illustrationhistory.org/illustrations/presentation-board-for-clue-club-ca.1976
Additional Resources
Bibliography
Barbera, Joseph. My Life in 'Toons: From Flatbush to Bedrock in Under a Century. Atlanta, GA: Turner Publishing, Inc., 1994.
Beck, Jerry. The Hanna-Barbera Treasury: Rare Art and Mementos from your Favorite Cartoon Classics. San Rafael, CA: Insight Editions, 2007.
Hanna, William and Tom Ito. A Cast of Friends. Dallas, TX: Taylor Publishing Company, 1986.
Kowalski, Jesse. Hanna-Barbera: The Architects of Saturday Morning. Stockbridge, MA: Norman Rockwell Museum, 2016.
Takamoto, Iwao and Michael Mallory. My Life with a Thousand Characters. Jackson, MS: University Press of Mississippi, 2009.