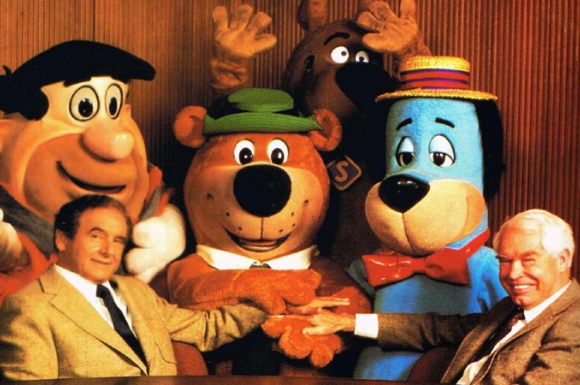 Biography
Before the rise of basic cable and syndication, Saturday mornings for many children in America consisted of watching cartoons on TV on one of three available channels. From 1958 through the 1980s, a vast majority of those cartoons bore the Hanna-Barbera imprint. Creating hit shows such as The Flintstones, Scooby-Doo, Jonny Quest, Super Friends, and The Smurfs, Hanna-Barbera was an animation powerhouse.
Hanna-Barbera Productions was formed in 1957 by William Hanna and Joseph Barbera—two animators from MGM Studios. They left MGM when the studio stopped production on animated films. Hanna and Barbera achieved immediate success on television with The Huckleberry Hound Show in 1958, followed later by the highly popular prime-time series, The Flintstones. Through the next 30 years, Hanna-Barbera produced an astonishing 249 individual cartoon series for television - totaling over 1,200 hours of original episodes.
When Cartoon Network was formed in 1992, Hanna-Barbera supplied most of the cartoons. Hanna-Barbera was eventually absorbed by Warner Bros., but the cartoons remain available in syndication and on DVD.
The impact of Hanna-Barbera's cartoons is evident in today's popular culture, from Fred Flintstone hawking Fruity Pebbles cereal to numerous parodies on TV's Family Guy cartoon to the recent live-action Smurfs films to the continued creation of new Scooby-Doo television series, comic books, and animated and live-action movies.
A partial list of television programs created by Hanna-Barbera:
The Huckleberry Hound Show (1958-1962)
The Flintstones (1960-1966)
Top Cat (1961-1962)
The Jetsons (1962-1963)
Jonny Quest (1964-1965)
Space Ghost and Dino Boy (1966)
Frankenstein Jr. and The Impossibles (1966-1968)
Birdman and the Galaxy Trio (1967-1969)
The Herculoids (1967-1968)
Fantastic Four (1967-1968)
The Banana Splits Adventure Hour (1968-1970)
Scooby-Doo, Where Are You? (1969-1970)
Josie and the Pussycats (1970-1971)
Speed Buggy (1973)
Super Friends (1973-1974)
Inch-High Private Eye (1973-1974)
Hong Kong Phooey (1974)
Clue Club (1976-1977)
Jabberjaw (1976-1978)
The Fonz and the Happy Days Gang (1980-1981)
The Smurfs (1981-1989)
Shirt Tales (1982-1984)
The Berenstain Bears (1985-1987)
The Pirates of Dark Water (1991-1993)
Johnny Bravo (1997-2004)
The Powerpuff Girls (1998-2005)
Jesse Kowalski
Curator of Exhibitions
Norman Rockwell Museum
Illustrations by Hanna-Barbera
Additional Resources
Bibliography
Beck, Jerry. "The Hanna-Barbera Treasury: Rare Art and Mementos from your Favorite Cartoon Classics," Insight Editions, November 20, 2007. Book
Barbera, Joseph. "My Life in 'Toons: From Flatbush to Bedrock in Under a Century," Turner Publishing, Inc., 1994. Book
Hanna, William. "A Cast of Friends," Taylor Publishing Company, 1986. Book
Kowalski, Jesse. "Hanna-Barbera: The Architects of Saturday Morning," Norman Rockwell Museum, 2016. Book
Takamoto, Iwao and Mallory, Michael. "My Life with a Thousand Characters," University Press of Mississippi, 2009. Book